Vivus (NASDAQ:VVUS) began Q3 with a dip in Qsymia sales. The first week in Q3 contained a holiday, so a dip in sales should have been expected. That being said, the dip for a holiday in this sector was more pronounced than in the past. The first week in Q3 saw script sales of just over 7,900, down from sales of over 9,000 the week prior.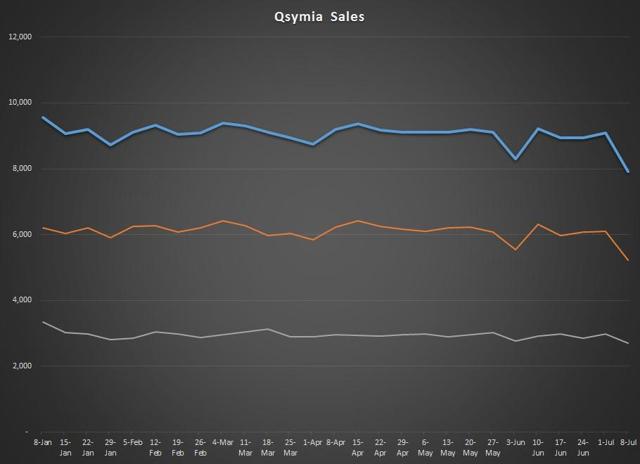 Chart Source - Spencer Osborne
On a quarter-over-quarter basis, sales are already pacing down 13.89%. In the chart above, you can see the Memorial Day holiday with a more modest dip than what we experienced with the 4th of July week. Sales in the first week of Q2 were over 9,100. The dip we are seeing is a continued downtrend in Qsymia scripts. Despite a "new marketing initiative" launched in June, Qsymia sales are seeing similar trends to other players in the space. At the moment, Q3 sales look to be on a pace for sales to be in the neighborhood of 105,000 in the current quarter vs. 117,000 in the quarter prior.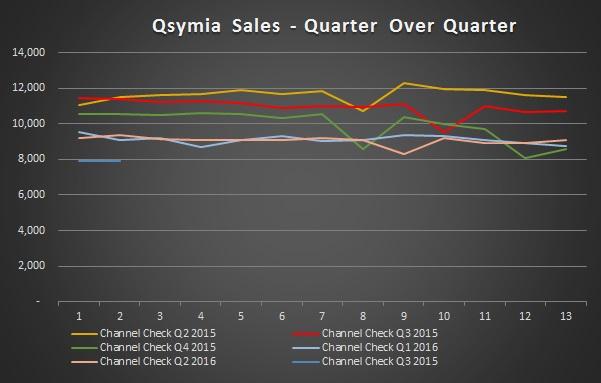 Chart Source - Spencer Osborne
On a year-over-year basis, the comparisons are more ugly. The first week in Q3 of 2015 saw script sales at almost 11,500 scripts. This year's 7,900 scripts is a dip of 30.94%. Such a drastic dip is hard to make up in cost cutting initiatives. Last year Q3 delivered sales of 142,300 scripts. Qsymia does not have a prayer of touching that number in Q3 of 2016. It is likely that sales in the current quarter will be modestly above 100,000 scripts.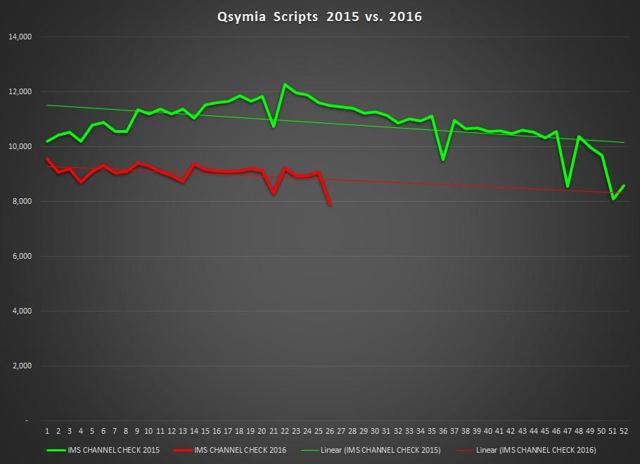 Chart Source - Spencer Osborne
From a market share perspective, Qsymia is treading water. It is treading water not because it is holding its own. It is treading water because competitors Contrave from Orexigen (NASDAQ:OREX) and Belviq from Arena (NASDAQ:ARNA) are both dropping in sales. Simply stated, Qsymia sales are dropping at a slightly slower rate than those two competitors. This past week the market share for Qsymia was at 25.86%. That represents a sad commentary on the branded anti-obesity drug that had the benefit of being first to market. At this stage, the only branded anti-obesity player that is marching ahead with a positive sales trajectory that looks meaningful is Saxenda from Novo Nordisk (NYSE:NVO).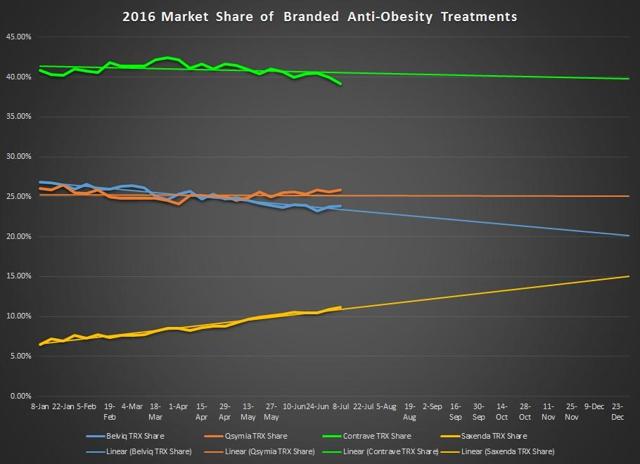 Chart Source - Spencer Osborne
The overall sector is seriously misfiring now instead of hitting on all cylinders. Overall sales in the branded anti-obesity space are now down 1% from 2015. With sales expected to continue in decline, the delta could be as high as 10% by the end of this year. Thus, not only are Qsymia sales in decline, but the overall sector is as well. If not for Saxenda showing growth, the situation would be even more ugly.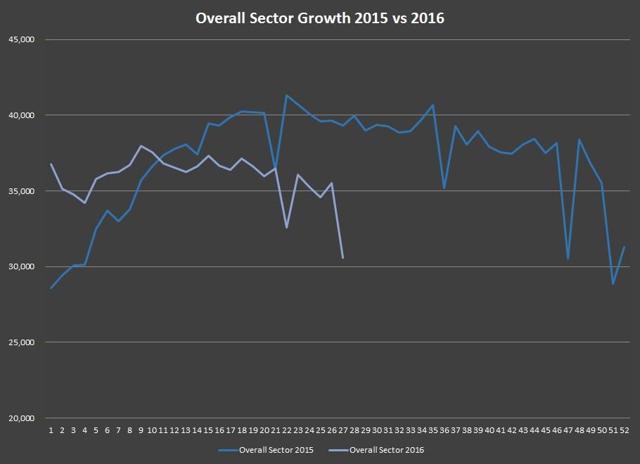 Chart Source - Spencer Osborne
The bottom line is that the contribution of Qsymia to the bottom line is eroding. Further, the ability of the company to cut costs has already been accomplished. This means some ugly sales comparisons will come into play when the company reports financials. Bullish longs will look to metrics like average revenue per script and try to point to gains in that segment, but the fact of the matter is that sales are in decline. If 1 script sold for $10,000, it would not solve the ills of the sector.
For investors, Vivus is stuck between a rock and a hard place. The company has both of its approved drugs in potential litigation, has been unable to negotiate a solution to post marketing clinical trials mandated by the FDA, and little room to trim any fat off of its corporate structure. Simply stated, patients, doctor, and insurance companies are not embracing Qsymia in a manner that leads to sales growth. The company has a decent amount of cash, but cash does not lead to equity appreciation. Stay Tuned!
Disclosure: I am/we are long ARNA, NVO.
I wrote this article myself, and it expresses my own opinions. I am not receiving compensation for it (other than from Seeking Alpha). I have no business relationship with any company whose stock is mentioned in this article.
Additional disclosure: I have no position in Vivus or Orexigen
Editor's Note: This article covers one or more stocks trading at less than $1 per share and/or with less than a $100 million market cap. Please be aware of the risks associated with these stocks.