One of the important things that we look for, but that often gets overlooked by those investing in gold and silver explorers and developers, is what we call "The Art of the Copy." All investors know management is a key component in separating the true potential winners from those marketing Moose pasture - and there are a lot of these folks running around. So obviously, knowing who you are investing IN is critical in the business, but what we think is almost as important is who you are investing WITH. Who else is backing this project? Who is putting their own personal funds as an investor in the project?
That's even more critical in this market, as insiders have taken this run-up in the gold price to unload shares en masse, so finding those companies where insiders are actually buying is a strong vote of confidence for any precious metals explorer these days.
In the "Art of the Copy" series, we hope to show our readers companies in which other famous investors are investing in. While there are no guarantees in the exploration business, and even these famous investors can err, they are certainly much more educated than the average Joe, and are also putting significantly more money into these investments than he is. Thus, if you're looking for high-risk and high-return exploration companies, then finding the expert and copying them is an excellent way to go.
In this piece, we will be profiling a recent buy by Rob McEwen. Mr. McEwen is one of our favorite industry insiders, as he seems to be a man of integrity and certainly is a legend of the field, as he was the founder of Goldcorp (NYSE:GG) - which grew to become one of the largest gold miners in the world. Additionally, Mr. McEwen is one of those rare "out-of-the-box" thinkers who, in 2001, created the "Goldcorp Challenge" that turned the sleepy Red Lake mine into one of the world's most profitable mines through the brilliant idea of crowd-sourcing the geological data and rewarding the best geological ideas.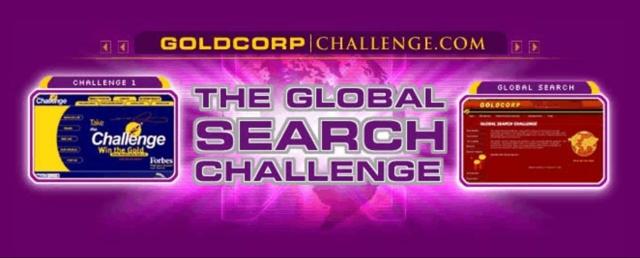 Currently, he is heavily involved in McEwen Mining (NYSE:MUX) and owns 25% of the company's shares, but he's also been making some moves by investing in other small explorers. Here is the one that piques our interest.
The Investment
Mr. McEwen has made a few investments in gold explorers over the past six months, but the largest new investment that he has made in that time period is in a company called Monarques Gold Corporation (OTCPK:MRQRF).
Over the past two months, through his controlled corporation Oxbridge Group, Mr. McEwen has made an initial investment of 8.5 million shares (around CAD$1.5 million) in Monarques, and then another 1.7 million share purchase (around CAD$500,000) over the past ten days. These two purchases have taken his total stake up to around CAD$2 million, or a little over 10% of the total value of Monarques Gold Corporation.

Source: SEDI.CA
So, why is Mr. McEwen interested?
Monarques Gold's main project is its Croinor gold property, which is 55 km east of Val D'or, and is 100% owned by the company, with a 1.5% royalty on the lease. The property is current in the Pre-feasibility stage, so a good amount of work has already been done on it, and the numbers show it is a relatively profitable, but small, project as it currently sits: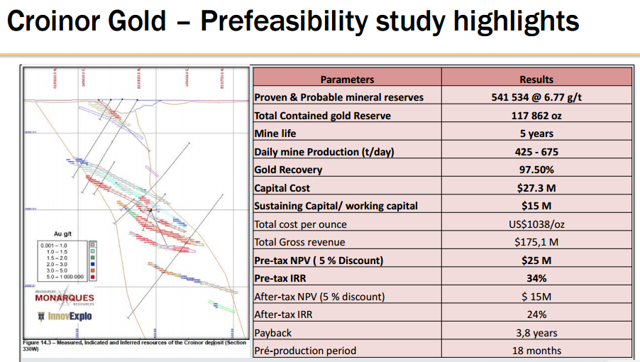 Source: Corporate Presentation
While these numbers are economic at $1200 gold with a 24% after-tax IRR, with total reserves on 117,862 ounces, this type of project shouldn't interest an investors like Mr. McEwen. What we believe he is interested in is the potential for expansion and the new Gold Bug discovery to the west of the Croinor PFS deposit.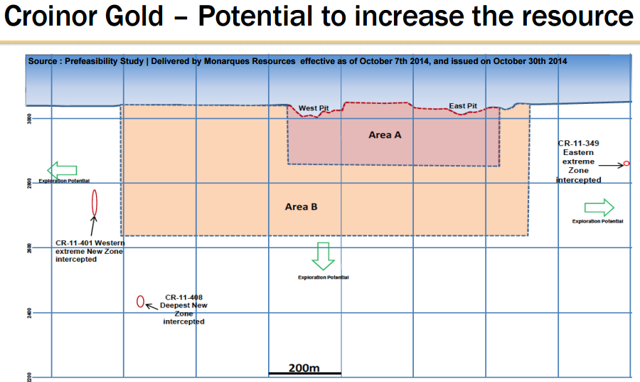 Source: Corporate Presentation
As investors can see above, Area A represents the influence of the Measured and Indicated resources, and Area B shows the Inferred resources. But the interesting thing is the company had very limited resources to explore previously, and every time it did, it successfully significantly expanded the resources, as evidenced by the Block Model expansion from 2014 to 2015: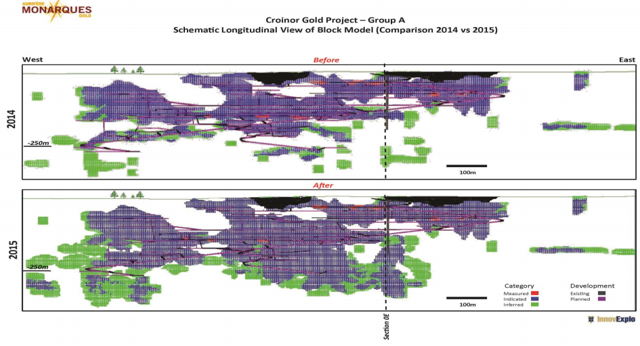 Source: Corporate Presentation
That is significant growth in the deposit in 2015, and also note that it is nice and contiguous - which, all else equal, should make the deposit more attractive. Additionally, the PFS that was done ONLY includes the previous resources, so we expect the current economics of the deposit to be much better.
Finally, the new Gold Bug discovery 500 meters to the east of the current Croinor resource, discovered during the 2015 campaign, returned some interesting and close to surface results.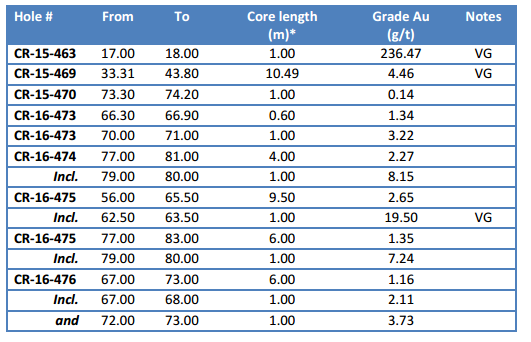 Source: Monarque News Release
While these intercepts aren't spectacular, they do show some very interesting potential, and since it is a different geological environment than Croinor, this potential could be significant. Throw in the fact that it is only 500 meters away from the under-explored Croinor, and that there are many nearby mills to use for ore processing, and we could have the potential for a multi-million ounce deposit in a very convenient region - this isn't the middle of the Yukon.
Of course, all of this requires an exploration budget, and now that the company has Mr. McEwen as an investor, the potential to become a significant deposit is now there.
Conclusion for Investors
We stress that it is still really early in the exploration process, but the fact that Mr. McEwen is interested in this previously sleepy deposit is very encouraging for us, especially since it occurred after the gold rise and over the past month. Additionally, the potential growth adds up in that Croinor is under-explored, and good recent drill results from "Gold Bug" with a different geological environment tell us that there are a number of positive exploration catalysts here. For gold investors looking for explorers with smart money behind them, Monarques Gold Corporation should fit the bill.
Disclosure: I am/we are long MRQRF.
I wrote this article myself, and it expresses my own opinions. I am not receiving compensation for it (other than from Seeking Alpha). I have no business relationship with any company whose stock is mentioned in this article.