The oil market is doing what it is meant to be doing, namely, rebalancing through crude supply-side losses and bouts of positive margins (short crack stops or refinery outages) OR major refinery run cuts to enforce refinery product draws.
1H 2016 exhibited less complex refiners in FSU/Russia and topping (teapot China)/Asia, running at curtailed rates as demonstrated by firming fuel differentials and fuel spreads, as we switched to maximum gasoline and mineral distillate. This has now inverted in 2H 2016 to firming topping margins and deplorable cracking margins - with gasoline de-positioning and higher global gasoline supply (yield switch and upgrading runs). All the while, oil products demand remains robust in the region of 1.2-1.4m bpd YoY - so this is not an aggregate demand issue, but an excess gasoline production issue, which is now being solved through weak cracking margins and weaker oil prices (see chart below).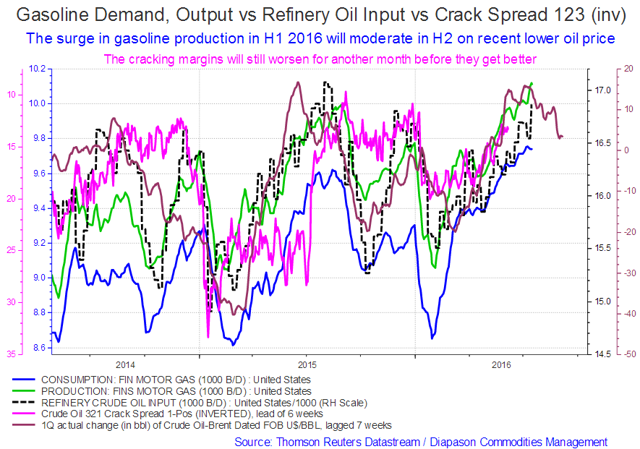 This is a live link. To get an updated chart, click here.
Similarly, global crude supply was declining in 1H 2016 by over 650,000 bpd YoY, and this will accelerate over 2H 2016 to a decline of 2.0m bpd YoY. Observable OECD stocks built by 600,000 bpd in 1Q 2016 (not the 2.2m bpd the IEA forecast) and, by our calculations, have drawn by up to 500,000 bpd in 2Q 2016, when added losses in Canada and floating storage destocking are taken into account. We see the market's ambivalence to these draws being due to the fact that as we re-balance, draws are unobservable in pricing hubs and are located off-grid in primary tankage and/or floating storage.
As we have noted previously, this dynamic is very similar to the rebalancing in 1999/2000 - global oil demand is in products, consumer-driven cars and airlines jet fuel - so the key to a rebalancing rests in oil products.
Neste European Margin

The market has 3 weeks left of peak demand before we begin the crude pull deceleration into the autumn turnarounds, which decreases by 2.4m bpd into October. With the collapse in Atlantic Basin cracking margins (see chart above), we are seeing a phenomena where crude is now being pushed to re-price margins (second-best supply-push refining solution) - the case in point being the collapse in US gasoline and diesel cracks with the corollary weakening in WTI-Brent (LLS-dated) which is pricing margins back to less negative and the over-capacity in the freight market. This provides a backstop through either short-term floating storage economics (4-month yields positive) OR arbitrage opening to Asia (North Sea to Korea for Forties was open 1H of last week). In our view, these are short-term micro dynamics in a much broader rebalancing process.
US LLS Cracking Margins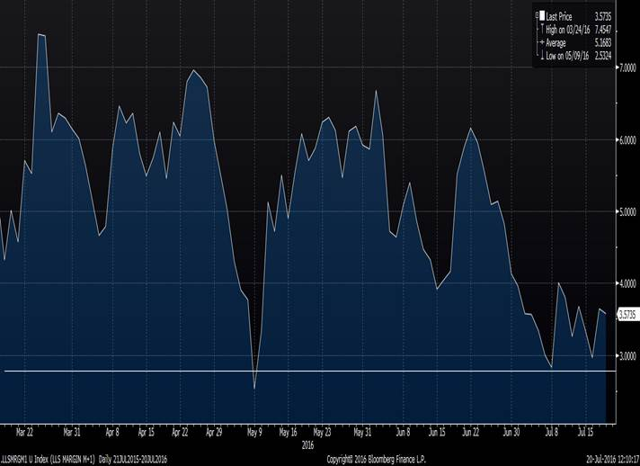 Overlaid with all this are macro concerns post-Brexit and a sizeable spec long position that is being unwound, with CTA turning short and pressuring the market. We are of the view that a populist backlash in Brexit is a catalyst that will force the political elites to re-evaluate the austerity-monetarist doctrine and move to a more fiscally-stimulated one, which is inflationary, and will solve many issues - China in particular.
We think China will begin to surprise to the upside. The government intended to dial back stimulus coincided with a slowing in credit growth and a deceleration in fiscal spending. But after growth and activity data deteriorated, the Chinese government reinstated the fiscal stimulus program and kicked off a massive borrowing program, with fiscal spending accelerating to 25% YoY (see chart below). With China expectations so dire and oil demand remaining robust, an acceleration in crude buying for SPR expected in 2H 2016 up to 400,000 bpd, we think that an upside surprise is complacently discounted by the market.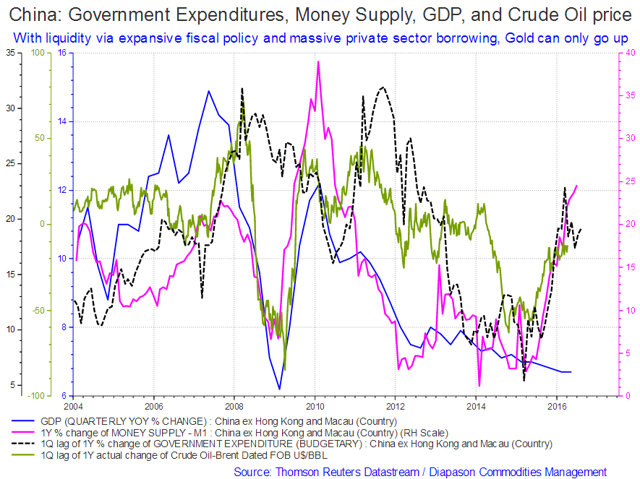 This is a live link. To get an updated chart, click here.
Nevertheless, we remain convinced of the view that all these variables are part of a much broader and robust oil market rebalancing process. As seen in previous bouts of weak refining margins approaching key turnaround periods - refiners are very savvy these days - and we expect a few more will voluntarily 'go into turnarounds' earlier and more discreetly (these are proxy run cuts), all the while easing physical crude differentials will send signals to producers to throttle back some production into the turnaround season.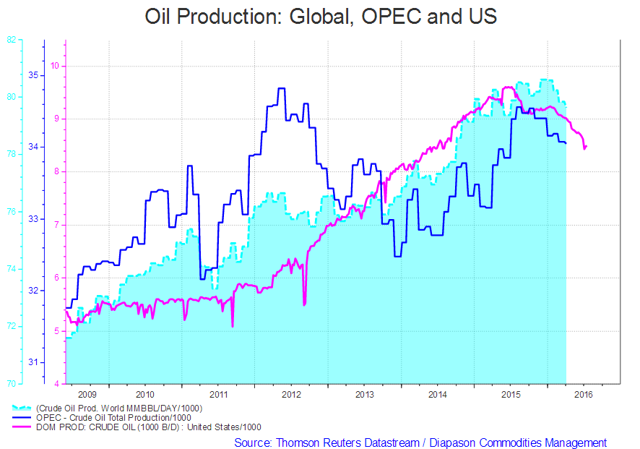 This is a live link. To get an updated chart, click here.
Even so, the background collapse in global oil supply is accelerating (see chart above). Whether you look at the minute (and inconsequential) increase in US rigs, collapse in OPEC capacity (Venezuela, Nigeria, Iraq), or further non-OPEC downward revisions (China, Canada, Brazil), the supply side is doing all the work in the rebalancing process. We still expect that an oil market balance would be reached during 2H 2016. Further, we have always maintained since Q1 2016 that the oil market would be in slight deficit by Q3 (see chart below). To us, this is a precursor of a strong rally in oil prices later in 2H this year.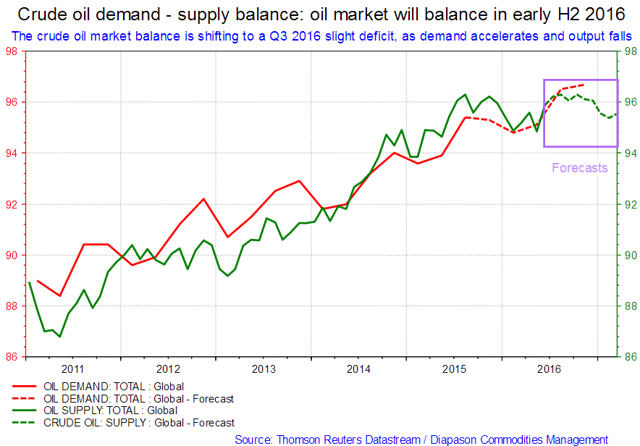 This is a live link. To get an updated chart, click here.
As an aside, we calculate that to reach Dec. 2015 US horizontal rig shale production by Dec. 2017 (with 5.18% decline rate and a well cost of $6m), we need to add at least 500 more rigs, and to just neutralize shale legacy declines, we need to add a further 80 rigs. The implicit cash burn requirement to reach Dec. 2015 production level on the shale industry is an increase of close to $4b/month (assuming a 0.50% well cost inflation pm) OR requiring oil prices to be higher by $39/bbl (basis May 2015 at $45 and cash flow neutrality).
This is a live link. To get an updated chart, click here.
All the while, we know that only the very best shale producers like Pioneer (NYSE:PXD) have already forward sold its production by 50% hedged, thereby requiring even higher cash-neutral price breakevens north of $90/bbl. All these indicate to us that the shale industry is a funding play, where management had been incentivized on production growth and not economic return, and can in no way be viewed as a realistic or sustainable source of crude supply at current economics, which will threaten OPEC. At most, we see the shale industry as a provider of up to 300,000 bpd YoY supply growth held in the hands of the highest credit rated producers and majors.

So we believe that, despite refiners either cutting runs and/or going into early turnarounds, the crude oil being backed out will be more than offset by crude supply declines globally - which will lead to only one outcome: refined product draws.
As we enter 4Q 2016, into winter, and with a forecast normalization of La Nina northern hemisphere patterns - the year-on-year demand profiles for oil will look considerably better, given last year's low bases (Heating Degree Days (HDD) -21% which equated to a loss of 70m bbls of inventory decline). Furthermore, as flat price is back to $45, the pressure, post-Brexit, on global oil company CFOs is to limit Capex and Opex with a higher bar for high yield credit into the space - this will only exacerbate the supply-side decline.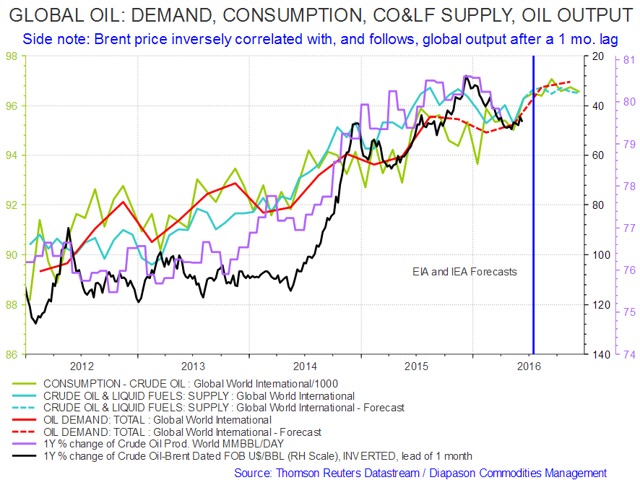 This is a live link. To get an updated chart, click here.
To conclude: The front-end crude market ought to trade lower on a flat price, spread and physical differential basis into turnarounds, but we see this weakening window into late August-early September, which will then set the stage for multi-quarter rebalancing and firming across the oil space (see chart below). Ultimately, the only way for crude to perform is to force such product inventory declines that the market forces higher margins again and pull crude (first-best demand pull refining solution). The stage is being set for this. As offshoot, the contango at the front of the WTI curve could widen over the coming weeks, as refiners cut runs to clear unintended accumulation of product inventory.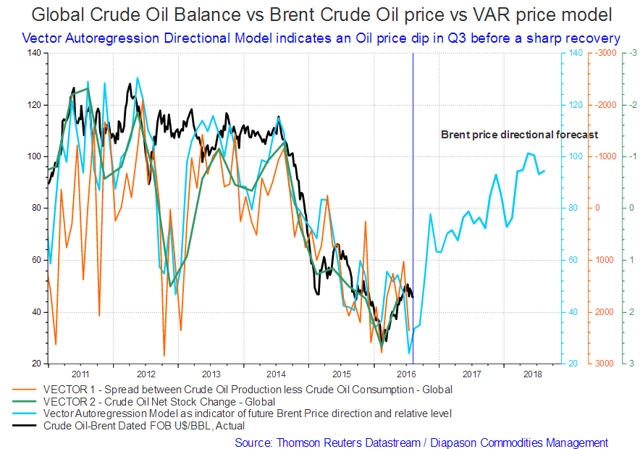 This is a live link. To get an updated chart, click here.
Global aggregate demand is the key, as a proxy for oil crude and refined products demand - we are seeing evidence of high money-supply liquidity and oil demand remaining robust, albeit easing a touch lately. Even with a slashing of oil demand for 2H 2016 to 2018 to 900,000 bpd YoY, we will still have multi-quarter draws to 2018.
And where do we stand on global demand?
There are no real-time data available which allows us to track the progress of global growth on a real-time basis. The closest we can have in getting a high-frequency outlook is to track financial variables which have historically correlated with, or/and had tracked global growth very well. Two such variables are the US dollar and the oil term structure. Let me emphasize that the annual changes in global GDP - the only data we have commercially available for this series - masks its true relationship with the US dollar and the oil term structure, especially the former. There is ample evidence that the level of the US dollar impacts, and is a huge factor in, global growth. The relative strength between changes in global GDP and changes in US growth, in turn, impacts the US dollar valuation against its major competitors. Insofar as the oil term structure is concerned, the assessment of countless users, producers, and investors in oil and oil products on the demand-supply matrix is just as significant as the implications of the US dollar evolution (see chart below).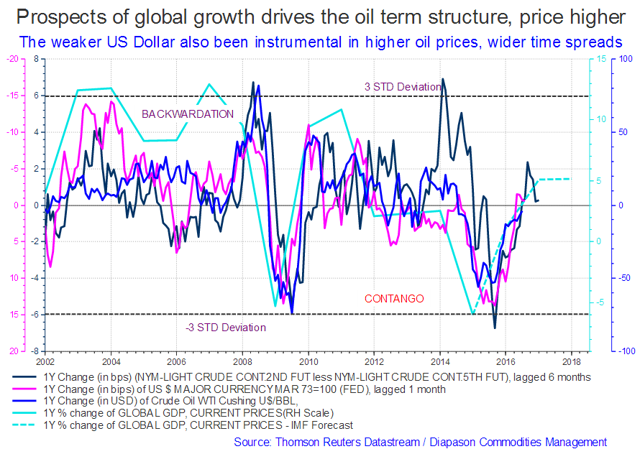 In fact, the oil term structure is more important to us in that respect, because the changes in the oil term structure leads the changes in the US dollar and the changes in the oil price (which tend to lag behind the changes of both the currency and time spread). This allows us to (1) get an outlook of current (but unseen) status of global growth, and (2) project where the US dollar level and oil price level could be in the near future with some degree of certainty.
Optimal investment strategy
With all of the above as baseline information, we can then formulate the most optimum investment or trade strategy in oil and/or oil products over the near term. So far, the best we can see is this trade (see chart below):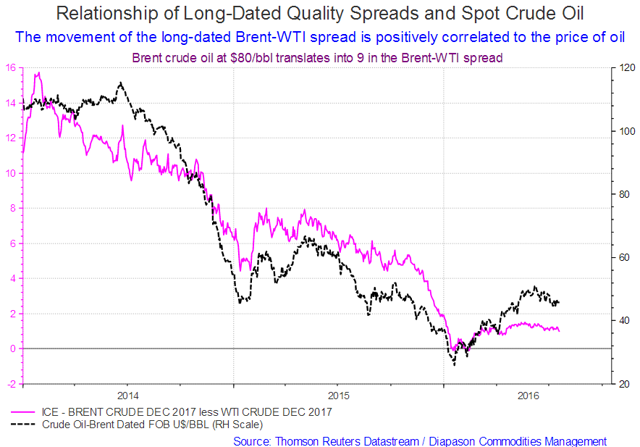 Stay Long December 2017 Brent-WTI given our expectation for markets to tighten over the next year at least, led by prospects of higher global growth and a weaker US dollar. Brent Crude has a history of outperforming WTI in times of higher global growth and a weaker US dollar. Going forward, we will use sell-offs to get long further out the curve - December 2017 and beyond. We think the odds that prices exceed our $60/bbl forecast for WTI and Brent for late H2 2016 and $70 for 2017 are high given the $1 trillion-plus cuts in oil and gas Capex expected by all the way to 2020.
Best of all, there is no open exposure the crude oil's market beta. We do not have to deal with idiosyncratic geopolitical risks, except for those which will materially impact global growth for some time.
What can go wrong:
Changes in global growth over the next two year do not go higher than US US growth changes, and
US oil supply destruction during the next two years is much more than we expected and allowed for; in that case, WTI could rise faster than Brent.
However, we reasoned out that shale LTO will likely get more new Capex/Opex funding once the oil price begins to rise, which means relatively more supply coming out of WTI. Brent prices, predicated on deep-water, will likely be last in the queue to benefit from future increased Capex/Opex funding.
Disclosure: I/we have no positions in any stocks mentioned, and no plans to initiate any positions within the next 72 hours.
I wrote this article myself, and it expresses my own opinions. I am not receiving compensation for it. I have no business relationship with any company whose stock is mentioned in this article.
Additional disclosure: The company the author represents may have outstanding long or short positions in the commodities discussed in the article. The company may also initiate new positions, long or short, in any of those commodities mentioned, within 72 hours of publication of this article.