Durham, North Carolina-based orthobiologic company Bioventus (BIOV) aims to raise up to $183 million in an upcoming IPO with an estimated price range of $16-18 per share of Class A common stock, including customary over-allotment options for underwriters.
Upon a successful IPO at the midpoint of its expected range, the company would have an initial market cap of $566 million.
My recommendation is bullish on Bioventus, due to its high margins, significant growth opportunities in joint treatment markets and pipeline of new treatment possibilities.
Background
Bioventus develops orthobiologic products for patients who suffer from musculoskeletal conditions. Orthobiologics refers to products that the company believes will "accelerate the healing of bones, joints or damaged musculoskeletal tissue by harnessing the body's natural healing processes."
The company was founded in May 2012 as a result of the acquisition of a majority stake in the Smith & Nephew plc (NYSE:SNN) Biologics business. Investors who financed the acquisition, such as Essex Woodlands Health Ventures, "believed that the biologics business would provide a platform from which to build a global leader in the rapidly evolving orthobiologics market", according to the company's recent S-1 filing.
Technology
Bioventus operates in the following reportable business segments:
Active Healing Therapies - US
Active Healing Therapies - International
Surgical
BMP (Bone Morphogenetic Protein)
The company's Exogen system and Supartz FX products, which are its "Active Healing" products, are sold primarily in the United States and account for the majority of revenue.
(Source: Bioventus YouTube)
Bioventus says its strategy is to invest in the continued clinical development of its Surgical bone graft substitute business and BMP, of which it has recently acquired either intellectual property and/or standalone companies.
Market Size
According to a 2015 market report from iData for orthopedic biomaterials, the market is currently in excess of $3 billion for the US alone.
EU market size was not detailed in the report, but the EU market is likely at least the same size if not larger, due to its 500 million population size versus the US' 310 million population.
My extrapolated market size estimate is, therefore, for a current worldwide market of at least $7 billion.
Competition
Competition for the company's active healing therapies includes injected therapies, such as those by DePuy Orthpaedics, Sanofi (NYSE:SNY), Johnson & Johnson (NYSE:JNJ).
Surgical competitors include Medtronic (NYSE:MDT), Stryker (NYSE:SYK), NuVasive (NASDAQ:NUVA) and several others.
Financials
For 2015, Bioventus recorded $253.6 million in net sales, it and has been growing its net sales at a rate of 4.3% for each of the last two years:
2015: $253 million (+4.3%)
2014: $243 million (+4.3%)
2013: $232 million
Gross margins have been quite healthy and stable, or growing:
2015: 71%
2014: 69%
2013: 69%
In 2015, Bioventus lost $34 million, compared to a $13 million loss in 2014 and a $22 million loss in 2013.
As of April 2, 2016, the company had $6 million in cash on hand.
IPO Details and Discussion
Bioventus will have two classes of common stock after the IPO: Class A and Class B. The IPO will sell 8.8 million shares of Class A stock only.
The company will use the net proceeds to purchase "newly-issued common membership interests of Bioventus LLC", the subsidiary to the public Bioventus.
Subsidiary Bioventus LLC will then use proceeds to repay its second-lien term loan, a $23.5 million promissory note and $5 million deferred payment, as well as repaying all of outstanding borrowings under its first-lien revolving facility. Total second-lien indebtedness as of April 2, 2016 was $60 million, and $19.5 million outstanding under its revolving credit facility.
Regarding voting power, public investors will retain 26.5% of Bioventus' common stock. Former LLC Owners will retain 44.8% combined voting power, and Continuing LLC Owners will own 28.7% of the combined voting power.
Bioventus will then become a holding company whose main asset is Bioventus LLC.
The diagram below shows the organizational structure after the proposed IPO transaction: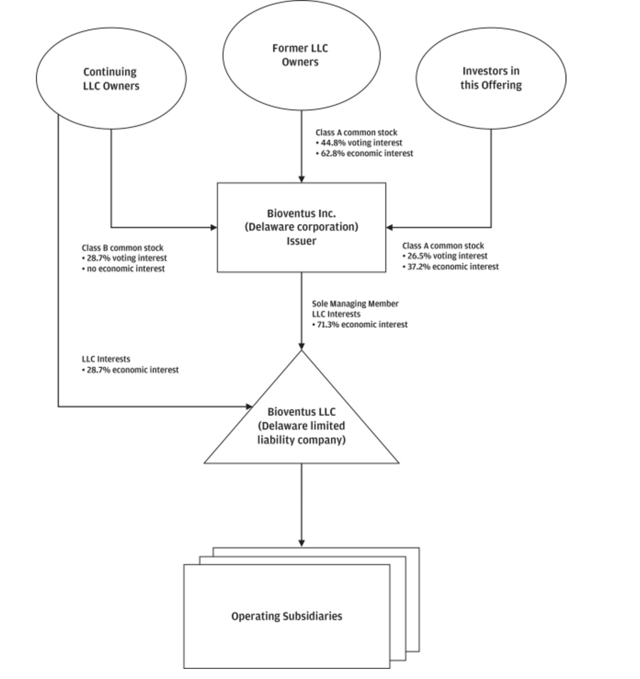 (Source: Bioventus S-1 Filing)
Although the post-IPO ownership structure will be a bit convoluted, I'm optimistic on the potential of Bioventus for the following reasons:
The company is well positioned for the large and growing markets of joint therapies as active populations in the US and EU continue to age.
Gross margins are high at 71% and growing.
Its surgical line sales are growing at a rate of 125.6% and have room for more growth.
The company is developing further bone graft treatments, licensed from Pfizer (NYSE:PFE), for Phase 1 clinical trials within 18 months.
Bioventus is a growth story you should consider buying into.
Disclosure: I/we have no positions in any stocks mentioned, and no plans to initiate any positions within the next 72 hours.
I wrote this article myself, and it expresses my own opinions. I am not receiving compensation for it (other than from Seeking Alpha). I have no business relationship with any company whose stock is mentioned in this article.