"Morality" investing sparks strong debate on Seeking Alpha. For example, even hinting an investment in a company such as Altria (NYSE:MO) may be questionable is akin to throwing a match on a rain-starved woodland. Most people don't disagree cigarettes lead to death. They just disagree about whether it's okay to participate in making a buck on the business. Well-respected contributor Mike Nadel replied in the comment stream of a recent Chuck Carnevale article on Dividend Aristocrats explaining well the pro side of the debate.
"In my early days as an investor, I refused to buy T (AT&T) because I had bad experiences with their wireless service.
Then I realized I was doing the classic "cutting off my nose to spite my case." T didn't care whether I was buying its stock or not. All I was doing was depriving my portfolio of a good company at an attractive price. Once I "grew up" enough to realize I had to separate the two, it was one of many steps that made me a better investor.
So I own T and VZ even though I use neither service. And I own MO and PM even though I dislike cigarettes. And I own KO and PEP even though I do not like soda (but I do like salty snacks!). And I own LMT and BA even though I am, at heart, a pacifist. Etc, etc, etc.
The best way I can help my family is not by "taking a stand against war" and not buying LMT. It is by buying LMT, a great company, at a great price."
That's but one beauty of retail investing. Individual investors have the prerogative to decide whether it's okay to benefit from investing in companies whose businesses they may deem socially or morally questionable.
Down a Bunny Trail
On a road trip last year with my then-four-year-old niece, Laney, we modified the 20 Questions game. We call it "Guess The Animal." Basically, one person throws out a hint about a particular animal and the other guesses. The routine continues until the animal is guessed or the guesser gives up. We don't keep score. We know when we've been stumped. After a few months, the game had become all but impossible to play in regard to coming up with animals we'd never guessed.
Then, Laney became a Wild Kratts fan. For those unfamiliar, Wild Kratts is an animated series on PBS featuring two brothers encountering wild animals on their adventures.
Suddenly, our game took on a new dimension.
Me: This animal lives in a tree.

Laney (my niece): Is it an aye-aye?

Me: A what?
The onslaught continued.
Me: This animal lives in the ground.

Laney: Is it a naked mole rat?

Me: Uh....no, it's not a naked mole rat since I don't even know what a naked mole rat is.

Laney: You need to watch more Wild Kratts.
Of late, as we play the game, she often asks before answering.
"Is it predatory or prey?"
Out of the mouths of babes. Applying that notion of predator or prey may be an ideal differentiator for investing decisions.
Yet, in the animal world, there are roles beyond predator and prey. Mutualism is a form of symbiosis where two or more organisms function together for the benefit of the other. In a balanced relationship called commensalism, each partner benefits - but no one more than the other. In other forms of mutualism, one partner may be wholly dependent on the other for its existence while the other is not.
The relationships between rhinos and birds are clear examples of mutualism. On the African savanna, the oxpecker and rhino have a symbiotic relationship. As well, the rhino and cattle egret display commensalism.
The rhino is prey to a variety of predators. Ticks and other parasites feed on the rhino's rich blood supply just under its thick skin. At the other end of the spectrum, immature rhinos are sometimes attacked by larger preys such as crocodiles or lions.
Oxpeckers rely on rhinos for life. They feed on the ticks and parasites attached to the rhinos' skin. The rhinos benefit from the relief offered by the birds. The oxpeckers also serve a second purpose as they warn poor-sighted rhino mothers of pending danger.
Cattle egrets travel alongside the rhino. As the rhino disturbs other animal life in the brush, the egrets take advantage of the activity and feed. Like the oxpecker, they signal the approach of predators.
Back to A BIG World
While mulling over different relationship aspects in the animal world, thoughts of Big Lots (NYSE:BIG) pushed forward.
Big Lots is a discount retailer originally focused on offering closeout deals. The company, then, purposely expanded its product offerings and mixed in a base set of expected items. But, it still hangs a banner over its door promising closeouts. It's never forgotten its customers shop Big Lots for the deals.
Considering its roots, it hardly seems Big Lots could be characterized as a predator. At least at first glance, it seems Big Lots has a symbiotic relationship with its consumers. It cannot exist without consumers. But, it provides a distinct benefit to the consumer. If traditional retailers are the "ticks" sucking precious funds from consumers, Big Lots is the oxpecker providing wallet-friendly solutions.
But, with Big Lots' latest focus, it could be argued the company has become even more akin to the oxpecker. In this online description of the relationship between oxpecker and rhino or Kifaru, it is obvious the oxpecker sometimes crosses the line.
"The oxpecker also searches any wounds or sores Kifaru may have and removes botfly larvae and other parasites, but in the process he also removes scabs and tissue, causing fresh bleeding. In fact, the oxpecker gets his blood meals as much directly from Kifaru himself as from the parasites he removes."
Some are accusing Big Lots of crossing the line.
The Strategic Plan
Big Lots reported 2016 first-quarter results on May 27th. Included in the results was news the company had finished store remodels designed to expand the footage devoted to furniture. The remodels took a year and required significant effort. In total, Big Lots reallocated over 500,000 square feet of brick and mortar space. The changes are making a marked difference.
Comparable store sales improved 3% year-over-year. Non-GAAP earnings per share for continuing operations improved over 30% from $0.61 in 2015 first quarter to $0.82. As a result, the company updated its EPS guidance for the full year. Non-GAAP adjusted EPS will be in the range of $3.35 to $3.50 as compared to prior guidance of $3.20 to $3.35.
The progress in the furniture departments at Big Lots stores certainly appears to be wholly positive and encouraging news. As well, the company believes this business is differentiated from its competitors. Competitors are not carrying upholstered furniture or mattresses in their brick and mortar locations. It also believes no competitor, on a national level, offers a similar value proposition when compared to opening price points.
But, the increased revenue cannot be solely credited to the square footage expansion. Nor is it solely the product assortment. Big Lots introduced a lease-to-purchase program in 2014 to enhance the furniture department's appeal. The company partnered with Progressive (NYSE:PGR) to offer its Easy Leasing program. Not only does it believe there is tremendous opportunity in this program, it also believes there could be more potential in similar initiatives.
When the Easy Leasing program was introduced in a store, Big Lots consistently experienced low double-digit improvements in furniture sales for the first year. In the second year of the program, a mid-single-digit improvement followed. By 2015 third quarter, Big Lots estimated the progress achieved with the Easy Leasing program.
"So Easy Leasing has probably progressed to where it's now in the low to mid-teens as a percent of the furniture sales that are occurring in our stores."
Approximately two-thirds of customers applying to the program were approved. The average approval limit was approximately $1200. In the early phases of the program, the average spend had been about $600. In 2015, Big Lots, with the specific intent of increasing the spend, began allowing products outside the furniture department to be leased. Soft Home products related to the furniture purchase could be added to transactions. Seasonal products could also be considered for lease-to-purchase transactions.
The company then implemented training on furniture sales as well as the Easy Leasing program. Until 2015 fourth quarter, Big Lots relied on in-store and print marketing to familiarize consumers about the program's existence. In 2015 fourth quarter, the company initiated e-mail and direct mail to existing customers.
Beyond the leasing option, Big Lots launched a financing option in May 2016. It has offered customer financing in the past. However, in 2013, the company determined its financing option was too stringent for its customers.
The Line
Big Lots stated its intent for the leasing option and the financing option is to "take down the barriers to entry" for its customers. This intent certainly appears symbiotic. Though the company has experienced progress it considers satisfactory, the terms and the implementation of its intentions have not been without question. Like the oxpecker, Big Lots has been accused of ripping some flesh off a few of its rhinos.
For starters, Big Lots associates were either not well-versed about the terms of the leasing program or were poor communicators of the terms. The leasing program offered a 90-day payment alternative. However, the customer has to initiate the option with a phone call to Progressive after the initial transaction. The option was not automatic. Some consumers were shocked to find if the initial price was not paid in full in the first 90 days, they were obligated to pay the leased price over a twelve-month period. The lease price then equated to approximately double the original price. It can be argued the customer bears responsibility to read and understand the terms. But, in a truly symbiotic relationship, Big Lots would also assure the customer's understanding and satisfaction.
It's not unusual for a lease price to equate to approximately double the cash price. Rent-A-Center (NASDAQ:RCII) publishes quite clearly a comparison of the two prices. Big Lots, on the other hand, does not offer the same level of clarity and transparency. Further, Rent-A-Center has developed more leasing alternatives and refined its leasing terms to accommodate special situations. A Rent-A-Center can even apply for approval, select product and arrange delivery without stepping foot in a physical location.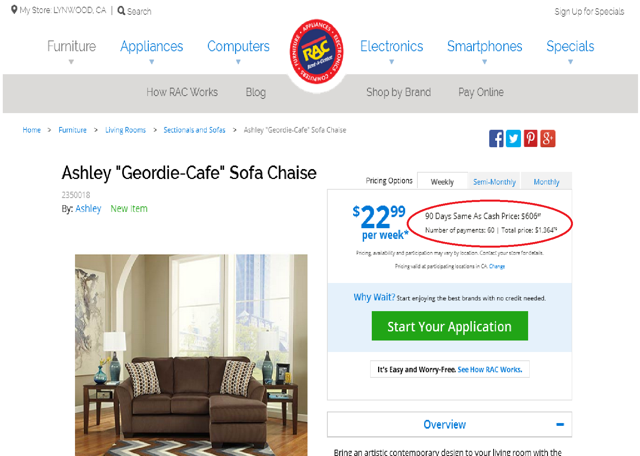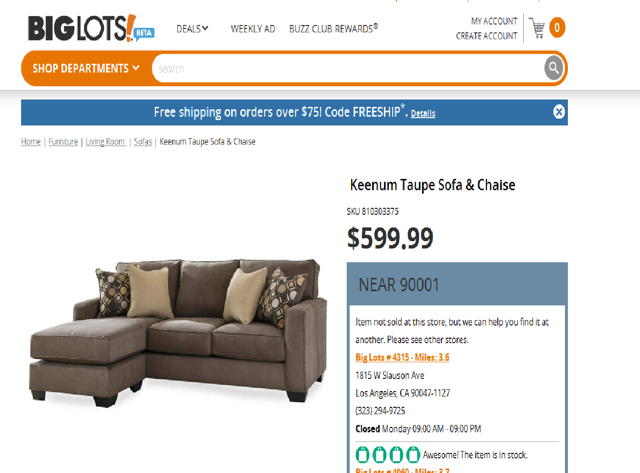 In actuality, a leasing transaction through Big Lots is ultimately between Big Lots' customer and Progressive. When a consumer is approved for the leasing program, Big Lots sells the actual product to Progressive and Progressive then leases it to the customer. Regardless, Big Lots bears some, if not all, of the burden of soiling its reputation when a customer is dissatisfied. After all, Big Lots set up the relationship with Progressive. It's not as if the customer has a choice of leasing companies once he selects product from Big Lots.
The leasing program does not check a consumer's credit report which makes it a viable alternative for some. On the other hand, approval for the recently-reintroduced Big Lots credit card does consider a consumer's credit score. Like the leasing program, there are features for a same-as-cash payoff (6 months on a $250 minimum and 12 months on a $750 minimum). And, like the leasing option, there's a hefty consequence if the deadline is missed. The card bears an interest rate of 29.99%.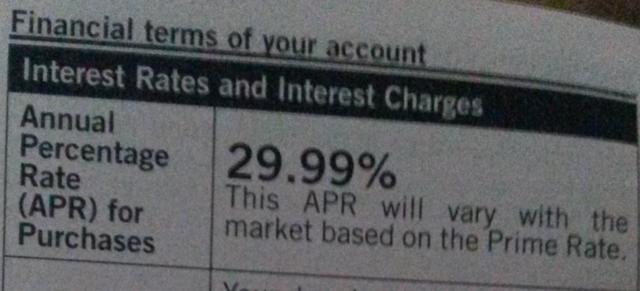 Source: Big Lots Application
Most consumers accept retailer-branded cards are offered at higher rates. For example, Kohl's (NYSE:KSS) credit card bears a rate of 24.24%. Like Big Lots, T.J. Maxx (NYSE:TJX) also provides consumers overstocked and closeout deals. It, too, offers a private-label credit card. Its latest stated rate is 27.24%. More attractively, T.J. Maxx ties its rewards program to its credit card providing its customers extra perks for loyalty.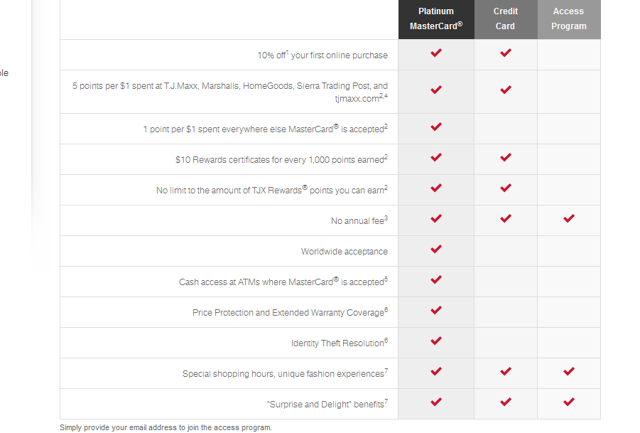 Big Lots' CEO, Mr. Campisi, has repeatedly stated the company's revolution is "at the beginning of the beginning." One could surmise the programs will continue to evolve. On the other hand, one could just as easily expect Big Lots to initiate its offerings with features more comparable to its competitive landscape. The latter is true if Big Lots is truly nurturing its customers.
There is a paradox in striving to be a market leader providing consumers off-price deals alongside financing programs that are arguably not market-leading. The line between symbiosis and predator appears to be easily crossed. Further support surfaced in the latest earnings call.
"Shortly the store teams will have goals on credit cards applications, just like they have on furniture financing......."
If the intent of offering financing options was truly pro-consumer to eliminate barriers to entry, why are there measures to push store and employee performance?
Summary
As stated, each investor has the prerogative to decide whether investing in companies whose businesses he may deem socially or morally questionable fits within his/her personal strategy. In the case of Big Lots, it's important to understand the source of revenue growth. As well, it is key to understand what drives profitability. It's safe to say business activities tagged with goals and measures are key to profitability.
The oxpecker dies without a host to feed on and has the capacity to do harm. The cattle egret finds another way to source its feedings without a host. Though it may appear non-predatory, Big Lots now more resembles oxpecker than egret.
Disclosure: I/we have no positions in any stocks mentioned, and no plans to initiate any positions within the next 72 hours.
I wrote this article myself, and it expresses my own opinions. I am not receiving compensation for it (other than from Seeking Alpha). I have no business relationship with any company whose stock is mentioned in this article.