Yesterday Johnson & Johnson (NYSE:JNJ) beat earnings expectations and raised forecasts, leading to an all-time high for the stock price. There is, of course, wide coverage of the company and earlier this summer we reported on the company's three segments (Pharmaceutical, Medical Devices, and Consumer). Investors are enjoying the ride in the spotlight, but today I want to take a look at something beyond the headlines - corporate governance. I will take a look at a few governance trends and am excited to introduce our Board Skills matrix. These tools help investors decide how well executive interests are aligned with shareholder interests, particularly in shareholder return. Also, the Board Skills matrix helps to signal board proficiencies and how these skills align with company strategy.
For comparison I used the Pharmaceuticals peer group from Johnson & Johnson's 2016 Proxy Statement and our free real-time monitoring platform (remember that the Pharmaceutical segment represented 45% of JNJ's 2015 sales). The US-based peers listed this year were AbbVie Inc. (NYSE:ABBV); Amgen Inc. (NASDAQ:AMGN); Eli Lilly and Company (NYSE:LLY); Merck & Co., Inc. (NYSE:MRK); and Pfizer Inc. (NYSE:PFE). The analytics side of our platform is currently limited to US-based companies so the international peers are excluded.
Total Shareholder Return
To set the stage for the governance discussion, I first ran the company and peers by total shareholder return. At market close on July 19th, Johnson & Johnson was at 118.06% and the peer set was just under that at 106.45%. Below are two views, one of the overall comparison and another broken down by individual peer.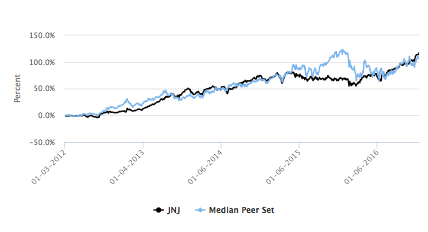 Exhibit 1: Total Shareholder Return
Source: Enlight Research, LLC
Note: Total shareholder return assumes dividend reinvestment.
Exhibit 2: Total Shareholder Return Broken Out By Individual Peer
Source: Enlight Research, LLC
Note: Total shareholder return assumes dividend reinvestment.
CEO Compensation
Johnson & Johnson focuses a large portion of the CEO compensation package on long-term incentives, much like its peer set. Differently, though, it has a larger short-term incentives portion than the others. It is on the higher side of the peer set but is similar to the companies of comparable size.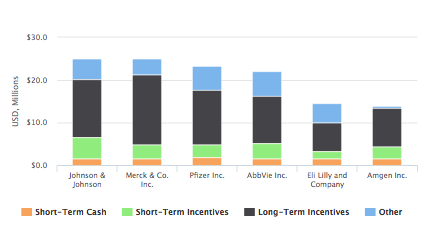 Exhibit 3: CEO Compensation
Source: Enlight Research, LLC
Of course CEO Compensation tied to incentives is only a positive for shareholders if it is tied to appropriate targets. A board can set a substantial incentive structure but negate it with easy to reach targets or limited downside. Shareholders of Johnson & Johnson have signaled some resistance to the compensation package with the lowest Say on Pay approval of the peer set in 2016. Still, approval was 93.3% so it is a good ways from true shareholder discontent levels. It was only a few years ago, 2012, when Johnson & Johnson received 56% shareholder approval so the recent trend downwards, if it continues, could become an issue if unaddressed.
Director Compensation
Board Compensation is pretty aligned with the peer set, with a fairly even split between directors' fees and long-term incentives. Overall compensation is middle of the pack.

Exhibit 4: Director Compensation
Source: Enlight Research, LLC
Board Diversity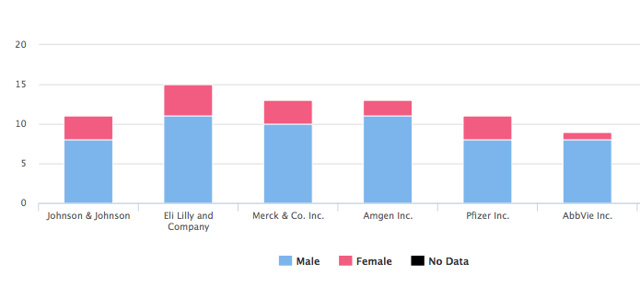 Exhibit 5: Board Diversity
Source: Enlight Research, LLC
Johnson & Johnson, as well as the industry as a whole, are leaders in board gender diversity compared to the overall market. Johnson & Johnson seats 27% female directors and the peers are mostly in line with that figure. Women, according to the 20% by 2020 mid-2016 study, accounted for 17.9% of directors in the Fortune 1000. The goal of the 20% by 2020 campaign is to reach 20% women representation on the boards of the Fortune 1000. SEC Chair Mary Jo White recently reinforced her increasing focus on board diversity saying -
"Diversity on boards, and in organizations more generally, is very important to me and I have not shied away from expressing my strong views on the topic. As a former member of a public company board and its audit committee, I have seen first-hand what the research is telling us-boards with diverse members function better and are correlated with better company performance. This is precisely why investors have - and should have - an interest in diversity disclosure about board members and nominees."
Regardless of mixed performance or fairness arguments related to board diversity, shareholders at companies beyond potential thresholds are in more stable position should institutional investors, proxy advisors or regulators exert pressure to meet board diversity thresholds. Speaking of such pressures, here is a quick rundown of the increasing efforts from major stakeholders to push board diversity.
Board Skills Matrix
Our newest offering, now rolled out on our platform, is the Executive ID feature. Executive ID allows you and us to take a deeper dive into learning about the individuals that make up corporate boards of directors. Although activist and institutional investors have had the benefit of increasing their face-to-face interactions with corporate directors, it is extremely challenging as a retail investor to really analyze the directors who represent us in the boardroom. To mitigate this asymmetry, the feature includes board biographies, the Board Skills Matrix, and board equity positions. It is very rare for a company to disclose such a matrix - and when they do disclose it, it is often in response to an activist slate of nominees. Below is the Board Skills Matrix for JNJ and the peer set.
Just as one example, Johnson & Johnson according to its 2015 Investor Fact Sheet received 49% of sales outside the U.S. Concurrently it is a leader in international skills on the matrix. In this case board skills seem aligned with business realities.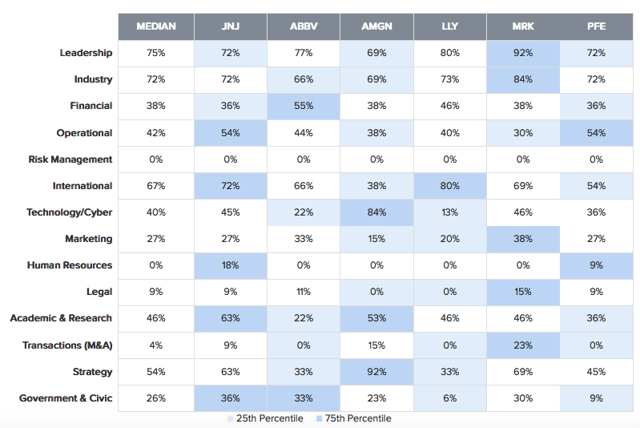 Exhibit 6: Board Skills Matrix
Source: Enlight Research, LLC
Board Equity Positions
Johnson & Johnson's directors own over $31 million of common stock of the company, second lowest in the peer set and substantially lower in absolute terms than the Amgen, Eli Lilly, and Pfizer boards. Proportionally, Johnson & Johnson's board owns the smallest percentage of shares or the peer set, though with companies of this size none of the boards own even .1% of outstanding shares.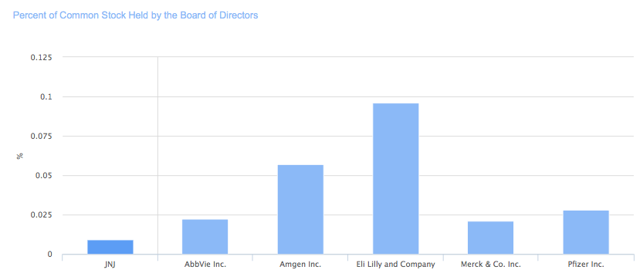 Exhibit 7: Percent of Common Stock Held by the Board of Directors
Source: Enlight Research, LLC
What Does This Mean?
With all of the coverage following large companies like Johnson & Johnson, I find I often lose sight of the people at the top driving the business. The Board Skills Matrix and other analytics features allow investors to easily find this aggregated information outside of sporadic activist publications. With it, investors can keep an eye on how executive compensation and holdings align incentives with shareholder return. Additionally, knowing where the board stands in terms of a skills matrix can help frame the qualifications behind important strategic decisions and potential problem areas.
Interested in seeing similar metrics done with another company and peer set? Drop us a comment, send us a private message, or check out our profile to access our free real-time monitoring platform.
Disclosure: I/we have no positions in any stocks mentioned, and no plans to initiate any positions within the next 72 hours.
I wrote this article myself, and it expresses my own opinions. I am not receiving compensation for it (other than from Seeking Alpha). I have no business relationship with any company whose stock is mentioned in this article.