Introduction
It's now been a year since I had a look at Lockheed Martin (NYSE:LMT), and in the past 12 months the company has seen its share price increase by approximately 31%. That's an excellent performance, but not entirely unexpected as Lockheed's cash flows were very robust. I did initiate a small long position after the article and have been mulling over selling the stock and cashing up. Before making any rash decisions, I decided to wait for the H1 results and go from there.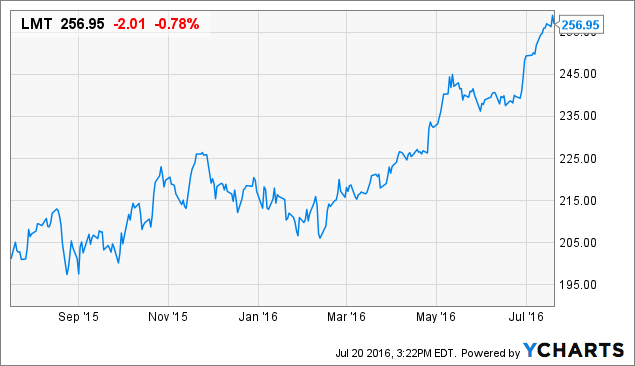 Combing through the SEC filings - no red flags
Lockheed remains one of the bigger companies out there as the company generated almost $13B in revenue in the second quarter of the year, a 10% increase compared to the first quarter and the same quarter in the previous financial year. The majority of this revenue increase was caused by the mission systems and training division, which almost singlehandedly took care of the total revenue increase.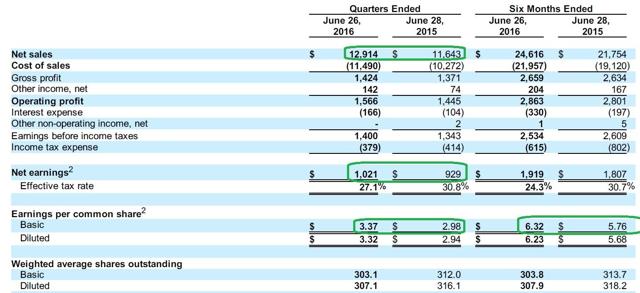 Source: SEC filings
However, despite the substantial 53% increase in the mission systems division revenue, the operating profit actually decreased by 23%, indicating Lockheed was working on some lower-margin operations. That beind said, the total operating profit did increase by 2% to $1.42B (thanks to a 41% increase of the information systems operating income despite the 5% revenue drop). Due to a lower tax rate (27.1% versus 30.8% last year), the quarterly net income increased by approximately 10% to $1.02B or $3.37 per share.
So far, so good. Lockheed definitely had a good quarter (and semester), and the aggressive share buyback program has boosted the EPS by approximately 3% compared to the second quarter of last year. That's obviously very nice, but I'm also always very curious to see the EPS/FCFPS ratio to find out how much of the net income has been converted into hard dollars.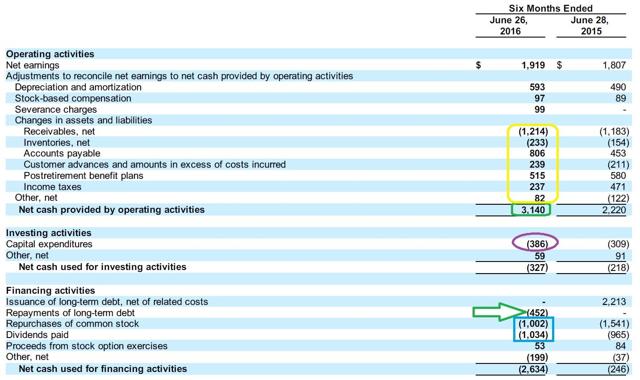 Source: SEC filings
The operating income in the first semester was $3.14B, and after taking the changes in Lockheed's working capital into consideration, the adjusted operating cash flow came in at $2.8B. As the capex remained quite low (at just 1.5% of the total revenue during those six months), Lockheed's adjusted free cash flow was $2.4B, or approximately $7.92 per share (based on 303 million shares). That's really good, as the free cash flow is substantially higher (20%+) than the net income.
I was really worried about the share repurchase pace. Has this issue been resolved?
Last year, Lockheed spent almost $1B on dividends in the first semester (the current dividend yield is approximately 2.55%), as well as $1.5B on buying back stock. That usually is a good move to increase the shareholder value of a company, but there were two reasons why I wasn't too keen on Lockheed Martin doing so. First of all, its total cash outflow to reward its shareholders was higher than the cash flow it generated, and secondly, Lockheed was about to commit to a multi-billion dollar acquisition of Sikorsky, and I would have been in favor of using the cash flow to fund the purchase rather than having to issue new debt.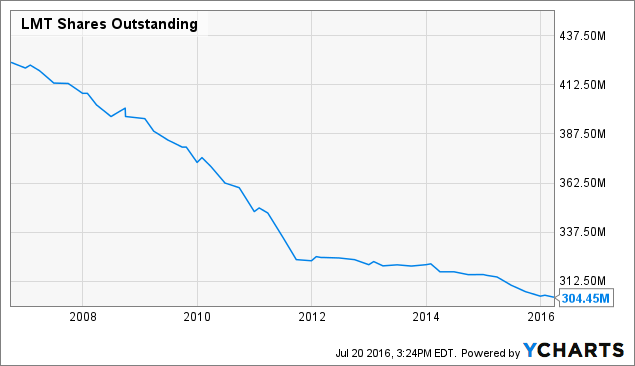 LMT Shares Outstanding data by YCharts
The situation has changed now, and of the $2.4B in adjusted free cash flow, Lockheed has now spent $1B on dividends and $1B on share buybacks, leaving $400M on the table which has been used to reduce its gross debt position.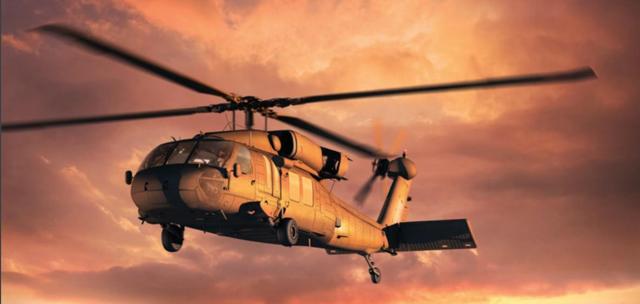 Source: annual report 2015
And that's exactly how I would want a company to operate. It should take care of its shareholders (by paying a dividend and repurchasing stock), but it should also make sure its financial situation remains very healthy. Lockheed is now fitting that bill, as it repaid almost half a billion in debt during the first semester, reducing its net debt position to $13.5B (from $14.2B last year) thanks to the repayment and adding cash to its balance sheet that became available after working capital changes.
Investment thesis
I think (and hope) Lockheed will continue to slightly reduce its net debt, without forgetting to reward its shareholders by continuously buying back stock to increase both the earnings and free cash flow per share. Doing all three things simultaneously, Lockheed will unlock more value for its shareholders as a reduced share count and lower interest expenses will increase the free cash flow per share, paving the way for continuous dividend increases (even if the revenue doesn't increase anymore).
Deleveraging the balance sheet will be key, although a net debt/EBITDA ratio of less than 2 is already very acceptable considering the robust cash flows and good visibility (the total value of the order book is almost $100B, or 2 years worth of revenue), but I would be happier if the ratio could be reduced further to 1.5.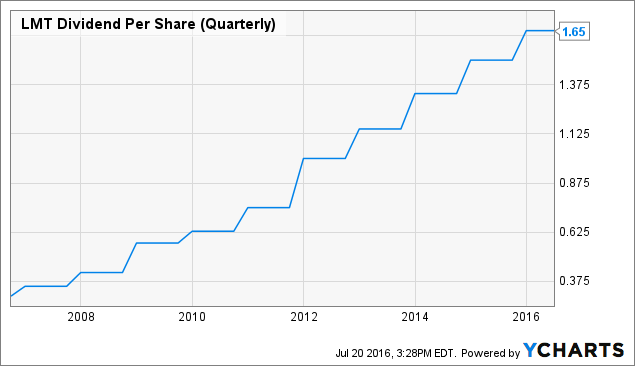 LMT Dividend Per Share (Quarterly) data by YCharts
Based on the results in the first semester, Lockheed is currently trading at a free cash flow yield of slightly above 6%, which isn't expensive at all for, again, a company with robust cash flows and good earnings visibility. I won't sell my stock just yet, as I think a valuation of $300M could be justified based on the free cash flows. In fact, I might even add to my position should the share price fall below the $225-mark as the company might become an excellent dividend play. Should the company continue to repurchase shares at a rate of $2B per year, I expect Lockheed Martin to generate a FCF per share of $16 per share. A payout ratio of 50% would then result in an annual dividend of $8/share, or in excess of 3% based on the current share price (and more than 4% based on my average cost basis).
Lockheed Martin still is a viable candidate to add to your dividend portfolio, but it might be wise to wait for a temporary weak moment to pick up (NYSE:MORE) stock.
Disclosure: I am/we are long LMT.
I wrote this article myself, and it expresses my own opinions. I am not receiving compensation for it (other than from Seeking Alpha). I have no business relationship with any company whose stock is mentioned in this article.