Unilever (NYSE:UL) is acquiring Dollar Shave Club, an online subscription-based razor business, for $1 billion cash. The deal marks the latest move in UL's strategic shift away from its slow growth and lower margin food business into personal care products. At 5x Dollar Shave Club's estimated 2016 revenues of 200 million, the deal is expensive, especially when you consider that the company is not yet profitable and the firm lost market share last year as rivals launched their own online razor offerings. But the deal carries relatively low risk, given the size of UL's balance sheet (approximately 2% of total assets), and, with e-commerce competition heating up, the purchase is a necessary defensive tactic more so than an attack on Gillette's market dominance. The acquisition provides important insight on UL's strategic direction going forward.
Figure 1: Segment Performance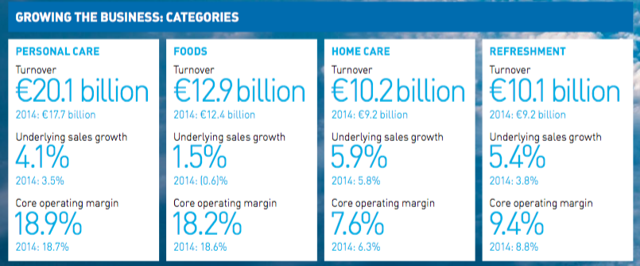 Source: 2015 Annual Report
Dollar Shave Club, founded in 2011, is the market leader in the online shave market, with 54% share compared to 21% for Procter & Gamble's (NYSE:PG) Gillete razors. The company carved out a niche by selling disposable razors through the mail for a flat monthly fee, for as little as $1. DSC quickly rose to prominence as customers perceived their razors to be better value for money and a more convenient alternative to buying razors at grocery stores every few weeks. Since 2011, Gillette's share of the US shaving market fell from 71% to 59% in 2015. The company has achieved rapid growth by adding customers and new product categories such as gels and body washes, and is on pace to grow revenues 30% this year. With UL's support, Dollar Shave Club will be able to deepen penetration in new geographies and improve distribution capabilities.
UL benefits from the deal in some important ways. With global sales volumes moderating in recent years (Figure 2), Dollar Shave Club gives UL exposure to a relatively high-growth niche within the more stable US economy. UL wants to expand in personal care products to offset weakness in food brands, and the male grooming market is an attractive choice. The industry is expected to grow at a 3.3% CAGR through 2020, and with UL's resources, Dollar Shave Club can take share from Gillette and Schick and grow even faster.
Figure 2: Volume Growth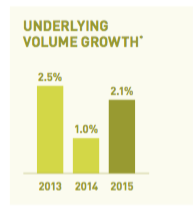 Source: 2015 Annual Report
But UL's purchase of Dollar Shave Club is primarily a defensive move born out of necessity amidst a growing threat from e-commerce players. E-commerce channels have a number of advantages over their brick and mortar counterparts, and Dollar Shave club is the perfect case study. The advantages extend beyond lower overhead costs. By selling directly to consumers, online operators can build stronger relationships with clients and foster brand loyalty. One of the problems with selling through third-party channels is that retailers often cross-sell or bundle products together, making it more difficult to segment a market and understand how well a product resonates with consumers. Furthermore, access to distribution is limited, and shelf space is allocated based on market share, which can make it difficult for firms to push a new product onto the masses. But the ability to access customer data is the biggest advantage of e-commerce. Dollar Shave Club has been able to successfully roll out new product categories by leveraging the insights gained from studying the spending habits of its 3.2 million customers. E-commerce is the future of consumer staples, and Unilever is positioning itself accordingly. Last year the firm's online sales grew 40%, and UL's growing e-commerce segment will be vital for offsetting sluggish growth in other categories.
Conclusion:
Dollar Shave Club's success is symbolic of the rising threat of e-commerce disrupting the consumer staples space, and Unilever's decision to acquire the firm shows that it is concerned about online competitors. Dollar Shave Club is small relative to UL, and its results will have only a minor impact on UL's performance in the short-term. But the acquisition does strengthen UL's footprint in the online market, and if recent trends are anything to go by, Dollar Shave club could eventually become a major personal care products company if it continues to introduce new products. We think there is a market here, as the ability to offers consumers a comprehensive array of grooming and care products at low prices through the mail would be a big advantage. UL is transforming into an e-commerce firm, and we expect UL to be on the lookout for other online targets going forward.
Disclosure: I/we have no positions in any stocks mentioned, and no plans to initiate any positions within the next 72 hours.
I wrote this article myself, and it expresses my own opinions. I am not receiving compensation for it (other than from Seeking Alpha). I have no business relationship with any company whose stock is mentioned in this article.