By Sam Williams
Global pharmaceutical sales hit a record $1 trillion in 2014, and forecasts expect another $300 billion in growth by 2018 according to Thomson Reuters.
If you watch TV, read magazines, or even go out in public, this probably doesn't surprise you. We are constantly bombarded with advertisements for various drugs.
In an industry dominated by big money and marketing, it can be hard for small-cap companies to thrive.
There are a few approaches, though, that can help smaller companies succeed:
1. Create a ground-breaking product that cannot be copied
2. Partner with a larger pharmaceutical company to help with marketing and distribution
And today, I've found a company that does both.
A Misunderstood Acquisition Has Left This Pharma Leader Undervalued
Sucampo Pharmaceuticals (NASDAQ:SCMP) is a global biopharmaceutical company primarily focused on the research and development (R&D) of drugs. Its main product, AMITIZA, is the first chloride channel activator developed for the treatment of chronic constipation.
It may not be the sexiest product, but the most successful drugs rarely are.
Since 2006, AMITIZA, also known as lubiprostone, has been dispensed over 10 million times. Currently, it is available as a small oral gelcap taken twice a day and is approved for three indications that cover distinct patient types: chronic idiopathic constipation (NYSE:CIC), irritable bowel syndrome with constipation (IBS-C), and opioid-induced constipation (NYSE:OIC).
From 2011 to 2015, Sucampo's revenue grew 178%, an average rate of roughly 30% per year. Even better, 2015 was the largest growth year since the launch of AMITIZA. In the first quarter of 2016, the company grew revenue 60% year over year and grew free cash flow (NYSE:FCF) by 360% year over year.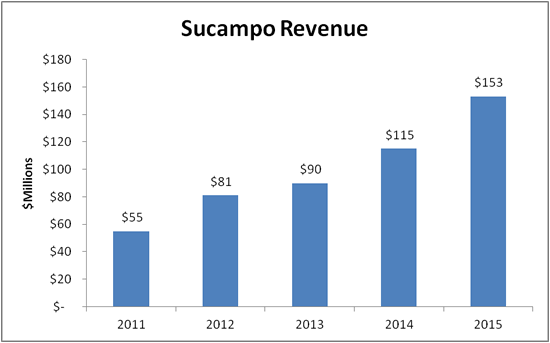 This was all accomplished through a single drug.
Now Sucampo is formulating that drug for new demographics and adding new products to its pipeline as well. It has three new forms of AMITIZA in Phase 3 of clinical trials (the final phase before commercial launch): one for children 6-17 years old, one for six months to six years old, and one as an alternate formulation to make it easier for young children to take.
Additionally, Sucampo has a drug called Cobiprostone in Phase 2 of clinical trials to treat oral mucositis. It helps eliminate symptoms like mouth pain, sores, infections, and bleeding that develop in patients receiving radiation and chemotherapy. If these trials are successful, Sucampo will be able to create a more diverse set of products to better protect it from any unforeseen industry changes.
Beyond making a competitive product, Sucampo has established a number of strategic partnerships to expand their reach and help its bottom line. The company has licensing agreements with Mylan, Harbin Gloria Pharmaceuticals, and Takeda Pharmaceutical to reach the Japanese, Chinese, and U.S. and Canadian markets respectively.
These partnerships allow Sucampo to focus on R&D while raking in cash from product sales across the world. Basically, the various licensing partners like Takeda (OTCPK:TKPYY) subsidize a portion of Sucampo's R&D costs, and pay to physically obtain AMITIZA -- plus, Sucampo is compensated with an 18-26% royalty on the sales of AMITIZA.
Sucampo also made a major step towards growth by acquiring Japanese biotech R-Tech Ueno, which manufactures AMITIZA. With the acquisition, Sucampo will be able to grow its margins through increased revenue while also better managing its bottom line.
This pending acquisition is a primary reason Sucampo is undervalued right now. First quarter 2016 earnings, announced in May, showed a loss of $0.10 per share, causing the stock to fall briefly and hover around the same level ever since. When that figure is adjusted for one-time gains and costs, such as those from acquiring R-Tech Ueno, the company actually reported a gain of $0.21 per share over that period. That marks a 48% increase over the earnings per share from a year prior.
Despite strong top-line and bottom-line growth, Sucampo is still undervalued. Just take a look at this chart comparing its price-to-sales to the peer median: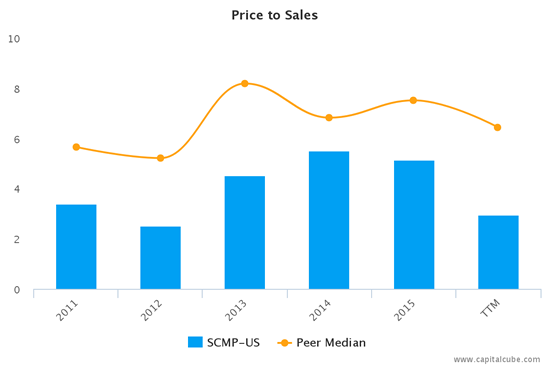 In a R&D intensive industry like pharmaceuticals, it is encouraging when a company has shown not only the ability to create effective drugs, but also to achieve growing sales figures. Sucampo also has a price-to-earnings ratio (P/E) of 22.2, well below the industry average of 62.3 according to Morningstar. Additionally, the company has a price-to-earnings-to-growth ratio (NYSE:PEG) below 1, which can signify an undervalued growth opportunity.
One of the primary risks in the pharma industry is the development of generic drugs that would provide a cheaper alternative. Sucampo has made strides to get ahead of this problem.
In 2014 Sucampo settled patent litigation that will allow Par Pharmaceuticals to sell a generic version of AMITIZA in the United States in 2021, with half of all profits being paid back to Sucampo. Not only does that give Sucampo nearly five more years of dominance in this niche, but it also gives them a solid source of revenue even after the generic version of AMITIZA is released. In addition, with that amount of time Sucampo should be able to diversify its product options based on their current pipeline.
Risks to Consider: Though Sucampo has dominated in the market for chronic constipation drugs, its current reliance on AMITIZA for such a high percentage of its revenue presents a higher level of uncertainty compared to some competitors. This should be mitigated in the coming future as Sucampo continues to grow its pipeline not only with alternate forms of AMITIZA but also new drugs like Cobiprostone.
Action to Take: Based on its strong system of licensing agreements, an optimistic pipeline outlook, and consistently growing revenues and profitability, we consider Sucampo to be trading below its fair value and worth buying at the recent share price of $11.38.
This article was originally published on StreetAuthority.com.
Disclosure: I/we have no positions in any stocks mentioned, and no plans to initiate any positions within the next 72 hours.
I wrote this article myself, and it expresses my own opinions. I am not receiving compensation for it. I have no business relationship with any company whose stock is mentioned in this article.