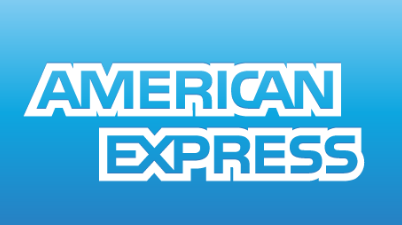 I've been pretty negative on American Express (NYSE:AXP) for some time now as I've thought the company's long tenured premium was overdue to dissolve. AXP is certainly still a good, solid financial but it has traded at a sizable premium to its peers, such as Discover (NYSE:DFS), a stock that has similar characteristics but that also trades at a much lower valuation. Shorting AXP a couple of years ago was easy but at today's more reasonable valuation, shorting may or may not be the right answer. At any rate, investors weren't particularly excited about last night's Q2 report as an initial rally has faded. And after AXP's also-ran CCAR showing this year, what is left for an upside catalyst?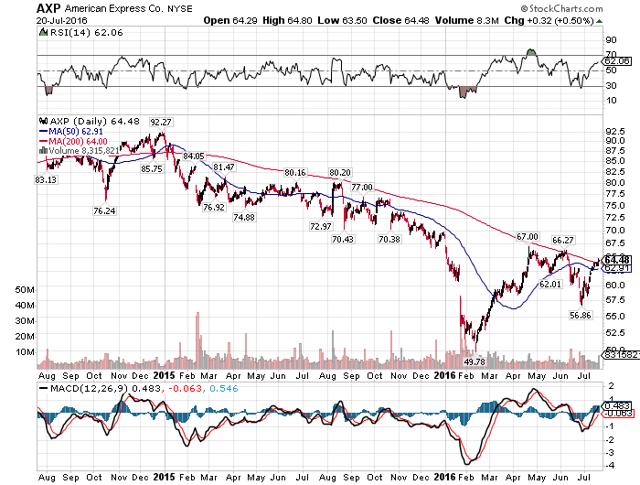 After removing one-time items related to the Costco sale and restructuring charges, AXP's revenue was about flat with last year and missed estimates by a couple of percentage points. AXP - like virtually every other financial - has had a very difficult time growing the top line. Loan growth is hard to come by while maintaining credit standards and AXP's card spending growth has been slow as well. This isn't just an AXP problem but remember that this stock trades at a massive premium to its peers so it should be better, shouldn't it?
Provisions for losses were about flat as well in a change from what we've seen from other financials of late. For instance, Discover said this week that it took some pretty sizable provision builds because it saw nice loan growth in Q2. Other financials that aren't just focused on credit cards have come out with similar Q2 stories, which is a good thing; higher provisions because of new loan growth is a long term positive. But AXP had flat provisions because its loan growth is average at best and that is another area of concern for me. After all, if the sector is growing loans and AXP trades at a premium, shouldn't it be growing loans at least as well as its peers?
In what is becoming a theme for AXP, adjusted operating expenses were flat with last year. The reported number was down 15% but that is because the portfolio sale was reported as an expense reduction. On an operating basis, AXP was flat against last year's Q2. That means its expenses were roughly in line with revenue and that is fine but again, we've seen other financials improve their efficiency ratios in Q2 whereas AXP didn't. AXP is doing good work on its cost structure as it is making progress towards its $1 billion in run-rate savings by the end of next year. Still, once again, AXP looks pretty average here as it ramps spending in other places like rewards and marketing.
One area where AXP is not average - and it's a big one - is in ROE. Discover hovers around 21% or 22% on a regular basis and the money center banks are a fraction of that number so they aren't worth mentioning as the models are completely different. But AXP's ROE in Q2 was 26.4% and while that is down 170bps from last year's level, it is still the highest level of any financial I know of in the US or anywhere, for that matter. Part of this is because AXP's capital base is smaller than a lot of its competitors but a lot it is just because AXP makes a lot of money. It sounds simple enough but stocks with higher ROE's than their peer groups tend to trade at higher valuations and AXP certainly has that. But is it enough? Given the average nature of virtually every other operating metric, is AXP still worthy of its sizable premium?
To begin crafting an answer to that question, let's first take a look at its premium against Discover as their models are quite similar. AXP yields less than 2% and at its current price, is trading for 11.5 times this year's earnings. That is certainly not a nosebleed valuation and indeed, AXP used to trade more like 14 times earnings so in that respect, it has undoubtedly gotten cheaper. But so has the rest of the sector, including Discover, which is going for just 9.8 times this year's earnings, has a higher yield and a more robust capital return plan. Sure, AXP's ROE is 400 to 500bps higher and that matters, but is that worth such a massive premium all by itself?
To my mind, no, it isn't. AXP has gotten cheaper but it deserves to trade at a small premium to DFS as they have very similar operating characteristics apart from ROE. And with DFS having much better capital returns and a significantly lower valuation, I simply can't find a reason to own AXP. I'm not saying AXP is a short here because I don't think it is; I think it is overvalued compared to its peers. Thus, what I am saying is that I think AXP should underperform its peers in the financial space unless it finds a way to grow. Its expense reductions are nowhere near sizable enough to grow earnings on their own the way they have been at the money center banks so AXP is going to have to do it the old-fashioned way, something it has struggled with of late. Higher ROE is great but that alone does not make a stock worth a huge premium to a very similar company; I prefer Discover here if you want a credit card stock.
Disclosure: I am/we are long DFS.
I wrote this article myself, and it expresses my own opinions. I am not receiving compensation for it (other than from Seeking Alpha). I have no business relationship with any company whose stock is mentioned in this article.