Inventory draw was finally in line with expectations. Crude stocks (NYSEARCA:USO) declined by 2.3 MMbbl for the week ended July 15th. This is well within my target range of -7.1 MMbbl to +2.9 MMbl as stated in my pre-announcement analysis.
Crude continued to fall just prior to the announcement, dipping below $44/bbl; it then bounced straight back up to $45/bbl. Why?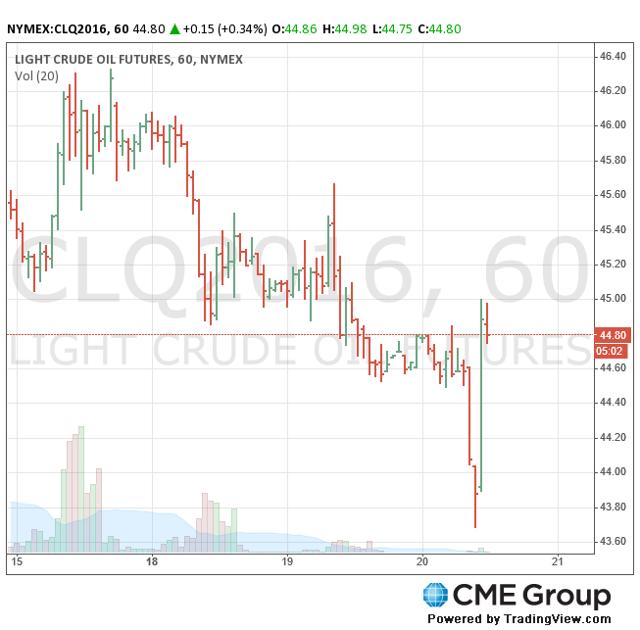 In my last article, I mentioned that we should keep our eyes on production. Unfortunately, that was not the cause of this bounce. Weekly production rose slightly from 8,485 Mbbl/day to 8,494 Mbbl/day. A 9 Mbbl/day change doesn't tell us much alone, and it certainly should not have caused crude to jump back to $45/bbl, as it indicated an increase in supply.
The increase in crude input by refiners could constitute as a bullish signal (+319 Mbbl/day), but considering that the seasonal effect (i.e. summer driving season) is well known, this increase is hardly a surprise. Hence, I am confident that the jump in crude is merely the result of investors correcting the unjustified pre-announcement decline. As I talked about in my last article, investors were bearish going into this report, and since the results were relatively neutral, oil deserves to regain lost ground.
Bearish View Maintained
The report was neutral overall, but that doesn't change my bearish view one bit. This is the second week that domestic production increased, and it's also the second time that this happened in 2016. The last time domestic supply rose two straight weeks was back in January, when production increased from 9,121 Mbbl/day to 9,186 Mbbl/day in over three weeks. Crude then plunged to a 13-year low soon after.
Note that the pace of the increase back then (+11 Mbbl/day per week) was much slower than what we've seen in the past two weeks (average of +33 Mbbl/day per week). Keep in mind that crude supply tends to be subdued during summer months as well. This pattern has been muddied by the shale boom. Even then, the average production increase from May to July is only half of the aggregate average. Average weekly increase was 21 bps from 2011 to 2015, this compares to just 11 bps for weeks from May to July over the same period.
Also of note is the import figure. I can't say that it's surprising to see imports remain elevated, rising from 7.8 MMbbl/day to 8.3 MMbbl/day. I've repeatedly cautioned investors that international producers are unlikely to back down. While it's still too early to tell, it will be interesting to see if we will see domestic supply increase along with imports in the near future. If this becomes reality under current economic conditions (i.e. sluggish global demand for oil), then low oil prices will be the norm for years to come.
Click the "Follow" button beside my name on the top of the page to be updated with my latest insights. To learn more about the V20 Portfolio, whose goal is to compound capital at 20% over the long term, I encourage you to read the introduction to my investment process. Premium subscribers get full access to the V20 Portfolio.
Disclosure: I/we have no positions in any stocks mentioned, and no plans to initiate any positions within the next 72 hours.
I wrote this article myself, and it expresses my own opinions. I am not receiving compensation for it (other than from Seeking Alpha). I have no business relationship with any company whose stock is mentioned in this article.