No single asset has drawn as much attention as gold since the Global Financial Crisis. Between 2008 and 2011, gold prices rose drastically from just above $800 to roughly $1,900 per ounce, thanks to the unprecedented quantitative easing (QE) policies that undermined investors' confidence and caused a fear of currency debasement and hyperinflation. However, gold price then went south as lack of inflation and taper tantrum triggered a massive selloff in precious metals. Nevertheless, gold has been viewed as a safe haven asset to hedge against any extreme events such as currency debasement, unexpected acceleration in inflation, as well as social unrests. While these exogenous factors increased investors' appetite for gold, they all contributed to one single determinant that explains major price changes in gold over the past several years: the level of real interest rates.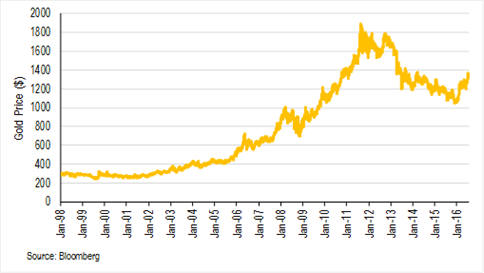 The reason why the price of gold is driven by real yields is because they are pertaining to the opportunity cost of holding the asset. In other words, if real yields of risk-free assets are high, investors would want a higher discount rate to compensate for the cost of holding non-interest bearing assets. On the other hand, when real yields are low, the opportunity cost of holding gold drops and investors will be more willing to pay a higher price for gold relative to its estimated real value.
Putting together historical data of real yields and real gold prices from 2003 to the first half of 2016 into a scatter plot, the message seems to be very obvious: there is a negative relationship between real gold price and real yields. Apparently, the historical correlation between real ten-year Treasury yield and real price of gold is -0.84, indicating that real interest rates explains approximately 70% of the movement in real gold prices over the past 12.5 years.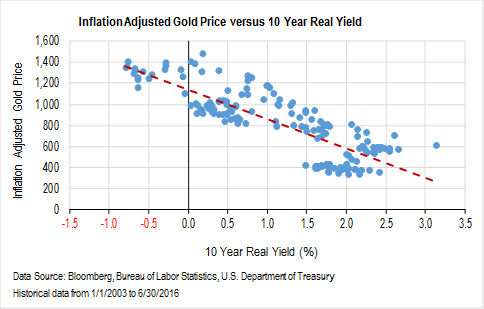 Based on the regression study, the result shows that an upward 100 basis-point shock in 10-year real yields has historically led to a decline of 24.6% in real gold price, all else equal. Interestingly, real gold prices and 10-year real yields do act in a similar fashion when examining the following chart where the secondary axis of 10-year real yield is put in reverse order (see below).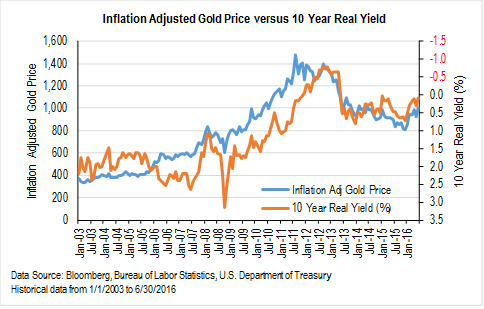 With real rates yielding near zero or negative today, there is a likelihood that the rally of gold price in the first half of 2016 could potentially continue in the second half. On the other hand, a short term breather earlier this month has already driven the price down from the peak of $1,380 to $1,330, due to stronger-than-expected jobs data that triggered speculation of a Fed rate hike later this year.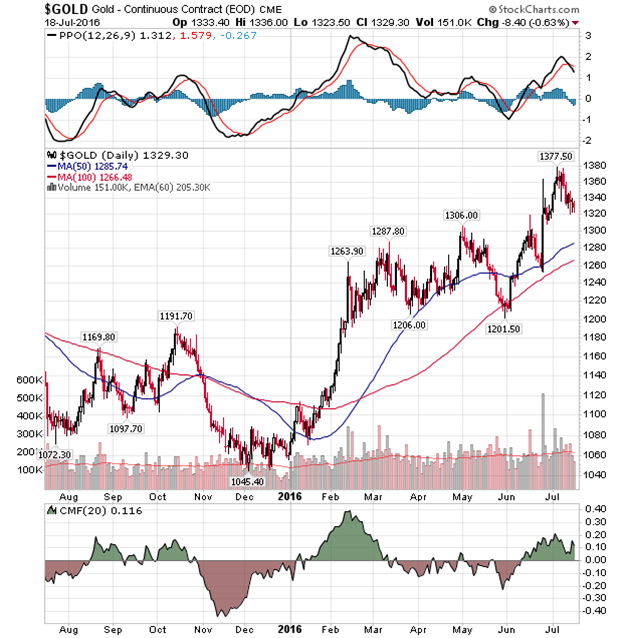 Remember the scars left over from the great inflation of the 1970s? It was the period when both nominal rates and inflation rates were high, while inflation significantly outpaced nominal yields and investors shifted their investment into gold. However, the gold rally came to an end shortly after Paul Volcker had hiked short-term nominal rates, which brought real yields back into positive territory.
An obvious question is whether this would reverse the gold rally if the Federal Reserve decides to resume the rate hike later this year. While the future path of real interest rates is hard to predict, we do not anticipate to see a faster pace of rate increases. Additionally, we have to keep in mind that the actions of raising the Fed funds rate only impact the short end of the yield curve, while concerns about inflation and the premium that investors require to compensate for any concerns about future rates play a much bigger role on the long end of the yield curve. With the shorter dated real rates yielding negative, the Federal Reserve is already farther behind markets with its interest rate policy in order to avoid any negative consequences of financial instability due to negative real rates. However, concerns about a global economic downturn continue to slow down the pace of short term nominal rate hikes.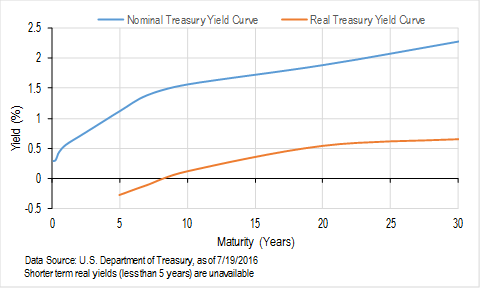 In the near future, gold is still viewed positively as a diversifier to hedge against uncertainties around the upcoming U.S. Presidential Election, the Brexit, as well as social unrests in the Middle East. Even though positive data suggests higher U.S. nominal rates, the Federal Reserve is behind the curve on the rate hike largely due to concerns about a global economic slowdown as well as negative interest rate policies (NIRP) implemented by both European Central Bank (ECB) and Bank of Japan (BOJ), which may lead to a slower rate hike by the Fed and real yields remaining in negative territory for a longer period of time. Overall, negative real yields coupled with geopolitical uncertainties should continue to bode well for gold.
Disclosure: I/we have no positions in any stocks mentioned, and no plans to initiate any positions within the next 72 hours.
I wrote this article myself, and it expresses my own opinions. I am not receiving compensation for it (other than from Seeking Alpha). I have no business relationship with any company whose stock is mentioned in this article.
Additional disclosure: Past performance is not indicative of future results.