Overview
Founded in 1985, Frontline Ltd. (NYSE:FRO) is an international shipping company incorporated in Bermuda. Through a series of acquisitions and tanker purchases, Frontline became the world's largest tanker company. In early 2012, after an extended downturn in the tanker market, Frontline completed a restructuring while many of its peers filed for bankruptcy protection. The restructuring was made possible due to a substantial investment done by the Frontline's still-largest shareholder, Hemen Holding - a trust established by the company's chairman and president (51.7% of total outstanding ordinary shares). Following the restructuring, Frontline gradually divested itself of older vessels and decreased its fleet size. John Friedriksen, the ultimate owner of Hemen Holding, is a Cyprus-based shipping magnate with a net worth of $9+ billion. He is also known for his interest in Golden Ocean (NASDAQ:GOGL), Seadrill (NYSE:SDRL) and Ship Finance (NYSE:SFL).
Profitable again
The company returned to profitability during the 1st quarter of 2015. There has been a significant margin improvement since then, with operating and net margins accounting for 62.6 and 27.1 percent in 2015 and 45.3 and 34.8 percent in Q1 2016, respectively. Meanwhile, first quarter's revenue and net income are demonstrating evidence of the present turnaround, accounting for 49.5 and 63.5 percent of 2015's total figures.
On a negative note, days receivables - standing at 76.93 as of 2015 - have more than tripled since 2010. Given that total receivables have been growing at a CAGR of 3.7 percent from 2010 through 2015, this might be a substantial threat to the company's liquidity position should these dynamics continue. Moreover, asset turnover has strongly suffered from the significant increase in the company's total fleet. Even though a continued improvement in operating metrics might improve that over the medium term, the company currently plans to continue increasing its fleet size.
Safe debt levels
As of December 2015, total debt maturing throughout the years 2016, 2017, 2018 and 2019 totaled $57.58, $57.6, $57.6 and $57.6 million, respectively, indicating no significant debt maturities before 2020 ($367.16 million). Over the last 2 years, the company has been primarily issuing longer-term debt securities and maintaining a short-term debt amount that has been entirely covered by its liquid assets. Current ratio has been averaging 1.77 over the last 6 years.
Since bottoming out in 2013, the company's liquidity position has been gradually improving, with cash and equivalents accounting for more than 60% of the company's current assets as of Q1 2016. Interest coverage ratio (annual) has been holding above 5 since 2013, with the Q1 figure accounting for 7.37x interest paid. Nonetheless, despite the recent improvement, Frontline's liquidity position might become rather fragile under continued pressure and should be monitored carefully.
Significant cash generation at present tanker shipping rates
Even though the tanker shipping rates are expected to decline during the 2nd quarter of 2016, Frontline's guidance suggests significant cash generation at present rates, as evidenced by the grey lines on the charts provided.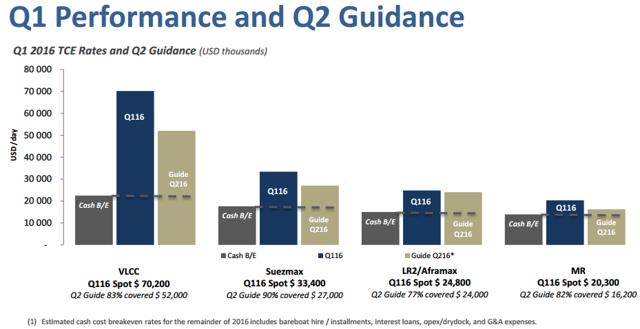 Source: Company's Presentation (2016).
Compelling valuation
At just 1.26x TTM earnings, the stock is trading substantially below its best 2-year TTM P/E of 8.02 (it might be best to use this period given the company's recent turnaround). In terms of Price/Earnings and Price/Book (1.26 and 0.32), FRO is significantly cheaper than the 5 competitors of similar market capitalization (average values of 10.79 and 1.04), as well as more attractive from the free cash flow yield perspective (17.32%). At the same time, the company is reasonably priced in terms of the EV/EBITDA and EV/Sales multiples, totaling 7.28 and 3.71, respectively.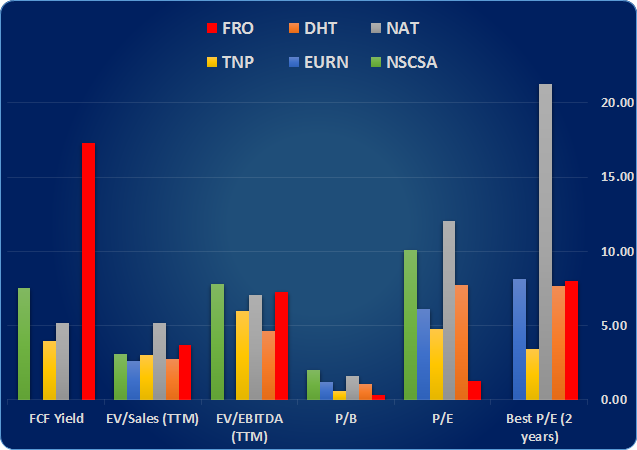 Source: Bloomberg
Disagreement in analyst opinions
Despite the recent improvement, the company's operating metrics are estimated to decline over the next 4 quarters. In case the true market conditions prove to be more favorable over the next year, a significant improvement in analysts' target prices is more than possible. Despite a certain divergence in analyst opinions, the stock has a consensus rating of 2.95 (NYSEARCA:HOLD) and an $8.96 price target, suggesting potential of a 14.2% appreciation from the present levels. Even though the stock has a long track record of producing negative earnings surprises, the estimates might prove to be too pessimistic. On the other hand, the bottom percentile valuation is going to serve as a protection against additional downside should the expectations prove to be correct.
Performance
Since mid-February, the stock has been following a pattern close to that of a multiple bottom, as seen on the year-to-date chart on the right. The $7.11 support level has been tested twice (April 7 and May 4). FRO is trading substantially below the 200-day simple moving average, yet it is not oversold (nor overbought) from the perspective of the RSI and Bollinger Bands. Meanwhile, the stock might experience additional upside in the near term in case the bullish MACD signal proves to be correct once again. If there are no additional headwinds over the next 1-2 months and the market continues to hold its gains, the stock might be poised for additional appreciation towards its 200-day SMA near the $10 level. In addition, the low valuation and strong support at $7.11 will serve as protection should the investor sentiment and/or operating metrics worsen in the near term.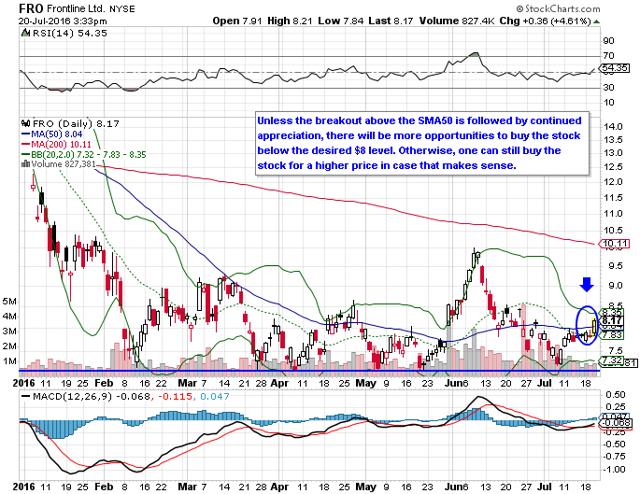 Source: StockCharts.com
The speculative opportunity
If there are no additional headwinds over the next 1-2 months and the market continues to hold its gains, the stock might be poised for additional appreciation towards the $10 level. In addition, the low valuation and strong support at $7.11 will serve as protection should the investor sentiment and/or operating metrics worsen in the near term.
Of particular note, however, is the stock's tendency to shoot over the $9.50 level between the dividend announcement and payment dates since the company has been increasing its dividend twice in a row over the last 2 quarters, and is currently expected to maintain a 20.4% dividend yield (assuming constant dividend payment starting from the last quarter).
Given the historical payout ratio dynamics, there is a high possibility of another dividend increase in the next quarter. Frontline's payout ratio has accounted for 94.9% in 2010 vs. 69.6% in Q1 2016. Ship Finance Ltd., another company controlled by Friedriksen's Hemen Holding, currently has an 89.87% payout ratio and has been on average maintaining the ratio above 1 over the last 8 quarters. Meanwhile, since dividend income is free of tax in Cyprus, there is a strong initiative for Mr. Friedriksen to get his money back. Unless Frontline's profitability suffers a substantial downturn over the next quarter, additional dividend increase might follow shortly.
The payment of $0.40 per share - the previous quarter's distribution - represents a quarterly (!) dividend yield of 5.09% at the current stock price. Since it is reasonable to assume that the next distribution is expected to drive higher awareness and a dividend increase is quite possible, strategy of buying the stock below $8.00 and holding it until the price crosses the $9.50 level (depending on the post-announcement performance) represents a rather compelling risk/reward for a medium-term trade. The next announcement is expected to take place on or after August 31, 2016.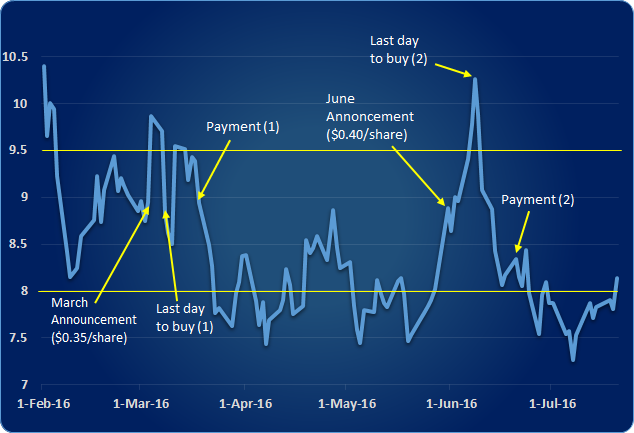 Source: made by the author using the data from Investing.com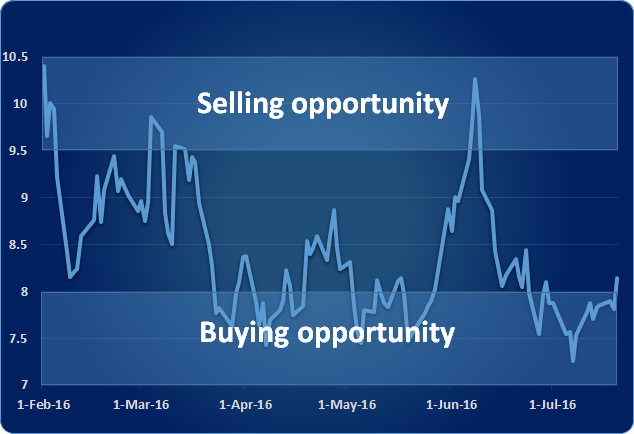 Source: made by the author using the data from Investing.com
As the first chart above clearly indicates, should the expected run-up take place, it might be wise to sell before the actual dividend payment. It also might be logical to expect most of the gains happen when the stock is approaching its ex-dividend date.
Risk/Reward
In the worst-case scenario, one's money is protected by numerous factors:
Improving fundamentals and sentiment;
~5% return coming from the dividend payment;
Multiple bottom technical pattern with a strong support near the $7.11 level.
Finally, since FRO remains a rather risky stock, there is a stark difference between holding it for 1.5 months and only holding it for a couple of weeks. Thus, it is of paramount importance to buy the stock as late as possible. Since the stock has just spiked above the $8 level as of this writing, I am going to use the comment section to inform the readers of my entry. A brief market correction is rather possible at this point, suggesting the possibility of numerous opportunities to buy the stock cheaper before the end of August.
Conclusion
Even though the near-term prospects of Frontline continue to be favorable for the ongoing turnaround, there are numerous risks to be taken into account before considering holding the stock for the long-term. It is hard to deny that this might prove to be a good timing for a long-term entry at some point. However, the above-mentioned strategy seems to bear less risk and a more certain return. Finally, it is still possible to continue holding the stock for a longer term in case the company announces some truly memorable earnings.
Risks
Despite the seemingly improving tanker market fundamentals, a potential area of concern might be the company's fleet expansion program. Despite the wide availability of cheaper secondhand fleet on the market, a further decline in order book, if accompanied by a continued oil supply slowdown, might have a substantial adverse impact on the company's liquidity position.
For the time being, even though the company's fleet is operating substantially above the break-even rate, cash generation is an issue. Net change in cash accounted for a decrease of $32.42 million in 2015 and a net increase of $7.11 million in Q1 2016. However, the dividend seems more than sustainable due to low short-term debt and contractual obligations.
Finally, the company is strongly dependent on the personal judgment of John Friedriksen. Despite the past success, shares of Golden Ocean, Seadrill and Ship Finance - other companies owned by this person - are trading substantially below their all-time highs at the moment. On a more positive note, Friedriksen's companies tend to demonstrate healthy balance sheets, low short-term debt and high payouts (whenever paying the dividend is reasonable and financially possible).
Disclosure: I/we have no positions in any stocks mentioned, and no plans to initiate any positions within the next 72 hours.
I wrote this article myself, and it expresses my own opinions. I am not receiving compensation for it (other than from Seeking Alpha). I have no business relationship with any company whose stock is mentioned in this article.