By Parke Shall
Tesla (NASDAQ:TSLA) CEO Elon Musk last night released part two to his "master plan". This was supposed to be a plan that gives an outlook into his vision for Tesla and other companies that he is involved in. It wasn't filed with the SEC, but rather in an informal blog post on the Tesla website, and to us, it looks like a great reason to not be invested in Tesla here. As Musk stated on the Tesla blog,
So, in short, Master Plan, Part Deux is:

Create stunning solar roofs with seamlessly integrated battery storage
Expand the electric vehicle product line to address all major segments
Develop a self-driving capability that is 10X safer than manual via massive fleet learning
Enable your car to make money for you when you aren't using it
In short, the blog promises vehicles that can make you money while you're not using them, and Uber like ridesharing services which will seemingly turn anybody's vehicle on the street into a potential vehicle for transport, and solar powered semis and public transportation buses.
Some fans of Tesla thought the "Master Plan Part Two" was groundbreaking, others on social media heralded it as the next natural evolution for Tesla, and were less surprised. One could theoretically argue that any car company that is going to grow is going to start with a single model and eventually produce a line of vehicles that include trucks and buses, similar to the way companies like Volvo (OTCPK:VLVLY), Ford (NYSE:F), and General Motors (NYSE:GM) do.
The one annoying question that keeps coming up with relation to this master plan is where the money is going to come from to research it, and then implement it? Tesla is actually burning more cash from operations than it ever has in its history right now.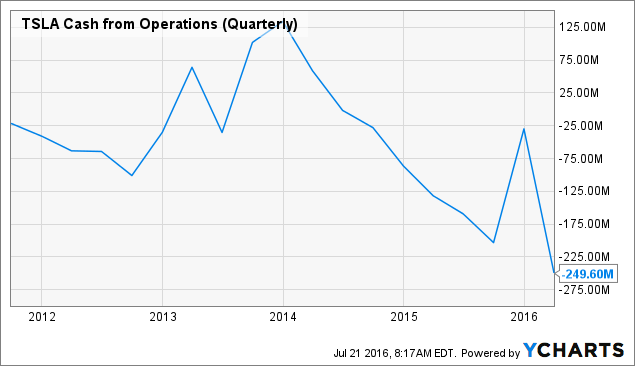 TSLA Cash from Operations (Quarterly) data by YCharts
These "Master Plan" ideas are radical ideas that could transform the future of both the energy industry and the automobile industry. But it doesn't make sense to us for the Company to tackle these projects when it is not even generating cash from its current operations to keep itself afloat right now. That means that starting on these new projects is likely going to require more dilution for Tesla shareholders, who have already endured dilution that looks like this: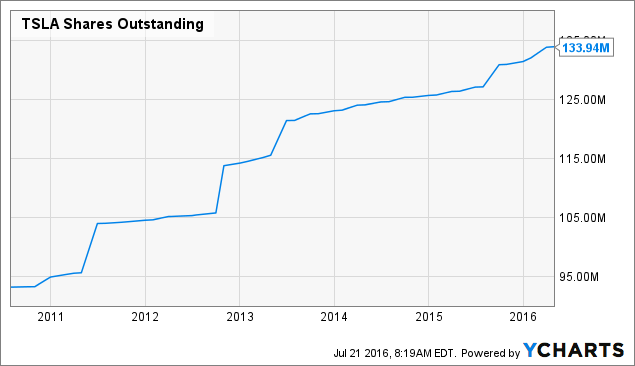 TSLA Shares Outstanding data by YCharts
As the share count continues to increase and the company's market cap continues to increase, Tesla becomes more and more at risk of getting into bubble territory. Personally, we already think that the equity is in a bubble, and judging by the market's reaction this morning to this plan, it may be starting to think the same.
While the vision is certainly massive on a scale that could have some believing that investing now could be extremely profitable, the results from projects such as these and whether or not they are profitable will only come to light many years down the road, well past 2020.
When you first enter investing classes as a university student, one of the first concepts you learn about is the time value of money. We simply do not think Tesla shares can move higher here just based on an idea. We don't think burying capital in Tesla's equity right now for hopes of payoff of these ideas in 5-10 years is a prudent way to manage capital. Time value will eat away at that capital alongside dilution.
That is all this plan is right now, nothing more than an idea or a story. The story that shareholders were told five years ago has yet to produce profit for the company. Undertaking new projects, especially if the company combines with SolarCity (SCTY), is going to be an extraordinarily costly endeavor.
The argument then goes from believing the stock could go up to perhaps a $300 billion or a $400 billion market cap to asking those who hold shares now, "Won't the ensuing final share count put the company's market cap there with its current share price eventually?"
In business, Thom and I always learned to get the basics down first. Try and create a business where there is little or no debt, or debt is very manageable. Perfect your initial profit centers before spreading yourself too thin.
Moving too quickly, too fast is a recipe for disaster, as Theranos just found out. While Tesla has certainly delivered a beautiful product and has certainly garnered the interest of the public, its financials are a completely different story. It is easy to disrupt history when you have an unlimited checkbook that the shareholders are going to back for you. It is far more difficult to create a company that revolutionizes history but is also economically sound.
We just don't understand how moving forward with a project of this magnitude is going to help shareholders right now. We think that this project will put things in perspective for those that are considering owning the equity. The question becomes, "How long can you buy into the story and not the financials?"
While we blame the Federal Reserve for creating an environment where there is essentially euphoria and where investors can buy into stories instead of fundamentals, it is important to remember that all bubbles burst at some point. There were several people on social media last night who made the comparison between Tesla's new master plan and the euphoria that existed during the 1999 technology bubble. We've been seeing an influx of ideas from Tesla, but none of them contributing significantly to the company's financials.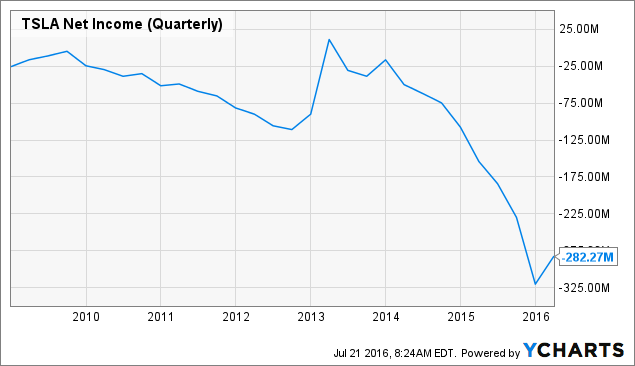 TSLA Net Income (Quarterly) data by YCharts
It is just economics, our belief that the price of the equity is going to need to move lower. If it doesn't move lower simply from dilution, we expect it moves lower when the confidence of shareholders is lost. When you are promoting a story instead of producing financial results, confidence is paramount. Right now, Tesla has the confidence of both the market and retail investors, but we're not sure how long that's going to last.
Disclosure: I/we have no positions in any stocks mentioned, and no plans to initiate any positions within the next 72 hours.
I wrote this article myself, and it expresses my own opinions. I am not receiving compensation for it (other than from Seeking Alpha). I have no business relationship with any company whose stock is mentioned in this article.