Software security technology company Illumio (Private:ILLM) is a growing cybersecurity company focused on the middle market enterprise security space.
Founded in 2013, Illumio provides adaptive security technologies for enterprise data center and cloud computing environments.
The company appears to be gearing up for an IPO, as it recently hired Chief Financial Officer Remo Canessa, formerly CFO of Infoblox.
Illumio has approximately 160 employees and is headed by industry veteran co-founders Andrew Rubin as CEO and PJ Kirner as CTO.
Although it may be preparing for an IPO, it is likely too small to succeed and may be going through the process to generate acquisition interest.
Technology
Illumio has developed what it calls its Adaptive Security Platform.
The system provides real-time visibility into application dependencies, the ability to ringfence high-value applications and encrypts security across enterprise data centers and cloud computing environments.
Benefits to enterprises include the ability to decouple security from the underlying infrastructure and IT and security teams can write security and operational policies in natural language, while the system abstracts network complexity.
(Source: Illumio YouTube Channel)
Market Size
The market sweet spot for Illumio is primarily mid-sized companies. Its customer list includes companies such as Plantronics, NetSuite, Creative Artists Agency and Morgan Stanley.
According to Cybersecurity Ventures, more than $1 trillion will be spent globally on cyber security between 2017 and 2021.
Notably, the firm "anticipates 12% to 15% year-over-year growth through 2021, compared to the 8% to 10% projected over the next five years by several industry analysts."
CV noted that J.P. Morgan Chase doubled its annual cyber security budget to $500 million, the US government has increased its annual cybersecurity budget by 35% and Bank of America has publicly said it has an unlimited budget for anti-cybercrime initiatives.
So, dramatically increasing estimated market demand over the next five years is certainly bullish for Illumio's prospects.
Competition
According to a research report in April, 2016 by 451 Research, there do not appear to be direct competitors to Illumio's particular set of features.
Rather, cloud infrastructure security companies such as CloudPassage, Dome9, ThreatStack and FortyCloud offer some features in common. Software-defined security companies like Cisco (NASDAQ:CSCO), vArmour Networks and VMware also have some overlapping coverage.
Illumio is a relatively small vendor in a market that is currently dominated by Cisco and VMware, so as such it has much work to do to prove it can make inroads and take incumbent market share.
To date it has formed technology alliances with companies such as F5 (NASDAQ:FFIV), Citrix (NASDAQ:CTXS) and Docker to increase its integration capabilities. The company will need to add integrations with additional vendors in order to grow its visibility in the enterprise.
Financials
As a private company, Illumio has raised $142 million in three rounds of venture capital and private equity firm investment, from top tier investors including Andreessen Horowitz.
Most recently, in April, 2015, it raised $100 million from a large syndicate of investors, for the purpose of expanding his platform, growing its sales and marketing efforts and fueling its international expansion.
The company has not filed a public S-1 at this time.
According to 451's April, 2016 report, the company has an annual sales run rate of up to $24 million, based on an average revenue per customer of between $400,000 to $800,000.
Potential IPO Discussion
If Illumio's annual revenue run rate of up to $24 million is current and accurate, it appears too little to go public anytime soon.
The current IPO environment is difficult for all but the very best technology startups, and even those companies need to have a minimum of $200 million annual revenue to succeed, as Twilio's (NYSE:TWLO) recent IPO indicated.
The company's hiring of a CFO is one possible indicator of its interest in testing public demand for its stock.
However, the company may also be feigning going public in order to entice strategic acquirers.
The top cybersecurity acquirers, according to a recent Fortune article are: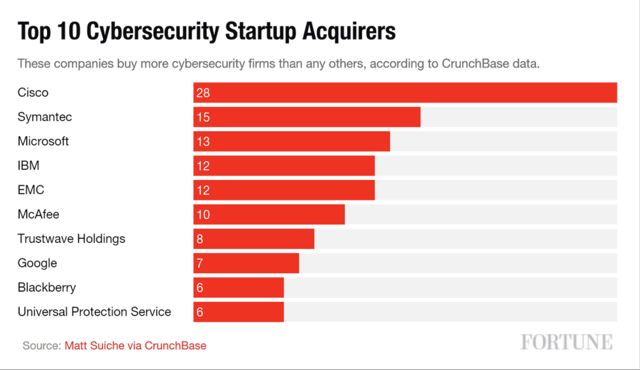 (Source: Fortune)
Unless and until Illumio can record significantly higher revenues, it is likely to be more of an acquisition target than an IPO candidate.
Accordingly, its true valuation is potentially lower in an M&A scenario than that of an IPO.
Its most recent funding round of $100 million in April 2015, during the height of the unicorn feeding frenzy, was likely at nosebleed valuations.
I would stay away from purchasing company shares in any private market, as valuation may have dipped since the last funding round closed.
Disclosure: I/we have no positions in any stocks mentioned, and no plans to initiate any positions within the next 72 hours.
I wrote this article myself, and it expresses my own opinions. I am not receiving compensation for it (other than from Seeking Alpha). I have no business relationship with any company whose stock is mentioned in this article.