With upcoming earnings, it is a wonderful time to revisit the concept of price versus value and observe the premium the market is attaching to Snap-on Incorporated (NYSE:SNA) fundamentals.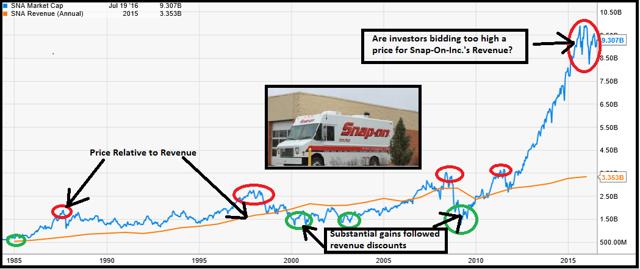 Snap-On Incorporated Description & History
As a marketer and manufacturer of high quality tools, equipment software, and diagnostics essential to auto repair, aerospace, agriculture, construction, power generation, mining, Snap-on has been working to provide industry with important products for almost a century.
Vitals Check-Up
Snap-on's quarterly report provides financial data essential to an analysts estimation of fair value. The numbers provide data on the recent health of this corporation. As a measurement of vitals like assets, liabilities, revenue and cash flow, these numbers display signs of vigor or distress.
With the upcoming quarterly report, this is a great time to revisit current numbers and analyze how they compare to price. Although these vitals change every quarter, they will be useful in estimating future potential by comparing them to the new data.
Assets
With a current stated value of $4,436,000,000, Snap-on's growth in assets is displayed in the chart below. This growth is what investors demand of management, and is a sign of a capable management team.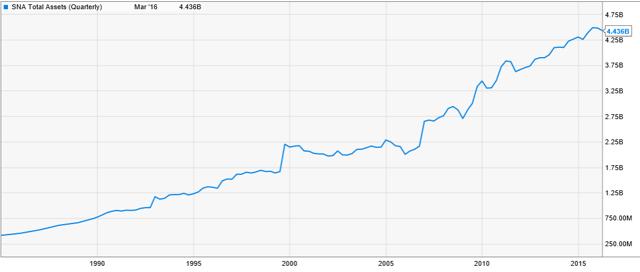 Although these numbers do not include the value of human potential, it does include Snap-on's real assets like property, plant, equipment, inventory, cash in the bank, among other assets of fundamental value.
Liabilities
Debt and liabilities often show the faith institutions like banks have in a company's future. At a current level of $1,919,000,000, Snap-on-Inc.'s liabilities have also grown. With liabilities of $1.9 Billion backed by $4.4 Billion in assets, Snap-on's low financial leverage is a sign of conservative management, a good attribute that investors should also demand.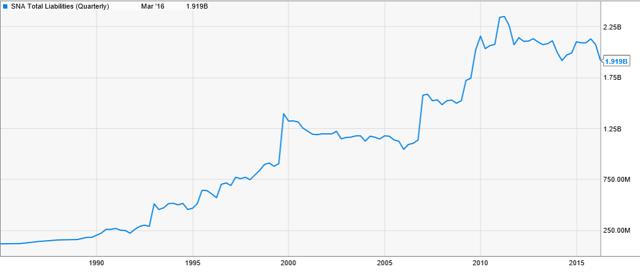 Cash Flow/Earnings
As a derivative of the combination of assets and liabilities coordinated by human initiative, earnings are reward of management successfully operating this company through multiple recessions. Growing earnings allow for continued gains to the investor.
From a level of $59,600,000 in 1984 to $496,500,000 today, management has been a good steward of investor's capital. This growing earnings is what investors must expect of management.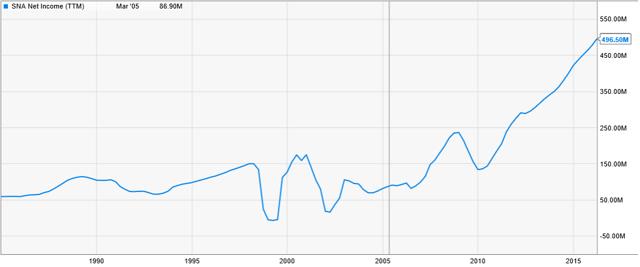 So far everything is pointing in the direction of a wonderful investment. To add to the other positives, at almost 15%, current readings of profit margins indicate favorable conditions compared to the past. This, however is not always a positive thing. If margins are high, new competitors may enter the market. Additional competition can lead to reduced margins. If margins revert to levels seen in the past, earnings can be substantially lower.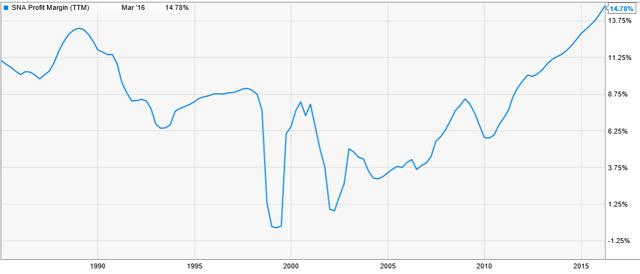 What these numbers do not show, however, is the market rate, or price, of those figures.
Value Measurement
As father of value investing Benjamin Grossbaum described in the catchy metaphor, "In the short run, the market is a voting machine but in the long run, it is a weighing machine," over the long run fundamental business performance is what matters.
Market capitalization, or the purchase price of all the common stock of a corporation, shows investment hysteria and gloom of the often short sighted investment community.
Identified in the chart below, from a level of $603,000,000 to $9,307,000,000 today, Snap-on has seen both sides of the high school popularity contest.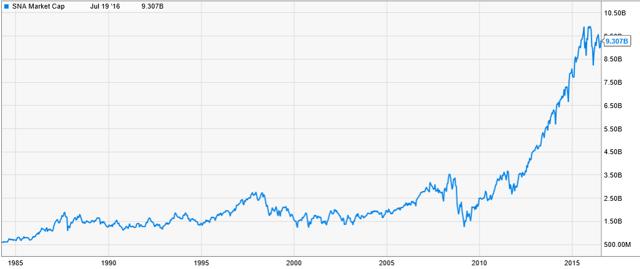 Price alone, however, does not signal opportunity or risk. Observed alone, it often just represents the demand the investing public has on fads like the dot.com bubble or investment craves like US real estate in 2005
Margin of Safety Identification
Thus, in order to identify value, one must combine the two concepts of the financial check with the value measurement. By combining the two, an investor can identify areas where fundamental value gets separated from price. Finding the areas where the crowd overshoots and undershoots stated value is often how investors find opportunity. Examine a chart of some vitals plotted next to market capitalization.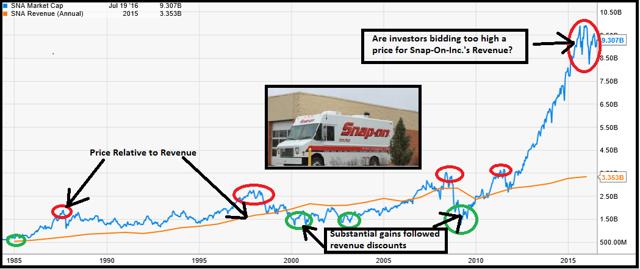 Notice how price often overshoots and undershoots company fundamentals like revenue. The years 1985, 2001, 2003, and 2009 are years when Snap-on revenue was priced at a discount, observed in the green circles in the chart above. This often correlated to good times to buy Snap-on.
Contrarily, 1987, 1998, 2008 and today depict times when revenue is priced at a premium. Except for the most recent rise, buying during these years resulted in investment loss.
Show below, market capitalization plotted next to assets also shows optimism and pessimism in Snap-on prospects.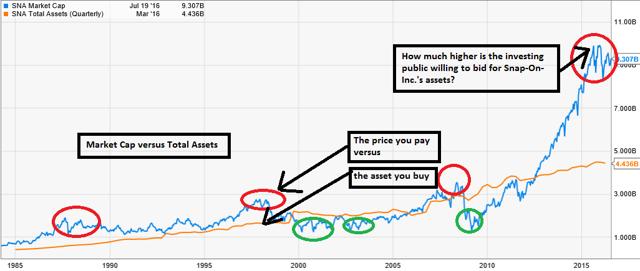 In 2009 investors were purchasing $2.7 Billion in assets for $1.5 Billion. Like those purchasing in 2001, 2003, it is at these extremes of potential value that fortunes are made.
At today's rate of $9.3 Billion, you are buying $4.4 Billion in assets. Compared to past premiums, the investing public has never been more eager to buy Snap-on's assets. If multiples revert to historic norms, this may not end well for those investing in Snap-on today.
Examining the price the market is attaching to $1.00 in Snap-on's revenue, we must be aware of how in demand Snap-on is in today's investment voting machine. Expecting revenue to grow at a fast clip and/or profit margins to maintain near 15%, investors are paying $2.82 for $1.00 in revenue.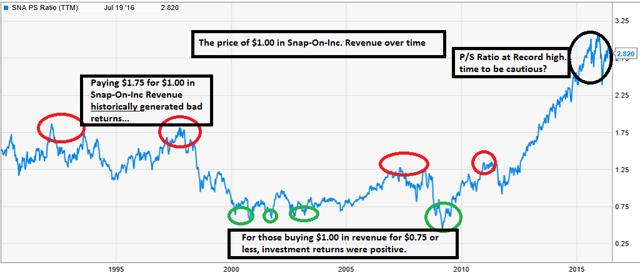 Shown in the chart above, one will notice investors have rarely bid such a high multiple on Snap-on's revenue. Circles of green represent the lower levels the market has paid for $1.00 in Snap-on revenue. At a discount of 25% on $1.00 in revenue, these were good times to buy Snap-on. With the combination of historically high profit margins and a near all time high price to sales ratio of $2.82, investing in Snap-on today, however, may prove to be a risky proposition.
Homework
After a multiple increase of fivefold from $0.50 to $2.82 for $1.00 in revenue, we must be confident in our own judgment that high margins and revenue growth will continue. Otherwise, it may be wise to take some Snap-on profits off the table.
Disclosure: I/we have no positions in any stocks mentioned, and no plans to initiate any positions within the next 72 hours.
I wrote this article myself, and it expresses my own opinions. I am not receiving compensation for it (other than from Seeking Alpha). I have no business relationship with any company whose stock is mentioned in this article.