The first mark-to-market loss since Q2 2014 is a poor reason to give up on hedging
The important point about production hedging is that prices do not always decline. As a consequence, the hedges do not always make money. As of July 14, EOG Resources (NYSE:EOG) is hedge-free after it unwound the remaining natural gas hedges. This is reminiscent of Continental Resources (NYSE:CLR) selling the long-put part of long put and short call collars in Q4 2014, trying to call the market bottom and instead riding the oil prices all the way down. The specific disturbing scenario is the repeat of the pattern seen a year ago: oil rallied through early summer, then declined during the rest of the summer, most of the fall and exceptionally so during the winter. Some believe this could happen again. I think it is important to be prepared, so that if stressful market conditions reoccur, they will be remembered not for managing to survive, but for opportunities found during a crisis.
The loss on hedges has a known part and an unknown part. At the end of the first quarter, EOG only had small natural gas hedges, "small" referring to covering merely 4% of anticipated 2016 production. The losses on these are known. The mark-to-market loss on natural gas hedges occurred because Henry Hub prices went above the weighted average price of $2.49/MMBtu of EOG swaps (alternatively called "fixed-price contracts"). The spot price run up to $2.88/MMBtu is very recent: it is only from May 31 that it has breached the $2 barrier. The unknown part only becomes evident from perusal of EOG's Form 8-K filed July 14, 2016. It turns out that EOG entered into crude oil derivative contracts on April 12 and unwound them on or before May 31. The low-high intraday price intervals for NYMEX WTI front month contracts were $40.10-42.24 on April 12 and $48.79-50.10 on May 31. Looking at the long end of the futures strip, the 13th month WTI contract rose from $46.70 to $51.55. A prudent hedger must be cognizant of the possibility of hedges moving against the company momentarily and not lose sight of the purpose of hedging. What EOG did, on the contrary, looks more like the strategy of "sell low, buy high".
In view of the bigger picture, EOG's loss does not appear dramatic. The cash loss of $14.8 million is negligible compared to Q1 2016 operating revenue of $1,354.4 million. The mark-to-market loss of $44.4 million, while greater in magnitude, is less relevant than it appears: it is non-cash and can be viewed as a lack of a gain rather than a true loss. Looking at EOG's financials since the start of the bear market in oil in 2H 2014, there was only a single quarter Q2 2015 just about a year ago when mark-to-market resulted in a loss of $48.5 million, only to be followed by the total of $39.5 million in mark-to-market gains in each of the succeeding three quarters. At the same time, EOG hedges were printing money on cash basis. Cash receipts from derivative settlements show an unbroken series of gains from Q4 2014 to Q1 2016. From 2015 to Q1 2016, the company received $747.8 million in cash from hedges, or $2.89 per Boe produced. This already significant quantity understates the benefit per actually hedged Boe, as EOG hedged much less than the full production amount.


Source: EOG Statistics and author's analysis
Why hedge at all?
The merits and practical outcomes from hedging are the subject of the paper "Firm Value And Hedging: Evidence From U.S. Oil and Gas Producers" by Jin and Jorion. They review studies, suggesting the benefit of hedging to be anywhere between 5% to 14% of firm value. Yet they conclude that "hedging does not seem to affect market values for this industry".
I think hedging is important and propose Anadarko Petroleum (NYSE:APC) credit downgrade as a vivid example. According to its Q1 2016 Form 10-Q,
In February 2016, Moody's Investors Service (Moody's) downgraded the Company's long-term debt credit rating from "Baa2" to "Ba1," which is below investment grade. The downgrade triggered credit-risk-related features with certain derivative counterparties and required the Company to post collateral under its derivative instruments. The amount of cash posted as collateral pursuant to the contractual requirements applicable to derivative instruments with financial institutions was $420 million at March 31, 2016, and $58 million at December 31, 2015.
In other words, the company needed cash as energy prices were near the bottom - just when properly set up hedges would provide the most cash and mark-to-market benefit. What would a hedge-free EOG do on a rainy day?
EOG's disappearing hedges
In H1 2015, EOG had 16% of oil and between 16% and 22% of natural gas production hedged. In H2 2015, only 7% of oil was being hedged with swaps, while the hedged fraction of natural gas shrunk to 14%. At the time, the company added the most overtly expensive oil hedging method: they bought puts to hedge 29% of oil production during September-November. At all of these times, existing hedges extended no more than a year into the future. At the time the company filed its 2015 annual report on February 25, 2016, no more oil hedges remained, while only 4% of anticipated 2016 natural gas production was hedged.
Hedging by EOG competitors
There is no uniform pattern in the extent of hedging by different oil-focused E&P companies. At one extreme, there is no oil hedging at all, as in the case of Continental Resources . There are companies engaged in a moderate amount, roughly a quarter to a half of production, such as Anadarko Petroleum, Noble Energy (NYSE:NBL), Whiting Petroleum (NYSE:WLL) and Marathon Oil (NYSE:MRO). At the other extreme, hedging a truly major or even the overwhelming part of production, are Devon Energy (NYSE:DVN), Concho Resources (NYSE:CXO) and Pioneer Natural Resources (NYSE:PXD).
Continental Resources no longer has any oil hedges. It went unhedged since the famous unwind of the put part of collars, consisting of long put and short call options, in Q4 2014. Interestingly, Continental maintains comprehensive hedges for its natural gas production. For the rest of 2016, swaps hedge about 81% of production, assuming it remains at the same average level as in the first quarter of 2016. This is also how the fraction of production or sales, covered by hedging, is estimated for all other companies in this article. Swaps and collars together hedge 49% of production in 2017. This is as far in the future as hedges go for any company discussed here.
Pioneer Natural Resources, like EOG, recently lost money on mark-to-market basis, though their cash receipts from derivative settlements keep coming in so far. Pioneer is staying the course, as 91% of oil production has been hedged for H2 2016 using swaps and collar contracts with short puts (also referred to as "three-way collars"). In 2017, collars with short puts have been used to lock in the reference WTI level for 59% of annual production.
Whiting Petroleum has covered 49% of oil production for the rest of 2016 and 12% for 2017. The company uses both put-call collars and three-way collars. Curiously, it had no natural gas hedges as of the end of the first quarter.
Marathon Oil Corporation hedged 46% of oil sales in H2 2016 and 17% in 2017. This has been achieved using swaps, two-way collars and three-way collars. Additionally, high-strike ($65.00 per barrel in 2017) call options have been sold in conjunction with three-way collars. Regarding natural gas sales, 6% have been covered by three-way collars all the way through 2017.
Anadarko Petroleum hedged, using three-way collars, 26% of oil sales volume with settlement in 2016, and virtually no natural gas.
Noble Energy presents an extraordinarily detailed disclosure of outstanding derivative contracts.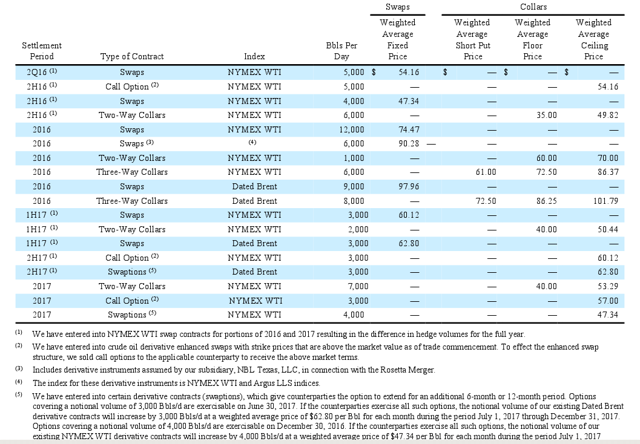 Source: Noble Energy Q1 2016 Form 10-Q
The firm hedged 41% of oil sales in H2 2016, 12% in H1 2017 and 8% in H2 2017. Natural gas hedges extend to the end of 2016 and cover 18% of sales. Swaps, two-way and three-way collars have all been used, but there is more. Noble is not a stranger to structured derivatives. Here, we find "enhanced swaps with strike prices that are above the market value as of trade commencement", where the company sold call options. Noble has also entered into swaptions, contracts where the counterparty has the right to extend the underlying fixed-price swap contract at a certain point in the future. The effect is to allow Noble to conclude the swap at an above-market rate.
Concho Resources has a very substantial hedge coverage across both time and products. Its oil swaps cover the portion of production that decreases from 74% in Q2 2016 to 48% in Q4 2017. Natural gas swaps extend to the end of 2016 only, covering 27% of the company's production level in Q1.
Devon Energy Corporation produces comparable volumes of both "regular gravity" crude and bitumen (heavy oil). The latter is valued much less by the market: in the first quarter, Devon received $28.74 per barrel of its US-produced oil, compared to only $8.16 per barrel of bitumen from Canada. Considering oil alone, the fraction of production hedged by swaps and collars declines from 66% in the second quarter, to 28% in Q3 and 10% in Q4. Natural gas swaps cover 56% of Q2 2016 production and 25% during the rest of the year.
Just about any hedging strategy has its merits and drawbacks. There is one example, however, where the strategy has to be described as "undefined". Hess Corporation (NYSE:HES), incredibly, does not disclose the details of hedges. All that is known is that they are collars. No hedged volumes or strikes of their crude oil collars are to be found in either the annual 10-K filing, or the latest quarterly 10-Q, or indeed any of its recent forms 8-K. The only factual disclosures about hedges present their monetary impact. Hedges or derivatives have not come up in the Q1 2016 earnings conference call. This is the only company among all discussed here, that leaves the analyst totally in the dark regarding this important stability factor for future earnings.
Discussion
Having a hedging program involves multiple decisions. Should the company hedge at all? If so, should it hedge both oil and natural gas, just oil or just the natural gas? How far out into the future should the hedges extend? How should the hedged volume vary through time? What instruments should be used? As shown above, there is quite a variety of approaches to all of these.
The answers to the above depend on the company's risk preferences, trading acumen and the available talent. Valuing a swap is easy. Valuing calls and puts, especially longer-dated, is harder. When exotic derivatives, such as swaptions used by Noble Energy come into play, there may be a great uncertainty about the fair value - so much that it is hard even for the company's own staff to tell if the company is being paid enough for the options it is giving its counterparty.
Conclusion
The point of hedging is to bring a measure of stability to near-term cashflows and hence earnings. For example, Noble Energy uses hedging "to mitigate the effect of commodity price volatility and enhance the predictability of cash flows". By abandoning hedging, EOG Resources is taking risks which will limit their flexibility in the event of another downturn and might shift their attention to cash management and away from taking advantage of opportunities that a distressed market might present.
Disclaimer: Opinions expressed herein by the author are not an investment recommendation and are not meant to be relied upon in investment decisions. The author is not acting in an investment, tax, legal or any other advisory capacity. This is not an investment research report. The author's opinions expressed herein address only select aspects of potential investment in securities of the companies mentioned and cannot be a substitute for comprehensive investment analysis. Any analysis presented herein is illustrative in nature, limited in scope, based on an incomplete set of information, and has limitations to its accuracy. The author recommends that potential and existing investors conduct thorough investment research of their own, including detailed review of the companies' SEC filings and consult a qualified investment advisor. The information upon which this material is based was obtained from sources believed to be reliable, but has not been independently verified. Therefore, the author cannot guarantee its accuracy. Any opinions or estimates constitute the author's best judgment as of the date of publication and are subject to change without notice. The author explicitly disclaims any liability that may arise from the use of this material.
Disclosure: I/we have no positions in any stocks mentioned, and no plans to initiate any positions within the next 72 hours.
I wrote this article myself, and it expresses my own opinions. I am not receiving compensation for it (other than from Seeking Alpha). I have no business relationship with any company whose stock is mentioned in this article.