The Swiss pharmaceutical company Novartis (NYSE:NVS) has just released its Q2 2016 quarterly results. Novartis' Q2 revenue slightly dropped to USD 12.694 billion in comparison to USD 12.47 billion in Q2 2015. Net income also dropped 3% from USD 1.856 billion to USD 1.806 billion. So far, nothing special. But if we take a closer look at the earnings report, we will find some interesting points.
#1: Strong Free Cash Flow - but higher debt
At first, Novartis' free cash flow increased by 22% to USD 2526 million. The reasons for this are lower cash capex and higher cash flows from operating activities. Novartis' free cash flow to sales ratio amounts 20% in Q2. Just for comparison - competitor Sanofi's (NYSE:SNY) FCF to sales ratio amounted 12% in Q1 2016. Nonetheless, this wasn't enough to pay the annual dividend in the amount of USD 6.5 billion. Therefore, Novartis' debt increased by USD 4.1 billion.
#2: Seemingly a setback in the introduction of Neulasta candidate
Furthermore, it seems as if Novartis faces a setback in the approval of its Neulasta candidate. The company stated in its report that they have received a "complete response letter from the FDA" and that they are "working with the agency to address remaining questions". Positive feedback looks different. Novartis' subgroup Sandoz wants to attack Amgens Neulasta, which netted USD 4.72 billion in sales last year, with an own biosimilar.
#3: Increased spending on heart drug Entresto
In terms of the heart drug Entresto Novartis decided to "increase spending significantly in the second half of 2016 to build a US primary care field force, and add incremental medical support". Novartis aims to achieve full-year sales of USD 200 million for Entresto. According to a previous investor and analyst meeting, Entresto is expected to deliver peak sales of around USD 5 billion. In that context, it makes sense to improve field force and to accelerate the market introduction. However, the increased spending could lead to a near-term decline in profit.
#4: Cosentyx is well underway
Cosentyx, a new drug for psoriasis and rheumatic diseases, is well underway. The drug generated sales in the amount of USD 260 million in Q2. New-To-Brand Prescriptions (NBRx, see below) also increased significantly. The completed field force expansion seems to be paying off. Cosentyx is expected to top USD 1 billion in sales by 2020.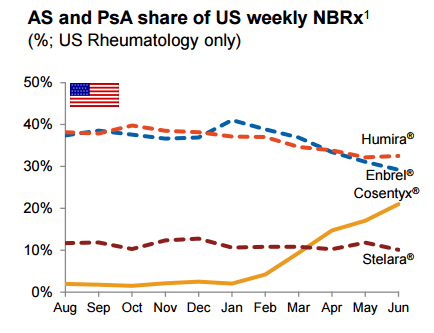 #5: Question marks regarding Alcon's turn-around
Novartis aims to turn-around its eye-care division Alcon. Investments in key products and new drugs were made, basic operations and customer relationship guidelines were improved. Nevertheless, Alcon's revenue dropped 2% and its operating income even dropped 87%. It seems that it will take some further time to improve Alcon's situation.
Conclusion
In the short-term, there will be some additional costs and challenges for Novartis: the heart drug Entresto has to be introduced and the Neulasta biosimilar has to be approved. Furthermore, Alcon's turn-around has to be mastered.
However, there is significant upside potential in the long-term: new drug approvals and market introductions are on their way, which will boost revenue and profit.
Disclosure: I/we have no positions in any stocks mentioned, and no plans to initiate any positions within the next 72 hours.
I wrote this article myself, and it expresses my own opinions. I am not receiving compensation for it (other than from Seeking Alpha). I have no business relationship with any company whose stock is mentioned in this article.