In a recent article, I described not only my expectations for Bank of America's (NYSE:BAC) Q2 2016 earnings results but I also highlighted "the numbers that really matter" --noninterest expenses. The bank being able to properly manage the noninterest expenses is vital in this low interest rate environment because this is one of the few areas that management has control over on a quarter-by-quarter basis that has the potential to significantly impact earnings. BofA reported Q2 2016 noninterest expenses of $13.5b, which was on the low end of the range that I provided in my last article (projected expenses to be in the range of $13.5b to $14.0b). In my mind, this factor alone made me even more bullish on BofA but I was even more impressed after I took a deeper dive into the quarterly results.
Q2 2016 Earnings, Great Results When You Consider The Backdrop
To start, U.S. banks are operating in an environment where there is a great deal of uncertainty as it relates to both the global economy (i.e. Brexit) and the U.S. econcomy, and these specific uncertainties/concerns have resulted in abnormally low interest rates for a prolonged period of time. Furthermore, investors and analysts currently have no clear understanding for what will trigger an interest rate hike, especially today as the Fed has changed course several different times, so the sentiment for the banks has not been great throughout 2016. Therefore, the stock prices for the U.S. banks, including BofA, have significantly declined in value over the first six months of the current year.
BofA's Q2 2016 results were impressive when considering the current backdrop, as the bank reported Q2 2016 adjusted EPS of $0.36 on total revenue, net of interest expense, of $20.4b. This was a top-line miss but a beat on the bottom-line. For comparison purposes, the bank reported adjusted EPS of $0.45 on revenue of $22b in the same quarter in the prior year. The YoY declines are not great, or what investors want to see from the companies that they invest in, but these results were already widely anticipated, as BofA was able to beat the consensus EPS estimate.
On one hand, the operating results show that BofA is indeed operating in a challenging environment, but, on the other hand, the results also show that management has positioned the bank for long-term success. To this point, there are two areas that I want to focus on to highlight the fact that BofA has great long-term business prospects in place --noninterest expenses and the net interest income ("NII").
Noninterest Expenses, There Is Still Plenty Left On The Bone
There have been a few negative articles similar to "Bank expense cuts: Only so much meat left on bone", that have pundits describing the banks as one-trick ponies that are only able to cut expenses to meet earnings estimates, but, in my opinion, this is exactly what the management teams should be doing in the current environment.
As I described in the introduction, expenses are one of the few areas that management has control over that have the potential to impact the bottom-line in a meaningful way so I struggle to understand why these pundits are trying to spin the effective expense management that is taking place at the large banks and describing it as some type of last-ditch effort to meet earnings estimates. Instead, these management teams are doing a great job at streamlining operations and cutting unnecessary expenses at just the right time because the banks will be in a position to eventually materially increase earnings once the headwinds dissipate.
BofA has been laser focused at reducing expenses since the Financial Crisis, but only lately has the bank been able to materially impact the noninterest expenses. For the most recent quarter, BofA was able to reduce these expenses by 3.5%, or $0.5b, when compared to Q2 2015.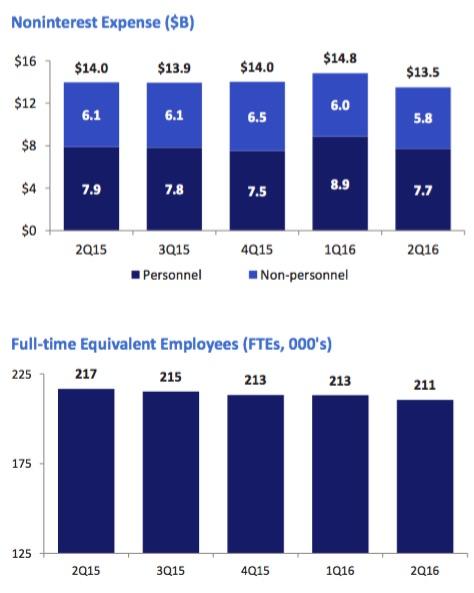 (Source: Q2 2016 Earnings Presentation --linked above)
This bank has made great progress at reducing expenses since 2014 and this quarter shows that the long-term plan is still intact. So, while the author of the article linked above has a good point that more meaningful reductions to expenses will become harder to come by, I would contend that just progressing according to the current plan is enough to significantly impact the bottom-line.
In addition, management announced a new expense target for 2018 of $53b, which is ~$3.3b less than the previously announced target. Therefore, I believe that there is still plenty left on the bone.
Net Interest Income, Down But Not Out
BofA is viewed as the bank that has the most interest sensitive assets, so, as expected, the bank reported a lackluster NII for the quarter.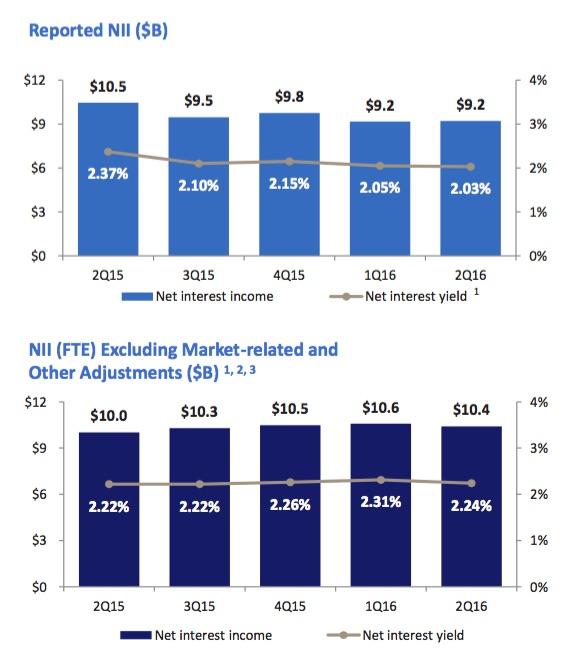 (Source: Q2 2016 Earnings Presentation)
The downward slope shown in the slide for the reported NII is a concern, but this is already factored into the stock price (more on this below). Moreover, this is a short-term concern that will likely be a distant memory in two-to-three years from now.
Expectations for a "lower for longer" interest rate environment is causing analysts to doubt BofA's prospects over the next few quarters, but it is important to remember that this bank is setup to greatly prosper once rates do begin to rise (which will happen at some point in the future). For example, management estimates that the NII will be benefited by the tune of $7.5b with a +100 bps parallel shift in the yield curve. Yes, this is not likely to occur in the near future but this is without a doubt a long-term catalyst.
Cheap For A Reason, But Attractively Valued At Today's Price
All banks are contending with many of the same type of headwinds, so declining revenues and earnings across the board should have come as no surprise. Therefore, all four of the big U.S. banks --BofA, JPMorgan Chase (NYSE:JPM), Wells Fargo (NYSE:WFC), and Citigroup (NYSE:C)--should have a similar valuation, right? No, as the management teams of JPM and WFC have consistently showed investors why their banks should get a premium valuation when compared to the other two banks.
| | | | |
| --- | --- | --- | --- |
| | Current Price | BV | T/BV |
| BAC | $14.40 | $23.67 | $16.68 |
| Current Valuation | | 0.61 | 0.86 |
| | | | |
| C | $44.47 | $73.19 | $63.53 |
| Current Valuation | | 0.61 | 0.70 |
| | | | |
| JPM | $63.93 | $62.67 | $50.21 |
| Current Valuation | | 1.02 | 1.27 |
| | | | |
| WFC | $48.61 | $35.38 | $29.34 |
| Current Valuation | | 1.37 | 1.66 |
| | | | |
| | Averages | 0.90 | 1.12 |
(Sources: Q2'16 Earnings Presentations for BofA, Citigroup, JPMorgan Chase, and Wells Fargo)
BofA is trading at a deep discount when compared to the valuations of JPM and WFC, which is reasonable based on BofA's past operating results and the bank's need for a rising rate environment, but I believe that the current valuation gap makes BofA attractively valued and it provides for some margin of safety. JPM and WFC should indeed be trading at a premium, but, in my opinion, the Q2 2016 results show that BofA is heading in the right direction and that the bank now warrants a higher valuation.
Bottom Line
BofA is not a get-rich-quick stock but instead a long-term investment that will richly reward investors that are able to hold onto shares for at least the next two-to-three years, which is something that I highlighted in "Investors Will Be Rewarded For Playing The Waiting Game". BofA's Q2 2016 results were impressive, especially in this challenging environment, so I believe that the bank's stock price will catch some momentum if global concerns and negative expectations for our economy begin to improve over the next few quarters. Either way, this bank is currently attractively valued and should be considered a long-term investment if your time horizon is longer than one-to-two years.
If you found this article to be informative and would like to hear more about this company or any other company that I analyze, please consider hitting the "Follow" button above.
Disclaimer: This article is not a recommendation to buy or sell any stock mentioned. These are only my personal opinions. Every investor must do his/her own due diligence before making any investment decision.
Disclosure: I am/we are long BAC, C.
I wrote this article myself, and it expresses my own opinions. I am not receiving compensation for it (other than from Seeking Alpha). I have no business relationship with any company whose stock is mentioned in this article.