Source: earnings call presentation
Pershing Square (OTCPK:PSHZF) just held its 2nd quarter earnings call and it's especially interesting to Valeant (NYSE:VRX) and Herbalife (NYSE:HLF) investors. Ackman and his team discussed both companies at length and I'll summarize a few of the key takeaways as well as offer my perspective.
Valeant
Pershing has 6% of its capital at stake on Valeant. Its stake is structured through options but should be equivalent to a 6% equity stake. Recently, Pershing restructured its option structure, which extended the life of its options by another year. They are now good to go for the next two years. Pershing has a board presence at Valeant and they opted to highlight Valeant's R&D capabilities, an often criticized part of the business.
Brodalumab, Relistor and Latanoprostene Bunod were highlighted specifically. I'll go over them one by one:
Brodalumab
FDA experts just unanimously approved Valeant's plaque psoriasis drug, brodalumab. Valeant holds the exclusive license to develop and commercialize after buying out Amgen (NYSE:AMG). Pershing advertised the drug as potentially the best drug in this segment and touted the huge addressable market with the popular Johnson & Johnson (NYSE:JNJ) drug Stellara doing $2.2 billion in sales and it's just one of many competitors. All of which could be trumped by Brodalumulab according to Pershing. Bloomberg's Gadfly Max Nisen doesn't have such a rosy view. I found Nisen's counterarguments to be rather weak but will highlight his best point:
Launching a (late) new drug in a competitive class is not cheap. Valeant had $1.3 billion in cash and marketable securities on hand as of its last SEC filing. But it also has $32 billion in total debt.

When markets and creditors are concerned about your ability to keep up with debt payments and you're considering fire sales of marginal assets as a result, it's tough to build the sort of expert sales force, manufacturing capacity, and marketing budget required for such a launch.
As far as I'm concerned, it would be a nice win to get the final FDA approval (usually the panel's recommendation is followed) but I didn't buy Valeant for Brodalumab. Although I've held a suspicion its pipeline is somewhat underestimated, I lack the skill to evaluate its promise. I'm primarily concerned with the debt reduction and rolling out Brodalumab may interfere with that initiative in the short term. Read Valeant; Buying The Uninvestable for additional detail. At the same time, it is now undeniable the value of Brodalumab has increased.
Oral Relistor
Relistor is a tablet that combats opioid-induced constipation. The current treatment is an injectable ($100 million in annual sales) and although constipation is not fun, neither are needles. Opioids can be and Progenics believes oral Relistor could be a $1B+ opportunity for Valeant, which is sizeable in the context of total revenue:
Latanoprostene bunod is a glaucoma treatment. It is up for potential approval this month as well. Pershing highlighted how it did better in trial than the current gold standard of drugs to treat glaucoma. The firm believes Valeant could do billions of sales, which is on par with a $2 billion estimate by Rodman & Renshaw managing director Raghuram Selvaraju given to the Street.
All three drugs fit in fairly well with Valeant's existing drug portfolio and it looks like the combined revenue potential is very significant to the current top line.
Herbalife
Pershing spent a long time discussing Herbalife, its short position represents 10% of capital. We have come to expect nothing less than hours of entertainment from Pershing. We were somewhat disappointed. The earnings call ran only slightly over time to 72 minutes, Pershing did spend 48 minutes of the call on Herbalife, so at least there's that.
It's possible that there is no firm that knows more about Herbalife than Pershing Square and it reached many of the conclusions on the FTC-Herbalife agreement I laid out earlier on Seeking Alpha in Ackman Emerges Victorious Over Herbalife.
Ackman started off by reiterating Pershing's original investment thesis where either Herbalife would be halted by the FTC or material injunctive relief would be demanded: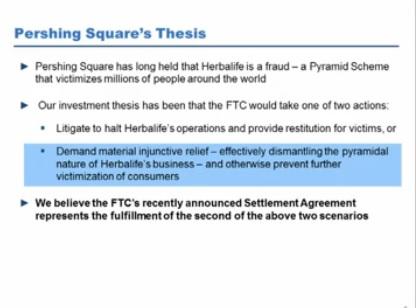 The FTC did not halt Herbalife but instead reached a settlement involving a $200 million fine, which isn't that important and a 31-page agreement with changes Herbalife needs to make to its business. According to Pershing, some of the most important parts of the agreement are:
Herbalife now has to show verifiable retail sales.
The restructuring of distributors' compensation.
Herbalife can't make misleading claims anymore. That includes imagery like this one below because it suggests you will be swimming in dollars:
Prohibited to show suggestive images of expensive cars and such.
Company can't make representations success depends on your efforts.
Ackman also appears to be back on a confrontational path with Icahn. I couldn't help but think Ackman was somewhat annoyed by Icahn's statements regarding the FTC-Herbalife settlement that identified him and called him completely wrong:
The FTC settlement announced today, coming after a two-year investigation also concluded that Herbalife is not a pyramid scheme - a conclusion that obviously vindicates our research and conviction. While Bill Ackman and I are on friendly terms, we have agreed to disagree (vehemently) on this subject. Simply stated, the shorts have been completely wrong on Herbalife.
In response, Ackman pointed out Chairwoman of the FTC Ramirez said she doesn't endorse Icahn's statement and the FTC did not determine Herbalife isn't a pyramid scheme. He also suggested there was a coordinated PR plan involving Icahn and Herbalife with e-mails going back and forth between them to coordinate timing of releases all in a concerted effort to influence the public's perception of the settlement.
It could be, I'm not so sure about it, but I do believe the 31-page settlement (which is really bad for Herbalife) got snowed under and it deserves the attention of investors.
Just when I was thinking Pershing wouldn't address the one great bull argument that remains which is that Herbalife only derives 20% of sales from the U.S. they did. Pershing says U.S. sales represent 40% of contributed margins and the company's EBIT is going to suffer much more than the 20% number would imply. Pershing also supplied a number of conservative earnings estimates and they weren't pretty: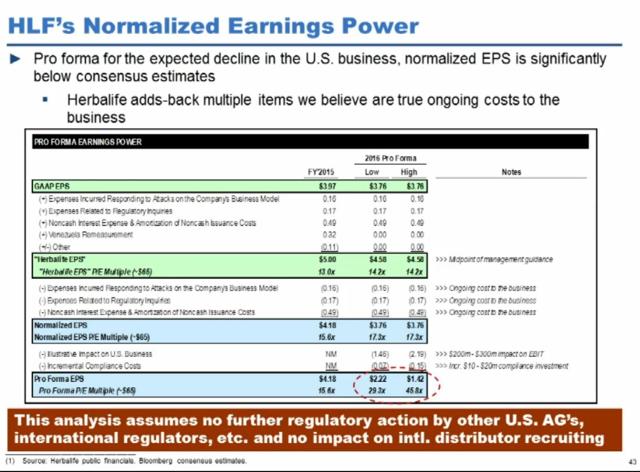 Source: Pershing presentation
Pershing sees earnings feasibly go to $2 per share. On that basis, the company would be trading at 32x forward earnings. In my opinion, Pershing's thesis on pending erosion of the U.S. business is credible and I've argued the same thing. I'm not as sure as Ackman that Herbalife will not survive but view it as a terrible long nonetheless. How can you go long at 15.5x adjusted earnings when there are credible questions whether the business will exist in 5 years. Even if you think it's doable and profitable for distributors to sell Herbalife's products under the settlement's rules, you have to see how it will be much easier for Herbalife's distributors to switch to another MLM business that isn't scrutinized to the same extent.
Disclosure: I am/we are long VRX.
I wrote this article myself, and it expresses my own opinions. I am not receiving compensation for it (other than from Seeking Alpha). I have no business relationship with any company whose stock is mentioned in this article.