Although Cisco (NASDAQ:CSCO) has excellent prospects for business, most investors no longer believed in a real growth of the company's share price.
For a number of years Cisco couldn't reach the $30 level. As a matter of fact, since 2001 there have been several attempts over the years without success. At present, the company's stock prices seems to have achieved that mark which has become an extremely strong multi-year resistance.
In fact, last Wednesday, Cisco decidedly exceeded this level with strength and strong volume. All this is due to the new business model that turned the company - a switches and routing business with a crucial hybrid cloud model- into a value and dividend growth stock while is now able to more easily meet client needs.
Of course, the company also meets the criteria of this portfolio for retirement ("Unbeatable Stocks With Everlasting Dividends"). We will continue to build a portfolio of sustained value companies with an excellent long term outlook which pay increasing dividends over the years. Following my last article this is the fourth company selected and I will add six others soon. All of them will meet several key factors:
1. Excellent generation of free cash flow
2. Sound earnings per share and strong valuation
3. Stock appreciation over the years
4. Very limited drawdown potential
5. Dividend yield of around 3% (including dividend growth)
As of April 30, 2016, CSCO's Levered Free Cash Flow [LFCF] was $10.49B and it had 5.03B shares outstanding.
LFCF per share was: $10.49/5.03 = $2.09 per share.
If we take CSCO's last closing price of $30.63 and divide that by $2.09 we get 14.68. It means that the company is trading around 15 times its LFCF which is an excellent result.
By Cisco guidance and analyst estimates we have EPS of ~$2.40 for the next four quarters. Taking a trailing P/E of 15 we arrive at a current value of $36.00 per share. However, it is not included here the potential for future growth and the expected potential of the company's new approach to business and clients. We may use a basic discounted cash flow (NYSE:DCF) analysis with conservative assumptions:
FCF at 3% CAGR reaching ~$11.82B in 5 years
A 20x multiple against FCF in 5 years gives Terminal Value
WACC (Discount Rate): 8%
Cash minus debt: $34.92B
Thus, with a total market value of ~$232B and supposing that there will be the same number of fully diluted shares outstanding (5.03B), we arrive at a value of $46.16 per share.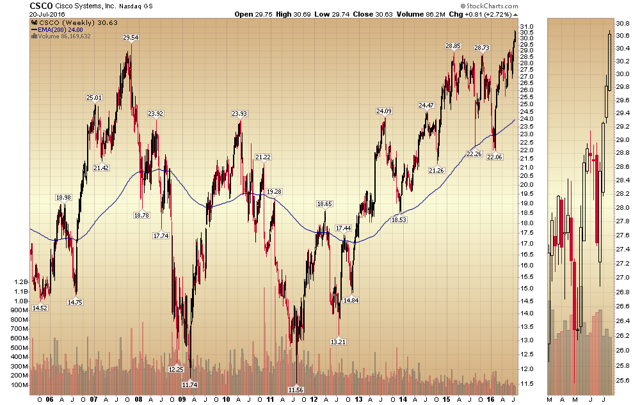 Chart courtesy of StockCharts.com
In the 11-year weekly chart above - with historical price data adjusted to remove gaps caused by stock splits, dividends and distributions - we can see strong volatility over the years. Similarly, drawdown was relevant (not limited) in the Great Recession, but we may say that since mid-2014 prices were on a trading range between $21 and $29. The multi-year resistance at $30 is being broken right now on the way up. Confirmation is required but is an unprecedented movement for 15 years.
The company has shown an increasing dividend over many years. CSCO currently pays $1.04 per share which represents a dividend yield of 3.4%.
Conclusion
The company's financial structure is very solid and a major generator of cash flow. The new business plan appears to be quite effective and promising for the future. The company is going through a very positive phase, which can take the price of its shares to a level not achieved for many years. I'm bullish and in view of the indicators presented in this article I admit a price target of $46.
Note: This virtual Portfolio is only intended to be a guide for investors.
Disclosure: I/we have no positions in any stocks mentioned, and no plans to initiate any positions within the next 72 hours.
I wrote this article myself, and it expresses my own opinions. I am not receiving compensation for it (other than from Seeking Alpha). I have no business relationship with any company whose stock is mentioned in this article.
Additional disclosure: The author of this article gives only his personal view and opinion, never making any investment advice to buy or sell specific securities. Investors in financial assets must do so at their own responsibility and with due caution as they involve a significant degree of risk. Before investing in financial assets, investors should do their own research and consult a professional investment adviser.