Phillips 66 Partners (NYSE:PSXP), which is Phillips 66's (NYSE:PSX) midstream MLP, has done it again. The company just raised its quarterly distribution to $0.505 per unit. This is a sizable 5% increase from the Q1 2016 distribution of $0.481 per unit and a 26% increase from the Q2 2015 distribution of $0.40 per unit.
This is the 11th consecutive quarterly distribution increase for Phillips 66 Partners, an impressive streak. Though, one has to wonder if this rapid growth can continue.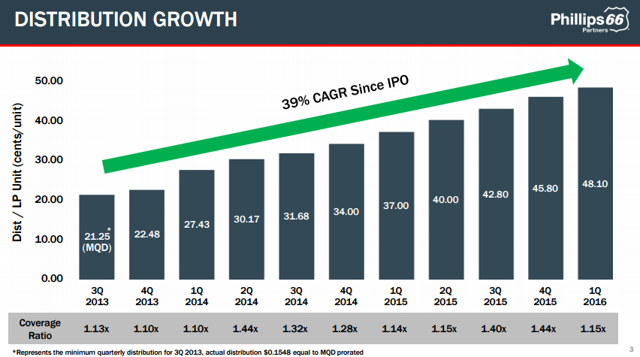 Source: PSXP Q1 2016 slides (does not show the most recent increase)
Is the 30% growth target feasible?
As of Q1 2016, Phillips 66 Partners was generating ~$0.553 per unit it distributable cash flow "DCF". This suggests that the coverage ratio is hovering ~1.09x after the most recent increase. 30% growth does not seem that likely with this tight of a ratio.
However, Phillips 66 Partners has been growing its DCF at a very rapid rate. Year over year, this metric has risen 53%, while adjusted EBITDA has risen 51%, both of which have actually exceeded distribution growth. As for how Phillips 66 Partners is doing this, the company is rapidly building out its asset base.
A portion of Phillips 66 Partners' growth is coming from organic sources, such as with the Bayou Bridge Pipeline, Sacagawea pipeline, and Sand Hills Pipeline. An estimated $314 million is slated to spent on these projects this year.
Though, the lion's share of Phillips 66 Partners growth is centered on asset dropdowns. Take for example the $775 million acquisition of the Standish Pipeline and the remaining 75% of Sweeny Frac One from PSX made in May.
This transaction basically increased the size of the MLP by 17% and will likely have a similar effect on DCF and EBITDA. However, funding such growth does not come cheap. Phillips 66 Partners sold 11 million units to fund this transaction.
Though, PSX, as the general partner, has an economic incentive to grow Phillips 66 Partners in order to reach the 50% IDR levels. These mega transactions are the fasted way to get there.
Over time, as Phillips 66 Partners gets larger, it will need to focus more on organic growth rather than relying so much on asset dropdowns from PSX and acquisitions. Though, given that this is still a smallish MLP, EV of under $7 billion, dropdowns can still make a big splash.
Is Phillips 66 Partners a good value?
With a 30% growth rate and 3.6% distribution yield, Phillips 66 Partners is among the lowest yielding and fastest growing MLPs. The market has applied a rich 25x P/DCF to the stock, but using forward estimated DCF at 30% growth, this drops to a more palatable 19x in 2017 and 15x in 2018.
Furthermore, Phillips 66 Partners' income generation potential should not be underestimated. By Q1 2017, the annual distribution should be ~$2.50 per unit, a 4.55% yield at current prices. By Q1 2018, this rises to ~$3.25 per unit, good for a near 6% yield.
Conclusion
I believe Phillips 66 Partners offers one of the best distribution growth MLP opportunities in the market. 30% growth through 2018 is extremely compelling. Though, one downside to consider is the impact of equity raises like the one we saw in May. These equity sales are likely to limit the upside potential of Phillips 66 Partners since as soon as the unit price rises, an equity offering may be just around the corner.
Debt is also an issue. Net debt to EBITDA was hovering at ~3.8x as of Q1 2016, above the 3.5x target. Though, this was before the recent transaction and it is likely EBITDA will see a large increase and hence lower leverage back to the target range.
Another way to benefit from Phillips 66 Partners' growth is to own PSX. As the general partner, PSX will eventually get 50% of the incremental DCF growth via IDRs as well as receiving significant limited partner distributions as they still own over 60% of the common units. I chose to own both.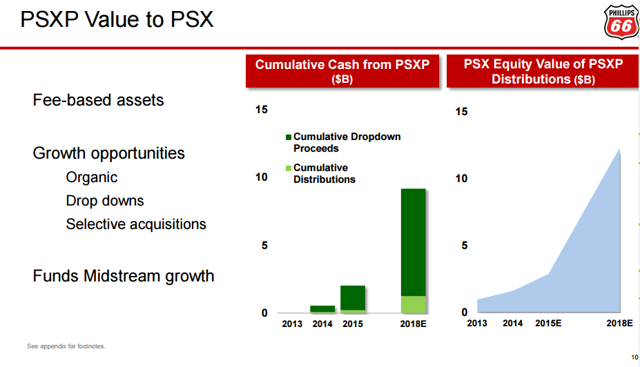 Disclaimer: The opinions in this article are for informational purposes only and should not be construed as a recommendation to buy or sell the stocks mentioned. Please do your own due diligence before making any investment decision.
Disclosure: I am/we are long PSXP, PSX.
I wrote this article myself, and it expresses my own opinions. I am not receiving compensation for it (other than from Seeking Alpha). I have no business relationship with any company whose stock is mentioned in this article.