Introduction
Long duration Treasuries have long been combined in portfolios with stocks to reduce risk. A 50/50 portfolio has been an outstanding way to reduce risk with excellent performance over the past 90 years. However, if interest rates begin to rise from their current historic lows, use of long duration treasury funds may significantly reduce portfolio performance, although they will likely continue to effectively reduce risk because they are negatively correlated with equities.
Managed futures are an alternative to long duration Treasuries to reduce portfolio risk. Managed futures have generally performed well during market downturns (2000-2002, 2008), but have often performed better than long duration Treasuries when long term interest rates are rising (1999, 2009, 2013).
The classical managed futures strategy utilizes trend-following proprietary trading systems that involve going long or short on equities, commodities, currencies, and bonds (Investopedia). Managed futures have a low correlation with both equities (-0.22) and U.S. aggregate bonds (0.21). Therefore, they offer diversification to portfolios that include stocks and/or bonds.
There has been much criticism of managed futures focused on very high fees (up to 9% of assets and 20% of profits) charged annually by some commodity trading advisors (CTAS). However, the recent proliferation of liquid alternative mutual funds and ETFs significantly reduces fees down to less than 2.5% annually for typical managed futures mutual funds. While these fees are still very high compared to typical bond and equity index funds, they may be justified for a uniquely uncorrelated asset.
Of course there are also claims that managed futures mutual funds don't work, but in my opinion, they distort the argument by making unsubstantiated self-serving claims, comparing specific managed futures strategies with the average of all managed futures mutual funds, claiming mutual fund load fees as a cost when no transaction fee (NTF) funds that waive the load fee are widely available, failing to fully disclose their own fees, failing to include the Credit Suisse Managed Futures Liquid Index while simultaneously claiming that managed futures mutual funds don't track their indexes, cherry picking short time periods, and failing to support the needs of lower net worth investors.
All material in this article is based on information available on July 19, 2016.
Managed Futures Funds
There are a wide variety of mutual funds that fall under the managed futures category. Many of these funds have significantly different strategies. For example, the 361 Managed Futures Strategy (MUTF:AMFQX), Catalyst Hedged Futures Strategy (MUTF:HFXAX), and Credit Suisse Managed Futures Strategy (MUTF:CSAAX) have completely different strategies and return profiles.
Although there are managed futures ETFs such as the WisdomTree Managed Futures Strategy (NYSEARCA:WDTI) and the First Trust Morningstar Managed Futures Strategy (NYSEARCA:FMF), their performance has been disappointing. Managed futures mutual fund performance has typically been significantly better than that of ETFs, but is widely variable across funds.
A problem with evaluating managed futures funds is that most have only been in existence for a relatively short period of time, and because they are actively managed and not linked to an index, they can't be backtested. The Credit Suisse Managed Futures Strategy Fund is an exception that is linked to an index (Credit Suisse Managed Futures Liquid Index) and closely tracks its index (Morningstar Chart), and where backtest information is available to 1998.
The annual fees for CSAAX are 1.56% according to Morningstar. Although this fee is very high compared to equity ETFs, it is on the low end for managed futures mutual funds. CSAAX is available as a load-waived no transaction fee (NTF) fund from Fidelity, Schwab, and TD Ameritrade. Because it employs a classical managed futures strategy and has long-term index backtest information available, I will use CSAAX to represent managed futures.
Comparison Portfolio
The funds that I am using to show how managed futures influence risk and performance include the iShares Edge MSCI Min Vol USA ETF (BATS:USMV), CSAAX, and the iShares 20+ Year Treasury Bond (NYSEARCA:TLT). Although the CSAAX index backtest goes back to 1998, the USMV index backtest only goes back to 1999, therefore the comparison time period is 1999 through present (July 15, 2016). I use actual annual performance from Morningstar during 2013 through present for CSAAX, 2012 through present for USMV, and 2003 through present for TLT. Before those dates, I use indexes (corrected for annual fees); the Credit Suisse Managed Futures Liquid Index for CSAAX, the MSCI USA Minimum Volatility Index for USMV, and the Morningstar Long Government Benchmark for TLT.
Because daily returns are not available for the indexes, it is not possible to calculate standard measures of risk such as standard deviation and Sharpe Ratio. Therefore, I use portfolio performance during 2008 relative to S&P 500 performance in 2008 as my measure of risk. The performance of most stocks was significantly negative during 2008, regardless of sector or market capitalization. That makes 2008 a good year to use for overall market performance as compared to 2002 (for instance) where technology sector returns were significantly lower than the rest of the market. I have conducted many performance comparisons using a wide variety of portfolios over different time periods, and setting portfolio risk based on relative 2008 performance has consistently provided expected results. For example, if I target a portfolio risk of 50% of the S&P 500 performance in 2008, I typically see average daily portfolio returns of approximately 50% of the S&P 500. Another advantage is that this measure of risk is much easier to explain to investors than variance-based measures of risk. For the purposes of this comparison, I am setting the risk target at a total annual return of -10% vs. -37% for the S&P 500 in 2008. This is similar to conservative allocation funds such as the Vanguard Wellesley Income Fund (MUTF:VWINX).
Comparison Portfolio Performance
The following original table compares total annual performance (%) of USMV, CSAAX, and TLT (and their respective indexes corrected for fees) during 1999 through present (July 15, 2016).
| | | | |
| --- | --- | --- | --- |
| Year | USMV | CSAAX | TLT |
| 1999 | 7.16 | 5.03 | -8.29 |
| 2000 | 5.88 | -4.39 | 17.49 |
| 2001 | -6.60 | 18.17 | 4.44 |
| 2002 | -15.46 | 9.67 | 13.98 |
| 2003 | 19.83 | 19.75 | 1.75 |
| 2004 | 14.36 | 2.60 | 8.88 |
| 2005 | 6.47 | 0.07 | 8.44 |
| 2006 | 14.81 | 18.64 | 0.7 |
| 2007 | 4.16 | 11.56 | 10.29 |
| 2008 | -25.80 | 21.47 | 33.92 |
| 2009 | 18.21 | -0.64 | -21.8 |
| 2010 | 14.55 | 3.41 | 9.05 |
| 2011 | 12.72 | -5.20 | 33.96 |
| 2012 | 10.83 | -10.67 | 2.63 |
| 2013 | 25.09 | 8.70 | -13.37 |
| 2014 | 16.33 | 14.41 | 27.30 |
| 2015 | 5.45 | 2.97 | -1.79 |
| 20160715 | 13.31 | 5.50 | 16.13 |
Data Sources: Morningstar, Credit Suisse, and MSCI. Note that although the current MSCI index fact sheet only goes back to 2002, I have a fact sheet from 2012 that goes back to 1999.
In order to generate a total return of approximately -10% in 2008, the portfolio composition would be 66% USMV / 34% CSAAX, 73% USMV / 27% TLT, or 70% USMV / 17% CSAAX / 13% TLT. The original graph below (based on the annual return data in the table above) shows that total cumulative return over the entire time period for the portfolio (rebalanced each year) was slightly increased by adding CSAAX, TLT, or a combination of CSAAX and TLT. The addition of TLT outperformed the addition of CSAAX; the poor relative performance of CSAAX during 2011-2012 was a major factor in the reduced performance of managed futures. The combination of CSAAX and TLT provided intermediate performance.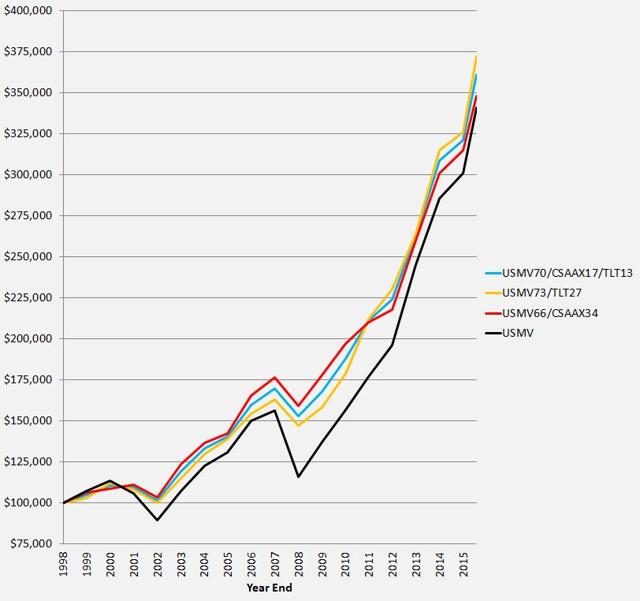 To see how robust the performance advantage of adding CSAAX and/or TLT to USMV is, I also compared total cumulative performance starting in 2003 to eliminate the time period of 2000-2002 which was advantageous to both managed futures and long duration Treasuries. The original graph below (based on the annual return data in the table above) shows that adding CSAAX and/or TLT reduced total cumulative performance by a small amount during the time period of 2003 through July 15, 2016. However, the overall trend was similar to the longer time period.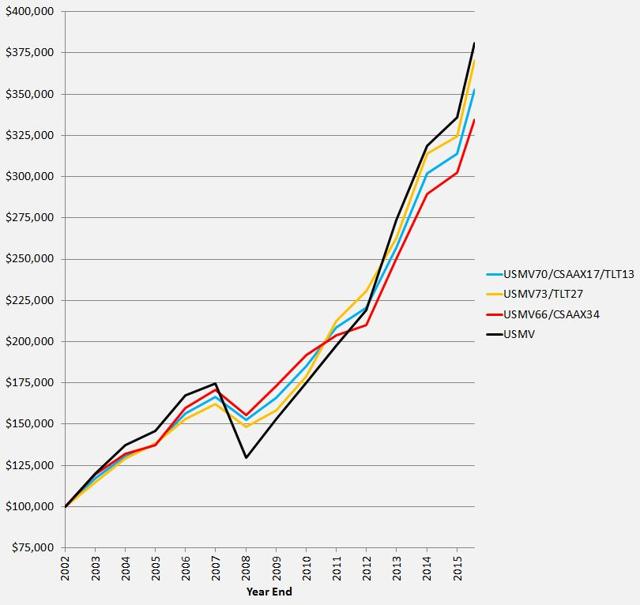 Conclusion
In the long term, adding an allocation to managed futures and/or long duration Treasuries to a low volatility fund significantly reduces risk while maintaining similar performance to an equity-only portfolio. Although the addition of long duration Treasuries outperformed managed futures, this relationship could change in the future if interest rates increase, in spite of relatively high managed futures fees. The addition of both managed futures and long duration Treasuries to equities is appealing because the combination reduces risks of both interest rate increases and choppy markets poorly-suited to trend following managed futures, while hedging against significant market downturns.
The equities fund(s) combined with managed futures and long duration Treasuries also influence the relative performance. For instance, analysis (not shown) shows that adding managed futures and/or long duration Treasuries to the PowerShares S&P 500 Low Volatility Portfolio (NYSEARCA:SPLV) reduces performance for both time periods, whereas adding them to the SPDR® S&P 500 ETF (NYSEARCA:SPY) increases performance during both time periods.
Although the performance and risk profile of this portfolio allocation has been excellent over a long time period, I do not consider this to be a diversified portfolio. In order to improve diversity, I would recommend at least adding mid/small cap funds, international developed/emerging market funds, and high-yield/multi-sector bond funds.
Disclosure: I am/we are long CSAAX, HFXAX, SPLV, TLT.
I wrote this article myself, and it expresses my own opinions. I am not receiving compensation for it (other than from Seeking Alpha). I have no business relationship with any company whose stock is mentioned in this article.