After a somewhat disappointing March quarter, Qualcomm (NASDAQ:QCOM) has come roaring back for June, posting substantial y/y gains in revenue of 4% to $6.044 billion, net income 22% to $1.44 billion and EPS, 33% to $0.97. Qualcomm has justified my perception that its leadership in ARM processors and cellular modems, and its IP licensing, would pay off handsomely.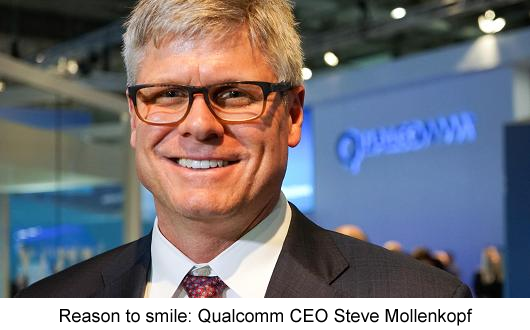 Source: CNBC
Upbeat Guidance
Qualcomm managed flat revenue y/y for its QCT chip hardware division of $3.853 billion, despite an 11% y/y drop in chip shipments to 201 million. The higher ASP is undoubtedly due to the company's industry leading Snapdragon 820 SOC, which has been adopted for flagship smartphones from virtually all vendors.
QCT performance was actually excellent, considering headwinds such as the general softness in the premium tier smartphone segment as well as expected y/y sales declines in the premium tier at a major OEM, which could be a reference to Apple (NASDAQ:AAPL). Although Qualcomm doesn't sell full SOCs to Apple, its modems are present in all currently shipping iPhones. The other major headwind for QCT is the expected second sourcing of modems by Apple for the next generation of iPhone, which could have affected sales late in the quarter.
During the conference call, Qualcomm management wouldn't offer specifics of how much the second sourcing at Apple would hurt modem sales, but it didn't seem to be much. It's possible that Qualcomm hasn't lost any major developed markets and that the second source modems are going into lower cost iPhones intended for developing markets such as India. We'll have to see when iPhone 7 is introduced in September.
In the meantime, Qualcomm's strategy is to move into adjacent markets such as drones and wearables and that seems to be getting some traction. In his prepared remarks, CEO Steve Mollenkopf stated:
We continue to expand our presence in adjacent opportunities including automotive, networking, mobile compute and IOT. These industries are rapidly adopting smartphone technologies. Our leadership across 3G, 4G, 5G, WiFi, multimedia, graphics, processor and RF front-end technologies positions us well for these new growth areas. Collectively, the addressable opportunity for these adjacent areas is expected to grow at a CAGR of 18% over the next five years from $12 billion to $29 billion according to a combination of third-party and internal estimates.
I consider Qualcomm's ability to exploit these adjacent markets to be excellent based on its leadership in ARM architecture processors and cellular modems, as I'll discuss more below.
QTL, Qualcomm's licensing division, performed better than expected based on continuing progress in China. QTL revenue grew 6% y/y to $2.038 billion. Total reported device sales were up 4% y/y to $62.6 billion with estimated unit shipments up 11% to 321-325 million.
QTL revenue benefited from catch-up payments made by licensees as negotiations have been concluded, as well as licensees who have decided to begin making payments despite negotiations not being concluded. Catch-up payments provided more than $400 million in revenue to QTL in the June quarter. It appears that Oppo and Vivo remain the key Chinese smartphone makers who are still in negotiation.
Qualcomm also offered very encouraging guidance for its fiscal Q4 ending in September. Qualcomm guided to $5.4-6.2 billion in revenue, a y/y increase of 14% at the high end of the range. Chip shipments guidance was 195-215 million, an increase of 6% at the high end. Fiscal Q4 could see the first quarter of y/y unit growth in some time.
Qualcomm would not go into specifics as far as assumptions for additional catch-up payments that QTL might receive in fiscal Q4, other than to say that their assumptions were conservative and corresponded to the low end of fiscal year revenue guidance.
Big Picture Takeaways
At this point I want to take a step back and offer the reader some big picture observations about Qualcomm and its future. Early this year, I took a long position in Qualcomm based on a number of factors.
I have observed that ARM-based mobile devices, primarily smartphones, have continued to grow even as sales of traditional PCs have waned. The commodity processor model of Intel (NASDAQ:INTC) also had waned as mobile device makers such as Apple and Huawei have started designing their own SOCs for smartphones and tablets. Much of the ascendancy of the smartphone has been driven by ARM architecture, which appears to have a fundamental cost advantage compared to Intel architecture.
Even though Qualcomm applies the same commodity processor business model as Intel, it has the advantage of a more modern and cost effective platform in ARM. Also, the custom SOCs developed by Apple and others find application mostly at the highest end of the mobile device market. This has left Qualcomm to pursue mid and low tier commodity smartphones as well as other commodity opportunities in wearables, IoT, etc.
I consider Qualcomm to be nothing less than the modern day successor to Intel, and it will continue to rise, even as Intel sinks. In addition to having a fundamental architecture advantage in ARM, Qualcomm's long history in mobile communications and cellular modem leadership uniquely advantages the company in IoT and connected wearables. Despite the challenge of Intel in cellular modems, I believe that Qualcomm's leadership position is secure and will continue into 5G.
Finally, the success that Qualcomm is achieving in licensing compliance for Chinese smartphone OEMs speaks to the ability of US companies to operate successfully in the regulatory environment of the People's Republic of China. I have never accepted the notion that the PRC is simply out to get US companies (especially Apple) and drive them out of the country.
It is fatuous to posit the PRC as a lawless dictatorship intent on driving out US companies, as Carl Icahn appeared to do when he bailed out of Apple. The PRC takes its responsibilities as a member of the World Trade Organization (WTO) seriously under the General Agreement on Tariffs and Trade (GATT). Most importantly, the PRC cannot afford to jeopardize its economic growth by disrupting its international trade relationships.
Qualcomm is living proof that it is possible for US companies to successfully navigate PRC business regulations and be profitable in the process. Following Qualcomm's settlement with the National Development and Reform Commission (NDRC) in China, it has been able to successfully compel licensing compliance among most of the Chinese OEMs without resorting to legal action.
The sole exception so far appears to be smartphone maker Miezu and Qualcomm has initiated complaints against Miezu in the Intellectual Property Courts of Beijing and Shanghai. Armed with the NDRC agreement, it's very likely that Qualcomm will win in the end.
Investor Takeaway
As I pointed out in a recent article, Qualcomm stands to benefit from share gains among the top Chinese smartphone makers, especially Oppo, Xiaomi and Vivo. Qualcomm's Snapdragon 820 SOCs absolutely dominate the high end of the Android smartphone market, and Qualcomm has considerable presence in the mid and lower tiers as well.
With its position in Android smartphones secure, Qualcomm is free to pursue adjacent opportunities in IoT, wearables, drones and even ARM-based servers. As I have pointed out Qualcomm is leading the next generation of cellular connected smartwatches with its Snapdragon Wear SOCs.
Cellular connected smartwatches are capable of voice and data communication without need of a smartphone, and I have projected that these devices will begin to take over these key communications functions. So it appears that Qualcomm is uniquely positioned to benefit from this disruptive technology.
Qualcomm's bullish fiscal Q4 guidance, combined with its long-term prospects and positioning, make it an easy call. I remain long Qualcomm and recommend it unequivocally as a buy.
Disclosure: I am/we are long QCOM, AAPL.
I wrote this article myself, and it expresses my own opinions. I am not receiving compensation for it (other than from Seeking Alpha). I have no business relationship with any company whose stock is mentioned in this article.