Bond bears have been consistently wrong in recent years. Their argument has been that Treasury yields have been too low and the rally in bond markets is unsustainable. In fact, there were predictions at the start of the year that yields on 10-year Treasuries would rise to 2.45%. Betting against bonds though has meant missing out on one of the biggest rallies in government debt. With yields on Treasuries near historic lows, the question is whether the rally in bond markets finally come to an end. Last month, I had noted that the ProShares UltraShort Lehman 20 Year (ETF) (NYSEARCA:TBT) was worth a look. However, TBT has seen a sharp pullback in the past one month, highlighting the strength of the bond market rally. I expect the trend to continue and have turned bearish on TBT.
Treasury Yields To Remain Lower and May Even Drop Further
Earlier this month, when the Labor Department reported a stronger than expected jobs report for the month of June, yields actually went lower instead of climbing. In general, yields climb higher on signs of a strengthening economy. But this has been a trend in recent years. The U.S. economy has been in a relatively better shape when compared to other developed world economies. Yet Treasuries have continued to rally (yields and Treasuries have an inverse relationship).
The bond market rally, to a large extent, has been due to the Federal Reserve's bond purchase program. But the Fed ended its bond purchase program three years ago. Yet yields are at record low levels.
One reason for this is the Fed is expected to keep rates lower for longer. The strong jobs report for the month of June has brought a December rate hike back on the table. The CME Group's FedWatch tool now suggests that there is a 40% probability of a rate hike in December. A few days ago, the probability was 20%.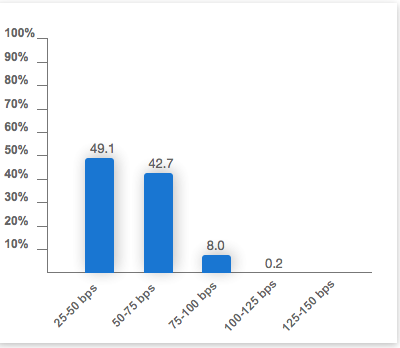 CME Group
The statement from the next FOMC, which is scheduled for next week, will provide some direction. A hawkish stance from the Fed could push yields higher. But I believe this move will be temporary. Firstly because the pace of rate hike is going to be slow. Remember at the June meeting, the Fed scaled back its rate forecasts for 2017 and 2018. We are in a lower for longer environment. The second reason is that if Treasury yields inch higher, it will be even more attractive to yield hungry investors. In fact, yields could end up even lower.
Treasuries Attractive In The Era of Negative Yields
Treasury yields are near historic lows. But they are still in positive territory unlike yields on German and Swiss government bonds. According to data from Bloomberg, yields on more than $10 trillion worth of sovereign debt are currently in negative territory. Treasury yields therefore are attractive notwithstanding the low yields. And if the Fed does hike rates in December, pushing yields higher, it would make Treasuries even more attractive. In other words, the rally in Treasuries is here to stay and betting against it would be futile no matter how unsustainable the low yields look right now.
Disclosure: I/we have no positions in any stocks mentioned, and no plans to initiate any positions within the next 72 hours.
I wrote this article myself, and it expresses my own opinions. I am not receiving compensation for it (other than from Seeking Alpha). I have no business relationship with any company whose stock is mentioned in this article.