The EIA reported injection figures of +34 Bcf, bringing the total storage number to 3.277 Tcf. This compares to the +59 Bcf build last year and the +59 Bcf build for the five-year average.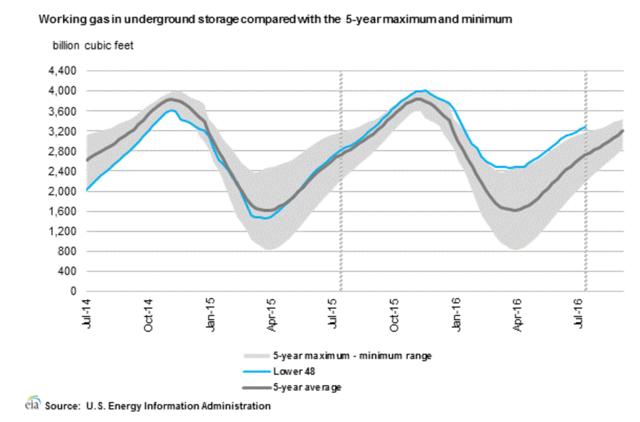 Going into the report, the consensus was expecting an injection figure of +37 Bcf. We expected an injection of +35 Bcf. The range shrunk considerably as the final estimates came in and was between 33 Bcf and 39 Bcf.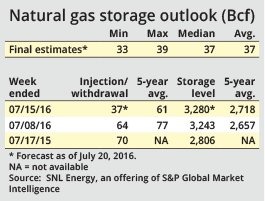 Despite the moderately bullish storage report, natural gas prices remain muted.

U.S. production figures were also revised sharply lower by about 0.5 Bcf/d, but overall supply was offset as Canadian gas imports spiked to 7.7 Bcf/d. That resulted in only a net decrease to supply of 0.1 Bcf/d.
The bullish end-of-July heat has largely been priced in, as injection forecasts so far for the next three weeks look to come in, on average, just slightly under 20 Bcf. This would compare to the high 40s we saw last year and the mid-50s for the five-year average. The surplus storage is expected to decrease by ~120 Bcf vs. 2015 by the 8/12 week.
The issue going forward seems to be that overall supply isn't decreasing much at all. Traders we talk to point to when LNG and additional Mexican gas export volumes pick up, Canadian gas imports could spike over 9 Bcf/d. We have highlighted the issue with Canadian gas storage for a while now, and because the AECO basis differential remains wide, traders will keep importing cheap Canadian gas. That's definitely good for Canadian natural gas producers.
Overall, this report was pretty much right in line with what we expected. The muted response is likely due to the bullishness being priced in, and the market fears that if prices rally any further, Canadian gas imports and coal displacement could increase. The next three weeks should see very positive storage reports.
We hope you enjoy our weekly natural gas (NYSEARCA:UNG) storage reports. Be sure to check out some of our previous ones and click on the "Follow" button above if you would like to receive our "Natural Gas Daily" articles. In addition, we also have a premium subscription platform that's tailored to long-term, value-oriented investors. We provide recommendations of stock ideas and portfolio composition. We look forward to you joining the HFI platform.
Disclosure: I/we have no positions in any stocks mentioned, and no plans to initiate any positions within the next 72 hours.
I wrote this article myself, and it expresses my own opinions. I am not receiving compensation for it (other than from Seeking Alpha). I have no business relationship with any company whose stock is mentioned in this article.