Charles Schwab (NYSE:SCHW) has announced Q2 2016 results which beat expectations and has announced increased dividend payments. Despite the low interest rate environment, which has a negative impact on their earnings, almost all indicators were favorable.
Secular trends favor discount brokers over managed funds. The stock price of Schwab has not aptly reflected this advantage, or the continually improving Schwab numbers. Following the results, analysts came out with revised Buy recommendations and I feel Schwab remains a solid medium to long-term Buy.
Q2 Results
Full details can be seen in the Form 8-K here.
Some of the more salient points can be summarized as follows:
Earnings per share up to US$0.30 from US$0.25 a year ago.
Net income up to US$406 million from US$330 a year ago.
Revenue up 17% to US$1.83 billion from a year ago.
Total client assets equaled US$2.622 trillion from US$2.543 trillion a year ago.
Asset management and administration fees rose 13% to US$757 million. Interest garnered on client's balances is a major earner for Schwab and net interest revenue rose 30% to US$798 million from US$612 million. Interest rates of course remain at historic lows and these figures are impressive given the low interest rate environment. The company still managed to increase pre-tax margins from 34% to 38.3%. Interest rates may well remain low but cannot really go lower, so the only way is up at some point in the future.
Prospects
The company added 271,000 new brokerage accounts in Q2 and this trend is a long continuing one. That is partly a secular trend as people move away more from managed funds to investing their own money. The company has increased core net assets by more than US$100 billion in each of the last four years and remains on course to do so again in 2016. It has about 9.8 million active client accounts.
Interestingly during the quarter under review, the company saw an increase in their financial consultants holding planning conversations with clients. These were held with 33,000 Schwab consultants during the quarter, an increase of 14% over a year ago. The company partly put this down to client concerns over Brexit.
This illustrates how Schwab is able to cater to the demands of both self-managing investors and clients wanting a fuller service. Schwab has a range of popular ETFs, which have challenged industry pricing structures. This gives investors a spread of managed risk without needing to pay high fees.
This has helped the company to stand out from other low-cost competitors, from whom it continues to take market share. Trading volume on stock exchanges is likely to remain quite subdued in 2016. Schwab's innovative product offerings should though enable them to increase volume by continuing to gain market share. Its range of "Schwab Intelligent Portfolio" services has proved particularly popular.
Upon release of the results, Argus issued a report (subscription required) which implied a potential gain on the current stock price of 27% based on a 2016/17 EPS estimate. They have a target price of US$34 (current share price is US$27.92).
A similar report (subscription required) issued by S&P Capital gave a target price of US$35. They estimate EBIT margins widening to over 39% in 2016 from 34.5% in 2015, and to 42% in 2017. They expect this on the back of higher revenue growth and scale efficiencies.
On a cautionary note, at the results briefing CFO Joe Martinetto did state:
"As the second quarter came to a close, market concerns regarding economic growth, interest rates and equity valuations in the second half of this year escalated significantly. While many of these concerns have abated somewhat, we recognize the importance of remaining flexible in order to make the most of the environment as it evolves."
General Market Trends
Discount brokers should continue to gain market share at the expense of high cost Managed Funds. There has been a general move towards passive investment products and investment advice that is automated. Trading costs for the individual are extremely low and will remain so. Schwab has a highly affluent client base, which should stand it in good stead. Its website contains what is generally regarded as excellent portfolio planning tools and professional advice where it is desired.
Managed funds have not on the whole done very well for investors. This is especially true of hedge funds. On average, hedge funds lost 1.1% in 2015 and 0.8% in the first quarter of this year. The managers still rake off an average of 2% per annum, however the funds perform. Over the past ten years, they have underperformed the S&P 500.
In general, managed funds have suffered during a period of low interest rates, low bond yields and low dividends. This has meant they have not been able to charge high fees and still produce value for investors.
A well-known advertising campaign by one competitor, Interactive Brokers (NASDAQ:IBKR), pushes the idea that commissions of discount brokers eat into profits. Their tag lines include "Your broker is taking more than his fare share" and "Can you afford what your broker is taking away?"
Actually, this does not equate with reality. For instance, on a trade of US$10,000 with Charles Schwab, the commission would be about US$9.00, or 0.0009%. Presumably, other discount brokers have similar commission rates. Interactive Brokers seems to be feeling the heat in fact. Its just announced results for Q2 were not so healthy and their shares dropped 7% on the news. Net revenue was down, income before tax was down and pretax profit margins were down. This suggests again that Schwab is gaining market share at the expense of its most aggressive competitors.
More important to the individual than marginal differences in commission rates may be the financial strength of the broker they use. Schwab scores very highly here. As of June 30th 2016, they had US$2.9 billion of long-term debt but US$15.0 billion of shareholders' equity. The company has moved to a flat commission schedule and offers free trades for many of its ETFs.
Conclusion
The fact that at some stage interest rates will rise is a definite positive factor for Schwab. So is the secular trend towards individuals increasingly managing their own money.
At the results briefing, the company announced a quarterly dividend increase to US$0.07 per share from US$0.06 per share. The dividend remains somewhat unexciting though at around 1%.
The 6-month share price chart reproduced below shows a slight increase in the period under review.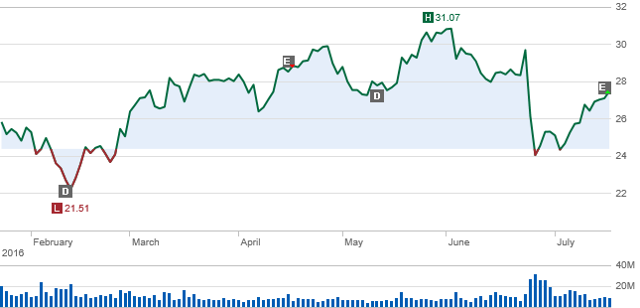 I last wrote about Schwab in April recommending a Buy then. The share price has gained 5% since then and I expect further moderate gains in the coming months. Its P/E ratio of 24.92 and PEG ratio of 1.27 might both suggest moderate upside.
Revenue growth is likely to remain driven by asset management, administrative fees and net interest income. Revenues are quite sensitive to short-term interest rates. The innovative products, especially ETFs that Schwab offers are likely to see them increase revenue on the back of gaining market share from competitors. This at a time when trading volumes are likely to remain flat or grow only moderately. Interest rates only have one way to go, and any increase would be highly accretive to Schwab's earnings.
Disclosure: I am/we are long SCHW.
I wrote this article myself, and it expresses my own opinions. I am not receiving compensation for it (other than from Seeking Alpha). I have no business relationship with any company whose stock is mentioned in this article.