When mentioning the prospect of investing in the auto makers of old, such as Ford (NYSE:F) and General Motors (NYSE:GM), most would not jump for joy and feel ecstatic; they definitely do not have the same amount of projected rapid growth as the more futuristic and hyped prospects like Tesla (NASDAQ:TSLA).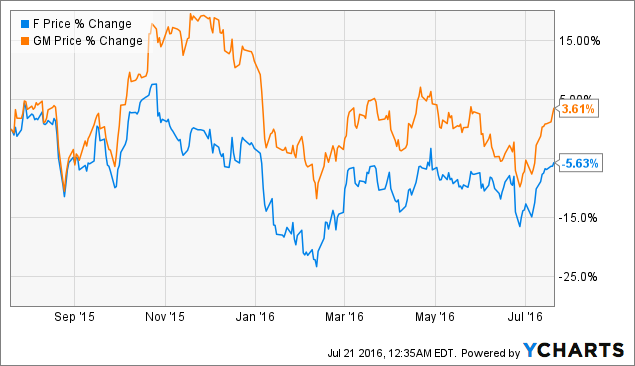 But sound investing isn't just flogging after the high-flyers. A significant amount of investors in times past and even today have profited immensely from delving into the "boring" companies, the ones that people don't flock to and put stratospheric expectations on. These types of investments are generally not as erratic; the period of associated high growth has long past.
These companies are cash machines, churning out a steady stream of cash flow and dividends. For the income-oriented investor, these types of stocks are exactly what they are looking for, and in periods of uncertainty and fear they become even more attractive as a way to reinvest dividends and preserve capital. And with the issue of the Brexit not completely figured out yet, as well as a palpable sense of indecision over the future of the markets, these types of positions have become more relevant than ever.
It should be understood from the beginning that no claim is being made about the short-term future of the major indices, but an undeniable truth that reveals itself time and time again during market crises and short-term selloffs is that people tend to make irrational and unwarranted decisions regarding their portfolios through fear as a result. In most cases, this causes their short-term performance and psyche to be drastically weakened as they have to then scrutinize for buying opportunities and muster up the conviction to once again initiate positions. Unless the market outright crashes, most will inevitably hop in again.
So how do we prevent these episodes of distress? Well, one main way in which investors can prevent themselves from prematurely selling off their positions to try and time the market is to not hold relatively risky positions in the first place. This is where dividend-oriented stocks come into play; they generate a significant amount of their returns for investors through their dividend payouts and not necessarily the appreciation of their share prices. Because businesses have absolute control over their dividend payouts, and more stable, established companies for the most part hate decreasing them as they know the severe repercussions that would entail towards their image, these types of investments are consistent, and don't get hyped up anywhere near as much as growth-oriented stocks by the markets.
There's an old adage related to portfolio management which applies to retail investors. It basically says that if "one can't sleep well at night because he or she is worried about his or her positions, then something is very wrong with the risk being taken".
Most investors should not burden themselves with fear and anxiety when thinking about their positions on a nightly basis, especially if investing isn't even what they would consider their full-time jobs. Strategies meant to create SWAN, or "sleep well at night" portfolios have become very popular amongst the more risk-averse. They comprise of a safer allocation overall, with stocks such as Ford and GM well represented. Nonetheless, I am not saying that all investors should move towards such an allocation, but safer positions add an element of consistency that is becoming increasingly relevant for all investors to pursue.
So why specifically these two American automaker companies, what makes them so special? They obviously aren't the target of hype and exorbitant expectations.
What makes them especially desirable for this type of position is their overall "boringness", and the practicality of their prospects. Even when making a conservative projection for their earnings potential, it is far out of the question to believe that they will push out egregious performances, much less cut their dividend payout.
To be completely honest, one shouldn't even look at the earnings projections for these two companies and hope to see staggering growth. Ford and GM are trading at extremely conservative levels.
| | | |
| --- | --- | --- |
| | PE Ratio | Forward PE Ratio |
| Ford | 6.18x | 6.60x |
| GM | 4.71x | 5.41x |
Data provided by Finviz on 7/20/16
The markets are not expecting these companies to blow up in popularity, and neither do I.
But what is very tempting about their offerings as investments is their dividend percentage. At their current share prices, Ford pays out 4.37% annually, and GM pays out 4.83% annually. I am very confident that they will continue do so for quite a while; these are businesses with very established revenue streams and business models.
I also mentioned before in a previous article the bright near-term prospects that the automotive industry has due to the rising average age of automobiles throughout the world, as well as the increasing rate of vehicle aging, but I am in no way implying that Ford and GM are poised to have market-trending growth.
And they don't need to really achieve it; again, they are already valued very conservatively in the first place.
When combining that fact with how they have strong return on equity, with Ford having 31.8% and GM having 28.4%, indicating that they are very able to get a good ratio of profit from shareholder's investments, one should be confident in their ability to maintain a consistent dividend payout to shareholders and take advantage of the projected growth of the automotive market overall for quite a while.
With these positions in one's portfolio, he or she would be able to still find involvement with the ebbs and flows of the markets, as stocks do generally follow the path of the broader indices, while still maintaining a consistent return through dividend payouts in the mid to long term.
Disclosure: I/we have no positions in any stocks mentioned, and no plans to initiate any positions within the next 72 hours.
I wrote this article myself, and it expresses my own opinions. I am not receiving compensation for it (other than from Seeking Alpha). I have no business relationship with any company whose stock is mentioned in this article.