After reaching an all-time high in late 2014, Procter & Gamble (NYSE:PG) shares tumbled nearly 30% in 2015 before starting to pick up again in the second half of that year. Although the shares remain roughly 10% or so off their peak, investors still look like they are pricing in a lot of good news at a company going through a notable transition. Don't expect fiscal fourth quarter results to change anything.
Mistakes happen
To Procter & Gamble's credit, the company was able to withstand a material strategic error. That's a testament to the company's core strength and a clear reason why investors should be interested in the name. Essentially, there was a management hand over and the new leader chose to push aggressively into emerging markets. That didn't pan out and, along the way, innovation stalled and an increasingly unwieldy product portfolio started to drag on performance.
Cue the return of previous management, CEO A.G. Lafley, and a new plan. This time the idea is to slim down to core brands by selling smaller and less desirable ones. With a new plan in place, the company has transitioned to a new leader... again. While the new CEO, David Taylor, simply has to follow the playbook he helped create, there's another issue to keep in mind: Procter & Gamble is shrinking.
Clearly, the goal is to focus on its most profitable brands. However, as the company divests products its top line will be under pressure and that will likely flow through to the bottom line over the near term. Procter & Gamble is still wildly profitable and it's using its robust cash flow to buy back stock (around $1 billion worth in the fiscal third quarter) to support the bottom line. However, as the market reaches all time highs this consumer products giant in transition is also inching back toward it's all time highs even though its transition is far from complete.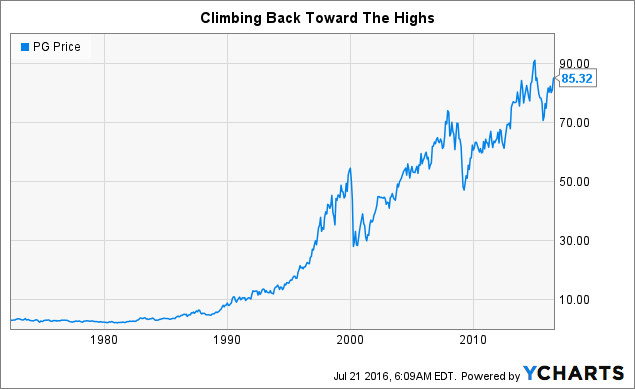 PG data by YCharts
Not cheap enough
The fiscal year that's about to end was one of great change for Procter & Gamble. It appears to have survived the tumult just fine, but the changes aren't done. And it looks like investors are, at best, fairly valuing the company today.
For example, the yield is roughly 3.1%. That's in-line with the yield over the past five years. To be fair, it's relatively high for the company if you look back further into history. But based on recent events it's hard to call it a great yield.
Then there's the price to earnings ratio... The trailing P/E is just over 27 compared to an average of around 20 over the past five years. That's hardly cheap. Even if you use forward earnings, the P/E still comes in at nearly 22. Better, but hardly cheap compared to recent history.
And that's not where the less-than-compelling comparisons stop. Price to book value is 3.9 compared to a five year average of 3.1. Price to sales is 3.5 compared to an average of 2.6. Price to cash flow, however, like the dividend, is pretty much in line with the longer-term average. Essentially, there's some metrics that suggest Procter & Gamble is fairly priced and others that suggest it's expensive. That's not what I would call a compelling entry point.
Will the fourth quarter change things?
So if Procter & Gamble is at best fairly priced as the market is hitting all time highs, what news from the fiscal fourth quarter earning release changes things for the better? The answer is probably nothing. The best case scenario is really just continued progress on the turnaround front, but that's already pretty well baked in the cake here with Procter & Gamble's price just 10% or so away from all time highs.
It's hard to see where sales would suddenly pop higher. Or how earnings would take off to such an extent that the price to earnings ratio drops 25% overnight. The same is true for price to sales and price to book value. When the company reports its fourth quarter and full year results look for solid progress, which should make shareholders happy, but don't expect a material change in valuation. Procter & Gamble is, at best, fairly valued and more likely a little expensive today.
Disclosure: I/we have no positions in any stocks mentioned, and no plans to initiate any positions within the next 72 hours.
I wrote this article myself, and it expresses my own opinions. I am not receiving compensation for it (other than from Seeking Alpha). I have no business relationship with any company whose stock is mentioned in this article.