BHP Billiton (NYSE:BHP), the world's biggest mining company in terms of market cap and the third largest producer of iron ore, has recently released its operations review for the fiscal year ending June 30 in which it reported lower levels of production for most commodities.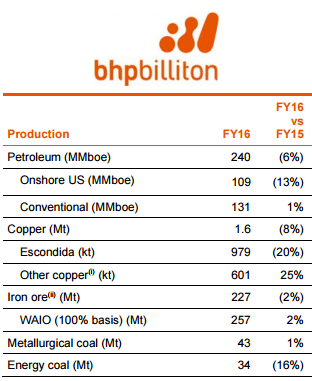 The company, unlike its peers Vale (NYSE:VALE) and Rio Tinto (NYSE:RIO), is also an oil producer with a large presence in the U.S. But it has reduced development work due to weakness in oil prices. Copper production was hit by the decline in volume at Escondida. Its iron ore output declined 2%, thanks to adverse weather conditions, maintenance work and suspension of operations at Samarco joint venture in Brazil. Strong production levels from coal mines in Queensland, Australia offset the negative impact of closure of Crinum mine, also located in Queensland, leading to slight increase in met coal output. The energy coal operations were hit by asset sales, adverse weather conditions and rescheduling of production at New South Wales Energy Coal.
The good news is, BHP Billiton managed to beat its production target for oil, copper and met coal while its iron ore business in Western Australia dug up record quantities of the commodity. However, the company failed to meet its iron ore production guidance. The commodity accounts for 60% of BHP Billiton's core income. The company's iron ore production of 227 million tonnes was below its guidance of 229 million tonnes while the total iron ore production from Western Australia, on a 100% basis, of 257 million tonnes was also below the company's estimate of 260 million tonnes.
Note that BHP Billiton reduced its production estimates by 3% to 4% in April when it halted its operations in Brazil following a deadly dam burst that killed more than a dozen people and polluted hundreds of miles of rivers.
It appears that the negative impact of the Samarco incident, coupled with bad weather and rail maintenance work, has turned out to be worse than what BHP Billiton thought. This has happened at a particularly bad time for BHP Billiton since the company, which has struggled with shrinking revenues and earnings due to decline in commodity prices, will not be able to fully profit from the recent surge in iron ore price which has come amid uptake in construction activity in China and hopes that the country, as well as other major economies, will continue to move on their path of monetary stimulus. Iron ore (62% Fe content) is currently near $55.10 per tonne, up from $42.90 seen at the start of the year.
But BHP Billiton isn't the only major miner struggling to meet production targets. Earlier in April, Vale, the world's largest iron ore producer, said that its output for the full fiscal year will be closer to the low-end of its guidance of 340 million to 350 million tonnes. But even if it manages to beat its estimates by producing 345 million tonnes of iron ore, which is the mid-point of its guidance, it will end up with lower production as compared to last year's 345.9 million tonnes. We'll likely hear more on the company's guidance when it releases its second quarter production results on Thursday.
Meanwhile Rio Tinto, the world's second largest iron ore miner, has recently released its production report for the second quarter in which it failed to meet market's estimates by 2.7 million tonnes (100% basis). In the first six months of this year, Rio Tinto has dug 169.3 million tonnes of the red metal. If it continues to work at this rate, then the company could end up producing 338.6 million tonnes of iron ore in 2016, which is 11.4 million tonnes short of its target of 350 million tonnes.
In short, the world's three largest iron ore miners are finding it difficult to meet their production growth targets. That's a good thing for a commodity that has been under pressure due to abundant supplies. But the soft production numbers from the world's biggest iron ore miners may not have any positive effect on iron ore prices.
That's because first, Fortescue Metals Group (OTCQX:FSUMF) (OTCQX:FSUGY), the world's fourth-largest iron ore producer, unlike its bigger peers, is moving forward at full steam. Earlier this month, the company said that it produced 169.4 million tonnes of iron ore during the fiscal year ending June, easily topping its April guidance of 165 million tonnes.
Second, Australian billionaire Gina Rinehart's Roy Hill project began operations last year and is getting close to meeting its full annual capacity of 55 million tonnes. Thanks in part to Roy Hill, iron ore shipments from Australia's Port Hedland reached record levels of 41.8 million tonnes last month, and could move even higher once Roy Hill becomes fully operational by early next year.
The strong production levels from Fortescue Metals Group and Roy Hill could offset the impact of soft production from the Big Three iron ore miners on iron ore prices. Moreover, the long term future is also not looking particularly bright as iron ore supplies might end up growing even faster. BHP Billiton, for instance, witnessed lower production in the previous fiscal year but is projecting up to 4% growth during the fiscal year ending June, 2017 to between 228 million and 237 million tonnes.
This growth will be fueled by 4% to 7% increase in output from Western Australia as the company continues to work on its rail program and ramps up Jimblebar mining hub. The company plans to finish adding a new primary crusher and additional conveying capacity at Jimblebar by the end of this year.
Also note that BHP Billiton's growth estimate has significant room for upside, particularly if Samarco becomes fully operations in 2017. That's because the company hasn't included the Brazilian mine in its forecast. BHP Billiton has a 50% stake in Samarco, which can produce up to 30.5 million tonnes of iron ore pellets and process up to 32 million tonnes of concentrate each year.
Meanwhile, BHP Billiton will continue to work on increasing Jimblebar's annual capacity to 290 million tonnes by FY2019 in order to power its long-term growth.
Note from the author: Thank you for reading. If you like this article, then please follow me by clicking the "Follow" link at the top of this page.
Disclosure: I/we have no positions in any stocks mentioned, and no plans to initiate any positions within the next 72 hours.
I wrote this article myself, and it expresses my own opinions. I am not receiving compensation for it (other than from Seeking Alpha). I have no business relationship with any company whose stock is mentioned in this article.