Intel (NASDAQ:INTC) reported earnings after the close on July 20th. Despite an EPS "beat," Intel's shares were falling in after-hours trading and so far during the trading day.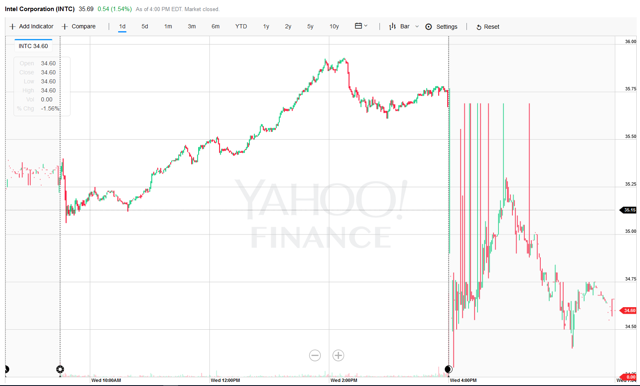 Source: Yahoo Finance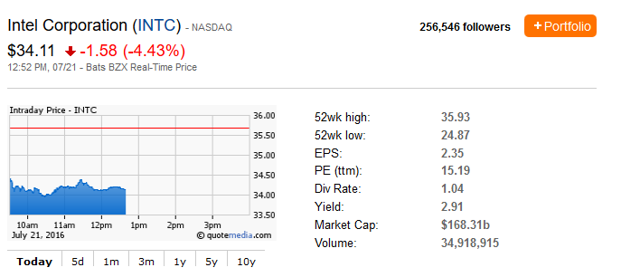 Source: Seeking Alpha
Why is Intel falling after an EPS "beat"? Let me quickly point out three negative metrics.
The Ugly: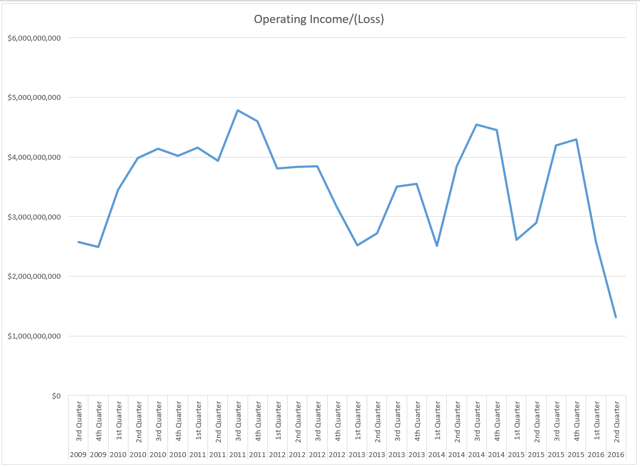 Source: I-Metrix & Intel's Press Release
Operating income fell to the lowest level since Q3 2009. In Q2 2015, operating income was $2.896 Billion, and it fell to $1.318 Billion. Of course, Intel promotes a "non-GAAP" metric in its press release. I, however, do not buy into that since the company has already announced layoffs this year, and firing someone and providing a buyout package is, in my opinion, an operating expense. If GAAP increasingly becomes "non-GAAP", where every company makes up its own metrics, then there becomes no reliable data to measure the company across time, when compared to itself and other companies, both historically and versus a present snapshot.
The Bad: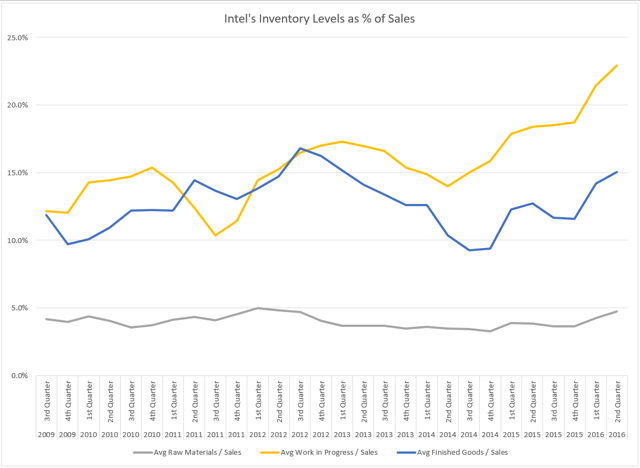 Source: I-Metrix & Intel's Press Release
Inventories are at very high levels compared to sales. Total inventories grew from $4.996 Billion (this figure includes Altera's (NASDAQ:ALTR) Q2 2015 inventory) to $5.8 Billion, or 16.2% over the last year. Intel is becoming more at risk of an inventory write-down compared to the recent past.
The Not So Good: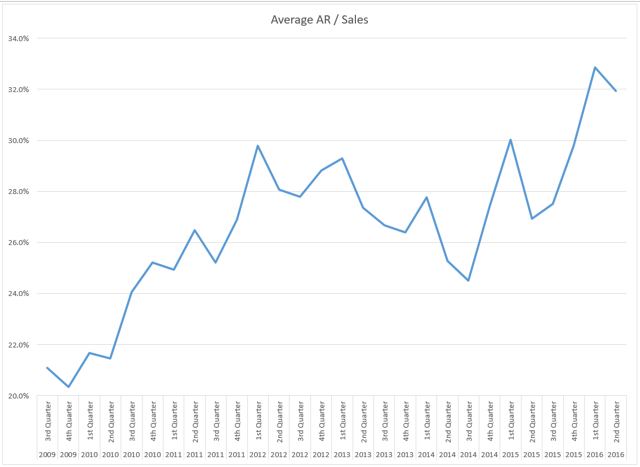 Source: I-Metrix & Intel's Press Release
Average accounts receivables (AR) as a percentage of sales still remain at elevated levels historically. Intel's accounts receivables increased by $.566 Billion YoY, but this now includes the acquisition of Altera. In Q2 2015, Altera had $.424 Billion of accounts receivables. Assuming that Altera's portion remained stable, Intel organically grew accounts receivables by $.142 Billion. It appears Intel has been providing easier credit terms, or possibly, stuffing the channel in order to generate revenues.
How are revenues doing? They had increased from $13.195 Billion in Q2 2015 to $13.533 Billion in Q2 2016.
One might say great! That is growth of just over 2.5% (still missed estimates though).
But wait, Intel completed an acquisition of Altera in Q1 2016. What were Altera's revenues in Q2 2015: $.414 Billion.

Source: Altera's SEC filling
Now, $13.533 Billion minus $.414 Billion is equal to $13.119 Billion.
Intel's organic revenue did not grow at all YoY, but declined by $.076 Billion, or -.58%.
I am keeping my negative view on Intel, but might possibly be trading the options as I did several months ago, and wrote about here.
Disclosure: I/we have no positions in any stocks mentioned, but may initiate a short position in INTC over the next 72 hours.
I wrote this article myself, and it expresses my own opinions. I am not receiving compensation for it (other than from Seeking Alpha). I have no business relationship with any company whose stock is mentioned in this article.
Additional disclosure: I have no option positions in INTC, but may initiate a long, short, or combination option position in INTC over the next 72 hours.