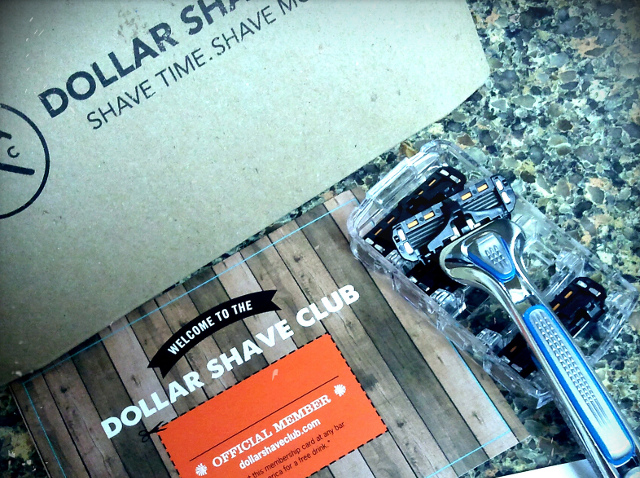 Unilever (NYSE:UL) announced that they were to buy the viral-ad master Dollar Shave Club for a reputed $1 billion in cash. The subscription-based razor and grooming goods service has ballooned in popularity since launching in 2012. Indeed, currently the company has over 3.2 million customers in the US.
Unilever's move appears to be bold and potentially lucrative. They have played the point well. Rumors had been swirling around that Unilever was interested in entering the shaving goods space by picking up Schick and Wilkinson Sword owner, Edgewell Personal Care (NYSE:EPC). Instead the reality was a lot further down the size scale. Rather than an established rival to Procter & Gamble's (NYSE:PG) market-leader Gillette like Schick or Wilkinson Sword they approached the small, disruptive start-up. Quite a bold move.
DSC has certainly proven very effective in disrupting the shaving goods space in the US. Procter & Gamble's model with Gillette globally was to innovate and then charge more. Add more blades, add more price. Add a new moisturizing strip, add more price.
This has generally been successful (especially on the blade front). Yet it is apparent this has a limit. I still use a Mach3 (when I shave at all). Despite being a lifelong Gillette user-having been "taught" using a Gillette and never changing since-I have not migrated higher up the blade scale. Three blades is quite enough for me and, I know, it is for many of my peers. Consumers seem to have reached "peak blade." Adding more blades has, it appears, failed to add quite as much value as in the past.
A new strategy was ripe to emerge, but it was not Procter & Gamble to push it. DSC brought out a product that is more convenient to purchase (you don't even have to think about purchasing it), still high quality (with a full selection of multi-bladed razors according to taste) and cheaper to buy reaches out to a part of the market Gillette had sort of neglected in pursuing its tried and tested strategy. DSC rushed into that space. Perhaps scenting blood from one of its rivals' biggest and most profitable brands, Unilever unsurprisingly found the prospect of purchasing it attractive.
A Bit Too Rich?
But at $1 billion, was the valuation just a little expensive? Certainly valuing it around ~5 times sales, may seem a little rich especially with it still remaining unprofitable. Yet, considering that when DSC had about 2 million subscribers last year it was valued at $615 million it may not be so rich. Assuming each of the current 3.2 million subscribers was judged to be worth the same amount, a valuation of $984 million emerges. Judged by that criteria, that hardly seems outrageous.
What is more, revenue growth looks highly attractive and with 3.2 million subscribers ripe with possibilities for cross-selling it may well be a bargain. As is familiar for high growth companies, profitability remains elusive and probably will be for some time still. Yet revenue growth has been, predictably, meteoric since being founded in 2012: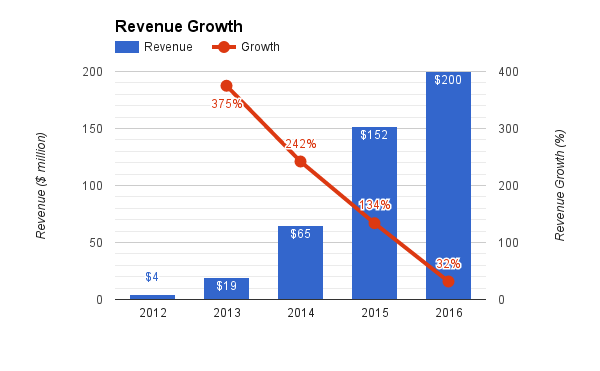 The $200 million revenue figure for 2016 could well be much higher. DSC has previously underestimated its own revenue growth in previous years and Unilever merely said they expected it to "exceed" $200 million this year.
More Than Blades

Unilever was well aware, however, that DSC was more than just a razor business though. As Unilever stated on announcing the purchase:
With a product and brand range that extends far beyond shaving to include Wanderer men's personal wash products, Big Cloud men's skin care products, Boogies hair styling products, and One Wipe Charlies daily wipes, Dollar Shave Club brings to Unilever's personal care category a unique male grooming perspective.
Remember, this is a company that sells directly to its customers. No middle men distributor. You order from DSC it comes straight from DSC. As Unilever explained: "Dollar Shave Club is the category leader in its direct-to-consumer space." The response of Unilever Foundry's head, Jeremy Bassett, to the acquisition was telling. Writing on Twitter he explained that:
Disruption is here and Unilever has chosen to embrace it!
This is important with regards pricing. Many consumer goods companies are being price pressured by supermarkets and other retailers trying to shore up their own margins. It is little wonder that as well as Unilever's move with DSC, others like Procter & Gamble are looking for ways by which to sell directly to the consumer.
Selling directly to consumers will likely see the importance of brands grow even further. If you are in a supermarket and your usual brand is full-priced yet a comparable one is on discount you may well be tempted to pick up the latter. Yet encouraging a direct-to-consumer transaction between manufacturer and consumer means the importance of an attractive, familiar and trusted brand (which, after all, you will be subscribing to) is even more important. With one layer less of profit pressure (in other words, cutting out the retailers need for a profit as well) prices will also be able to shrink.
In that sort of environment, the likes of Unilever and Procter & Gamble are uniquely placed. Global brands across segments offers compelling opportunities to pull in consumers to an even more stable purchasing relationship with their brands and even more opportunities for cross-selling their other brands. In many ways, Unilever's move is not just a close, uncomfortable shave for the major established razor brands but for established large-scale retailers like Wal-Mart (NYSE:WMT) or Kroger (NYSE:KR) as well as smaller ones. It is the power of these brands which also give Unilever and Procter & Gamble an advantage over another disruptor in the form of Amazon (NASDAQ:AMZN).
Impressive Market Share Growth
What is certainly true is that it pitches Unilever into a hotly contested space. Its biggest consumer goods rival, Procter & Gamble, owns the market-leading Gillette brand. Gillette still dominates the shaving market in the US with 59% of all sales but the online market share sees DSC pushing Gillette into a distant second place (Data source: Euromonitor):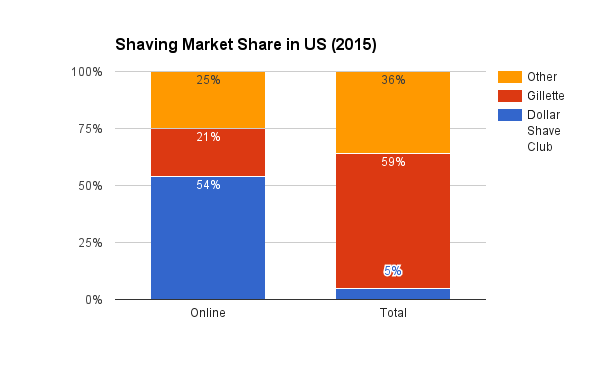 Needless to say, the online market is still comparatively small. Yet it is growing rapidly and Procter & Gamble itself have predicted that it will continue to grow at around 25% per year for the next half decade or so. Consequently, if DSC maintains its online market share anything like the column on the left Unilever could see its share of the column on the right jump rapidly northwards.
Pressure has already been put on Gillette's total market share with it dropping from 71% in 2010 to the 59% of last year. This pressure seems unlikely to soften anytime soon. The fact that DSC has managed to achieve a 5% market share in less than five years shows how powerful a disruption this can be as it eats into the market share of 115 year old Gillette.
Risks Remain
Clearly there are some difficulties with the purchase. With DSC still yet to turn a profit, it will be interesting to see how quickly this can be rectified. Capital still needs to be injected in the business to continue its (rapid) growth. Yet, clearly, Unilever has the financial firepower to do this (as I noted at Q1 time).
What will be particularly interesting to see is how Unilever looks to expand the DSC brand outside of the US market (more thoughts on this later). Whereas Gillette has opened its own shave club in other regions, DSC remains focused on the US market. Yet there is plenty of potential.
In many countries copy-cat shave clubs having emerged echoing, in particular, DSC's marketing approach. Unilever's ability to scale up DSC's brand across regions and displace both these copy-cat brands as well as Gillette's first-mover advantage in a few of these markets will be important. They will need to prove that both DSC's own specific business model and brand is "sticky" enough beyond the US to gain traction in other markets.
And this is another worry. Will this result in a further pricing war between Unilever and Procter & Gamble? Just a few years ago they were clashing swords in a price war surrounding hair-care products. Whether or not this will spark a clashing of blades in the shaving segment or expand across other segments in which these two giants overlap is unclear. What is certainly true is that now Unilever and Procter & Gamble have a fresh front on which friction will be generated between the two.
Further Deals on the Horizon?
Other commentators have argued the DSC is attractive in another way. Had Unilever not made a move for Edgewell some had thought maybe Henkel (OTCPK:HENKY), Johnson & Johnson (NYSE:JNJ) or Colgate-Palmolive (NYSE:CL) may have made a bid for it. Unilever's DSC deal may make them think twice about looking to do this now as it would force them to face-off both Unilever and Procter & Gamble. Not a particularly attractive prospect even for these consumer goods giants.
Yet it may be that the potential attractions of Edgewell to Unilever will grow in light of the DSC deal. Bringing the manufacture of the razors in house too through the likes of an Edgewell or similar has exceptional appeal. With its global manufacturing network it could help accelerate the expansion of the DSC strategy as well as allow them to keep tighter control of costs, improve margins and thus accelerate profitability growth.
Conclusion
Overall, I find the DSC acquisition a very attractive move by Unilever. The razor business had always been a highly profitable, high margin segment with a particular appeal in the increasingly targeted male-grooming sector. Rumors of a Unilever deal for Edgewell were, therefore, hardly surprising. Yet the DSC move appears even smarter.
I will be watching how this pans out very carefully. How quickly can it continue to grow in the US market? How easily can the DSC model be replicated across the globe? How effectively can the possibilities for cross-selling products be leveraged? All of these questions and more it will be exciting to see answered over time.
Risks are obviously inherent in this move by Unilever. Yet judging from the little we can gauge at present, the potential rewards also look very attractive indeed.
Notes
Unless otherwise stated, all graphs and the calculations contained within them were created by the author. Header Creative Commons image reproduced from Flickr user paulidin. Personal goods image from Dollar Shave Club .
Disclosure: I am/we are long UL, JNJ.
I wrote this article myself, and it expresses my own opinions. I am not receiving compensation for it (other than from Seeking Alpha). I have no business relationship with any company whose stock is mentioned in this article.
Editor's Note: This article discusses one or more securities that do not trade on a major U.S. exchange. Please be aware of the risks associated with these stocks.