Digirad Corporation (NASDAQ:DRAD) is a microcap medical services and products company with a stellar management team. The company is run by Matt Molchan (CEO, Director) and Jeffry Keyes (CFO, Corporate Strategy). The pair took over in 2013 and has since made great strides towards expanding the company's footprint, adding complementary products, and proactively managing the capital allocation process.
Digirad operates in an attractive niche within the Medical Services segment, which has a few tailwinds that will likely propel their business upward for the next several years. The company completed a transformative acquisition on January 5th of 2016, which roughly doubled the revenue and EBITDA of the company by acquiring DMS Health Technologies. I believe the company is a great investment because of the strong management, niche services offering, high returns on capital, and opportunity to expand their footprint and products through acquisitions.
Business Segments
Digirad operates a services business, which includes diagnostics services, diagnostic imaging and mobile healthcare. The company also operates a complementary medical equipment sales and services segment that offers outsourced sales and services under an exclusive contract with Philips Healthcare. Post the DMS Health Technologies acquisitions, the company restructured its reporting segments into four segments: Diagnostic Services, Diagnostic Imaging, Mobile Healthcare, and Medical Equipment Sales and Service.
All four segments are currently profitable from an income and operations standpoint other than Diagnostic Services, which is roughly break-even. The most profitable segments are Medical Equipment Sales & Services and Diagnostic Imaging, which have gross margins of 51% and 47%. From a returns on capital invested (ROIC) perspective, they have generated ROICs in the mid 20s to high 30s over the last two years. These high ROICs are in part generated from a very high asset turnover ratio, which is 1.16 on a TTM basis.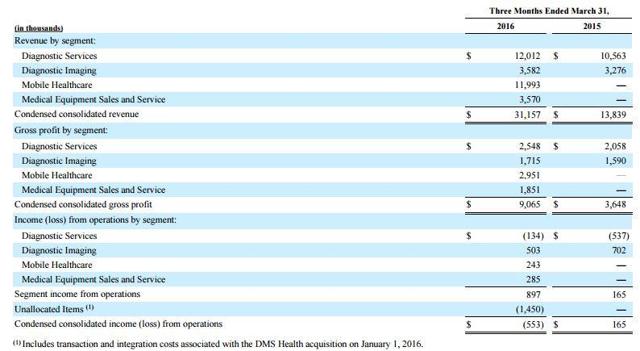 Source: DRAD 10-Q, Q1 2016
On a go forward basis, I expect the company to continue to expand into these higher gross margins businesses, as they are able to cross sell their products and services to their end market customers. The DMS Health Technologies acquisition should also provide some operational leverage for the company allowing it to improve its Net Margins over the next year as they integrate the two companies' operations, back office, sales forces, and administrations. Once they are able to fully integrate the DMS Health Technologies acquisition, they should yield EBITDA margins around 8-10% of revenues, a 2-4% point improvement on their Q1 2016 EBITDA margin.
Management: Strong Capital Allocation
Matt and Jeff have had a good record of prudent capital allocation decisions in their short tenure at the company. They recently completed a transformative acquisition for DMS Health Technologies in January of 2016 that effectively doubled the size of Digirad. Matt and Jeff have also instituted a quarterly dividend since 2013 that they intend to use to return excess cash flow to shareholders.
The company has also completed a few bolt on acquisitions since Matt and Jeff took over in 2013, including Telerhythmics (24-hour cardiac event monitoring service) and MD Office Solutions (Mobile Diagnostics in Northern California). The company has used acquisitions to expand both their footprint and their product offerings. All of these recent acquisitions have been at reasonable prices highlighted by just $7m of Goodwill on their balance sheet (mostly from the DMS Health Technologies acquisition).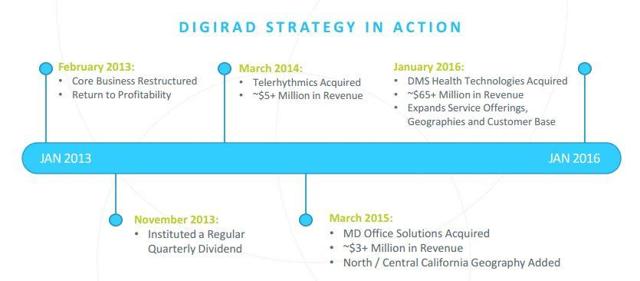 Source: Investor Presentation: June 2016
Digirad made a strategic investment in Perma-Fix (NASDAQ:PESI), a company that is developing a new low cost easier to produce TC-99m resin to use as a replacement for TC-99m. TC-99m is the radioactive isotope that is used in many medical imaging devices as a tracer for diagnostic scans. The major issue with TC-99m is that it is produced at a few specialized nuclear reactors. The supply chain of TC-99m has historically been disrupted when these specialized reactors have issues or are taken out of service for maintenance.
Perma-Fix's resin offers a lower cost and easier to produce option in place of TC-99m. They are currently still developing and testing their resin, but if successful, it could replace or at least supplement the current TC-99m supply. If this resin proves to be a real alternative to TC-99m, Digirad will benefit both from a cheaper source of TC-99m and from the underlying equity investment in Perma-Fix.
Tailwinds for Growth
Decentralized medical care is a growing trend in the United States on the backs of changes in consumer preferences, technology improvements, and a more flexible healthcare system due to the Affordable Care Act. Accenture's (NYSE:ACN) recent 2016 Health Trends highlights some of the key trends around delivering healthcare in the future. Trend #2 called the "Liquid Workforce" highlights the need for more flexible healthcare professionals and offerings.
Consumers today desire an on demand approach to their healthcare than in the past. Digirad's services support this trend as they offer a flexible solution for on demand imaging, diagnostics, and healthcare services. Digirad has a huge opportunity in front of them to expand both organically and through acquisitions to other mobile and on-demand healthcare services.
Conclusion
Digirad is a well-managed microcap company that is well positioned to take advantage of tailwinds in the Healthcare sector over the next 10 years. Based on a simple DCF valuation model with a 10% revenue growth and the margin assumptions I described above, I conclude that shares are worth $8.2 (~42% upside) which includes NOLs. The company also pays a large dividend offering a 3.5% yield at the current share price.
While investing in small companies like Digirad usually carries more asymmetric risk than larger companies, I believe the stability of their end market and the continued commitment to pay a dividend provide the stock with some underlying support which provides some margin of safety. The company's management has so far been successful at growing the company through strategic acquisitions and if they can continue to execute on their strategy, I believe they could be a billion-dollar market cap company in 10 years.
Micro-Cap Disclosure:
Warning for investors: This is considered a micro cap stock and has specific risks associated with it. Please see the SEC website for more information on micro-cap stock risks. Due to the fact Digirad is a micro-cap company, I suggest that you read the list of risks in the company's 10-K filing before investing in the stock. Here are a few risks I believe are important to understand before investing in Digirad:
Technology changes to imaging and diagnostic equipment could shift gross margins or impact the effectiveness of their current assets.
Changes in regulations or changes in consumer preference could potentially affect demand for their services based business.
Disclosure: I am/we are long DRAD.
I wrote this article myself, and it expresses my own opinions. I am not receiving compensation for it (other than from Seeking Alpha). I have no business relationship with any company whose stock is mentioned in this article.
Editor's Note: This article covers one or more stocks trading at less than $1 per share and/or with less than a $100 million market cap. Please be aware of the risks associated with these stocks.