It looks like Yamana Gold (NYSE:AUY) investors are getting nervous going into the company's second-quarter results that are expected next week. This is because on Wednesday this week, Yamana shares fell close to 9% as gold prices had a bad day owing to a stronger dollar. However, I believe that the drop in Yamana shares is temporary as the company is well-placed to deliver strong results for the second quarter as the rally in gold prices will augment its growth. Let's see why.
Why Yamana's earnings report will be strong
The rally in gold prices in 2016 is expected to strengthen Yamana's results in the second quarter. I'm saying this that the company's revenue is expected to rise 2.5% on a year-over-year basis, which will a welcome departure from the decline that Yamana has been witnessing in its top line over the past few quarter.
As a result of this rise in revenue, Yamana's bottom line will now move into the black in the second quarter, coming in at a profit of $0.02 per share as against a loss of $0.01 per share in the year-ago period. Now, this improvement in Yamana's results in the second quarter will be driven by two factors - higher production and improved gold pricing.
In the second quarter, Yamana's gold production should come in at 315,762 ounces approximately since the company forecasts that its production will rise by 2.5% at the mid-point in each quarter this year on a sequential basis. In the year-ago period, Yamana's second-quarter production was 298,818 ounces. This means that Yamana will see a bump of 5.6% in its production on a year-over-year basis.
At the same time, the company will also receive a boost from a rise in the average realized gold price along with production. This is because in the second quarter of 2016, the average gold price was $1,301 per ounce, up from last year's average of $1,192 per ounce, which translates into a rise of 9%.
Thus, according to me, driven by a mid-single digit increase in production and a high-single digit increase in the gold price, Yamana could even outperform the top line estimate that calls for revenue growth of 2.5% in the second quarter.
Why the bottom line is set to grow
An increase in the top line will also enable Yamana to post a profit in the second quarter, though the drop in the company's costs will also play a key role in a stronger bottom line performance. For instance, in the second quarter of last year, all-in sustaining costs were$896 per ounce, which came down to $804 an ounce in the first quarter of 2016. This means that over a period of nine months, Yamana had brought down the mining and development cost at its gold mines by over 10%.
As a result of such cost reductions, Yamana has managed to improve its gross profit margin of late, as shown in the chart given below: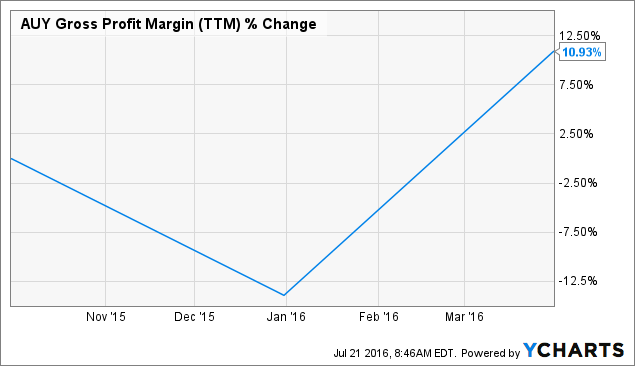 Looking ahead into 2016, I believe that Yamana's gross profit margin will continue to grow as the company forecasts its all-in sustaining costs to remain constant at $805 an ounce this year. Considering that Yamana's all-in sustaining cost in the first quarter, which includes money spent on the mines to upgrade or enhance them, was $804 an ounce, it can be assumed that it will remain constant at this level throughout the year.
As such, if Yamana posts all-in sustaining cost of $805 an ounce, it will be 10% lower than the AISC of $896 per ounce of gold posted in the second quarter last year. This means that apart from an improvement in revenue, Yamana's costs will also go down in the second quarter and this will enable the company to post an improved bottom line.
More specifically, Yamana's margin on each ounce of gold will probably come in at $496 an ounce (assuming a price of $1,301 an ounce and all-in sustaining costs of $805 an ounce). In comparison, in the year-ago period, Yamana's average realized gold price per ounce was $1,195 an ounce, which means that its margin on each gold ounce was just $299 as the AISC was $896/ounce. This means that Yamana's margin will increase by almost 66%, or $197, on each gold ounce during the second quarter.
Now, considering that Yamana's second-quarter production will rise by almost 17,000 ounces from last year (as discussed earlier), and its gold margin on each ounce will rise by $197, the company can expect to see an increase of $3.4 million in its operating earnings, an increase of almost 6% from last year.
Conclusion
Hence, it is evident that Yamana Gold is on track to deliver impressive revenue and earnings growth in the second quarter. Most importantly, the company will get back into the black as compared to a loss in the year-ago period. Therefore, in my opinion, investors should not panic after the recent drop in Yamana shares as a strong earnings report should help it get back on track.
Disclosure: I/we have no positions in any stocks mentioned, and no plans to initiate any positions within the next 72 hours.
I wrote this article myself, and it expresses my own opinions. I am not receiving compensation for it (other than from Seeking Alpha). I have no business relationship with any company whose stock is mentioned in this article.