U.S. stocks continue to set new closing highs on a daily basis this summer. This is fantastic. But for these latest price gains to be sustainable, they have to actually be supported by the beef of rising corporate earnings. Otherwise, a valuation air pocket forms that eventually becomes unsustainable with stocks eventually falling back to reality no matter how low Treasury yields might be. The bulls frequently claim that stocks are rising today in anticipation of higher future earnings, and indeed analysts are forecasting a bang up 2017 in this regard. But where exactly is the beef behind these robust predictions of record corporate profits in the coming year?
It's one thing to talk about how profits are going to be so much better next year, but it's another thing altogether to actually produce it, particularly when top line sales growth remains languid and so much corporate cost cutting has already gone before us in the post crisis period. Of course, one thing that really helps in generating profits is a company receiving orders from its customers then producing the product and delivering it to them in a timely manner. Call me crazy, but it does work a lot better than a central bank printing press in this regard.
A key indicator to determine whether this type of business activity is actually taking place is the Purchasing Managers' Index, or PMI. Two providers release this data monthly in the United States -- the Institute for Supply Management, or ISM, and Markit. As a quick review, a monthly reading above 50.0 shows improvement in activity, while a 50.0 reading indicates no change and a reading below 50.0 shows a decline in activity. The trend in readings is also worth monitoring over time, for a declining reading shows a weakening in activity while a rising reading shows strengthening.
In searching for the beef behind the U.S. economy, I will be focusing on the PMI Manufacturing Index. Why manufacturing, you might ask? After all, we don't make anything here anymore, right? Indeed, manufacturing today only makes up one-seventh of the U.S. economy. But this activity also results in two-thirds of corporate profit. As a result, if the manufacturing sector is declining, then corporate earnings are likely falling and stock prices are either falling or becoming more expensive as they rise like they are today. This helps explain why the industrials sector (NYSEARCA:XLI) is by far the most highly correlated with the S&P 500 Index (NYSEARCA:SPY) of the ten major sectors across the U.S. stock market.
The strong relationship between corporate profits and the PMI Manufacturing Index is shown in the chart below.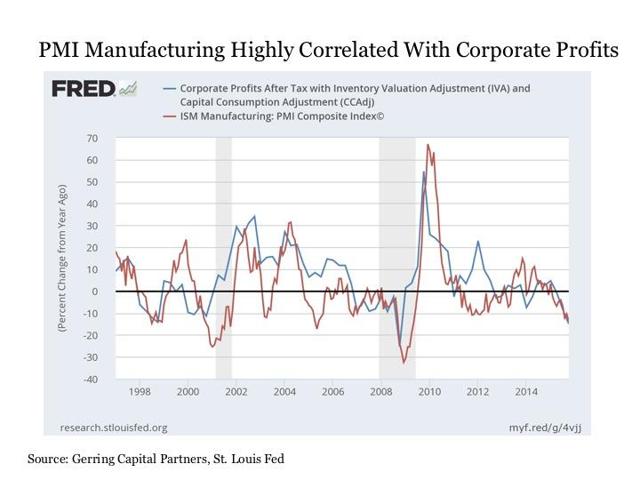 So where do we stand today with manufacturing activity here in the United States? A few months ago, the outlook was mixed at best. But this was at a time when the S&P 500 Index was as much as -150 points below where it is trading today. Surely, the recently strong surge in the S&P 500 Index must be a reflection of some notable improvement in manufacturing activity that is likely to drive corporate earnings higher in the coming year. Except that it hasn't.
OK, so the Markit PMI Manufacturing number for June at 51.3 was better than the near flat reading of 50.7 for May, but this is still well below the readings consistently north of 54 and as high as 58 from a year or two ago.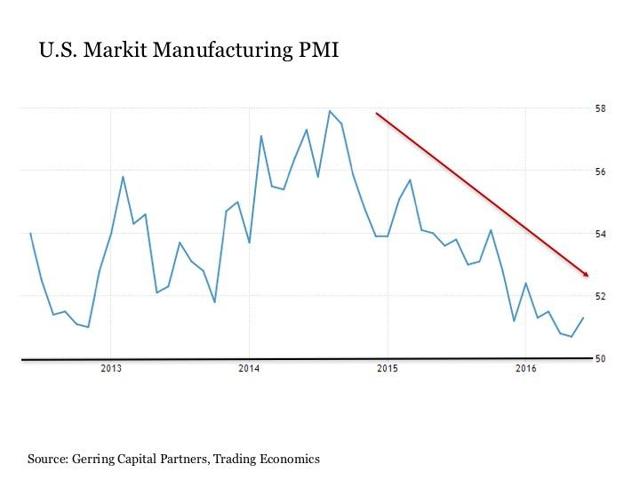 Put simply, the key driver of corporate profits here in the United States remains generally flat and continues to trend in the wrong direction.
But we live in a global world, so perhaps it is signs of improvement from other parts of the world that is foreshadowing optimism for the U.S. manufacturing sector going forward.
On our first stop, we see that it's not the European Union (BATS:EZU), whose PMI has been stuck in modestly positive territory at best for nearly three years now.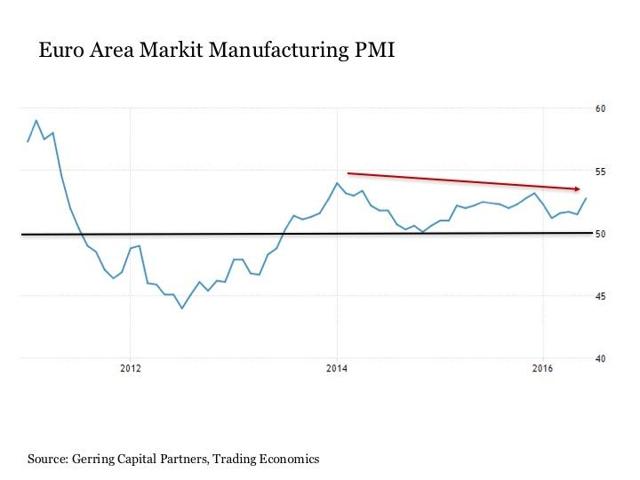 It is certainly not the United Kingdom (NYSEARCA:EWU), whose PMI has also been downtrending for nearly three years now and recently dipped into negative territory earlier this year before rebounding. And in the wake of the "Brexit" vote, we should not be surprised to see the UK PMI fall more definitively into negative territory no matter what their local stock market might be signaling right now to the contrary.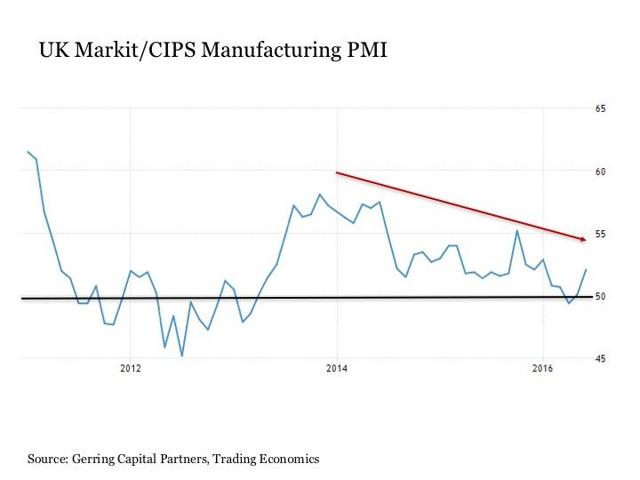 It also is not a manufacturing revival in China (NYSEARCA:FXI), as the PMI here has surrendered some the recent progress from late last year into early this year and has slipped back further into decline territory.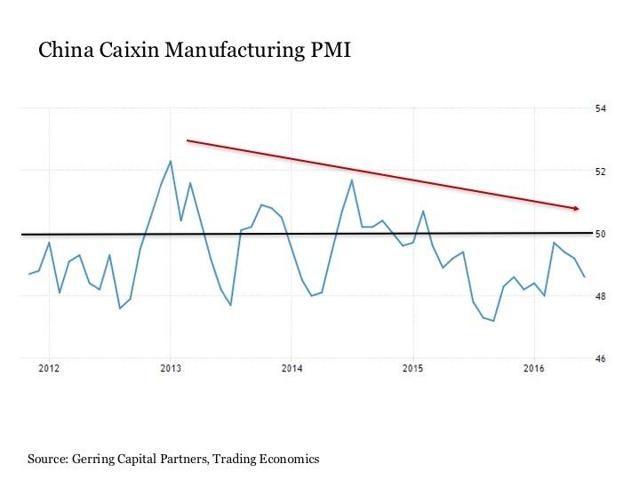 And while Japanese (NYSEARCA:DXJ) policy makers have been outstanding in generating smoke out of the back of a printing press, it has struggled to sustain improvements in manufacturing activity, as the Japan (NYSEARCA:EWJ) PMI remains solidly in decline territory for the first time since the arrival of Abenomics on the political scene.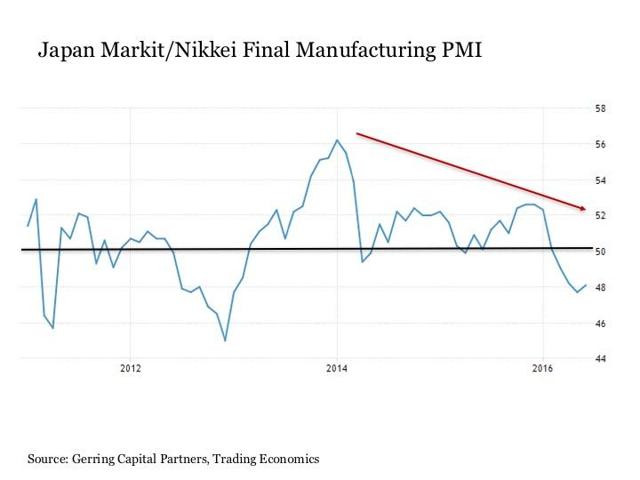 The Bottom Line
Maybe the beef of manufacturing activity will finally show up to fill the enormously big bun of investor expectations. But unfortunately for the stock prices that continue to rise into the aether, any evidence of a sustained and accelerating improvement in manufacturing activity has yet to materialize not only in the United States but across much of the world. And until it does, investors are right to remain skeptical about the forward earnings projections that they may hear from various pundits across the mainstream airwaves. For these are the same lofty earnings projections that we have been hearing for a few years now, yet they repeatedly fail to materialize. And the longer stock prices rise without the support of underlying earnings, the greater the risk of a downside shock to stock prices will become in the days, weeks and months ahead.
Disclosure: This article is for information purposes only. There are risks involved with investing including loss of principal. Gerring Capital Partners makes no explicit or implicit guarantee with respect to performance or the outcome of any investment or projections made. There is no guarantee that the goals of the strategies discussed by Gerring Capital Partners will be met.
Disclosure: I am/we are long DXJ.
I wrote this article myself, and it expresses my own opinions. I am not receiving compensation for it (other than from Seeking Alpha). I have no business relationship with any company whose stock is mentioned in this article.