I think HCP Inc. (NYSE:HCP) is worth about $38.26 on a sum of the parts basis. The analysis of Spinco reflects the share valuation at $5.42/share and the valuation of the pro-forma HCP organization around $32.83. Investors need to know that the current trading price of HCP has already priced in the benefits of spin-off transaction.
The spin-off of HCRMC is a positive by HCP:
HCP announced it plans to spin-off the HCRMC portfolio including other skilled nursing facilities (NYSE:SNF) and includes assets that are leased to Covenant Care and Trilogy Health Service as an independently-publicly traded REIT, Spinco.
I view the spin-off as a positive step and also believe it will achieve two major objectives for the company. At first this step should help in removing the significant overhand on the HCP shares. Followed by, placing the troubled HCR ManorCare portfolio as a much more flexible entity, in the hands of new management team to employ variety of strategies to further improve the value.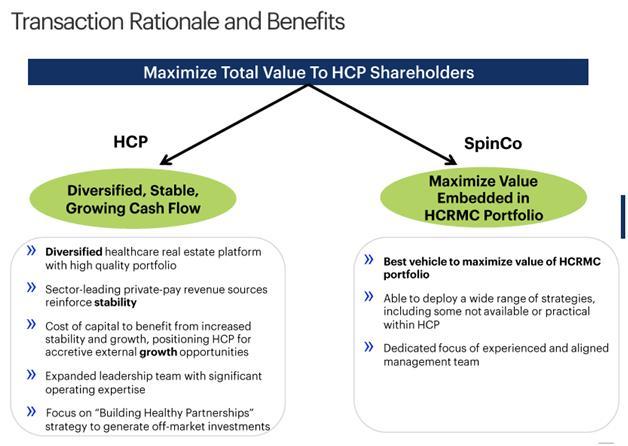 Source: Company financials
Strong leadership at Spinco:
The Spinco is led by Mark Ordan and he is known for his turnaround stories. He held various offices as CEO and other leadership positions at Washington Prime Group (NYSE:WPG), General Mills (NYSE:GIS), Sunrise Senior Living (SRZ) and Federal Realty (NYSE:FRT). The transaction is expected to be closed in 2H16.
Major leadership changes should better position HCP:
With the stepping down of Paul Gallagher (NYSE:CIO) on June 30, 2015 and expected walking out of Tim Schoen (NASDAQ:CFO) on May 22, 2016, the company has announced leadership additions that will have a positive effect. With the election of Mike McKee as Executive Chairman, he will be an official member of Executive team. Mike is initially responsible for the company's strategic growth, leadership development, and execution of spin-off transaction. Also Justin Hutchens has been appointed as Chief Investment Officer on September 8, 2015 of Senior Housing and Care, and recently, he has been promoted to a more comprehensive role of Chief Investment Officer . Kai Hsiao, the former CEO of Holiday Retirement, has been appointed as the EVP, Senior Housing Asset Management. Also I note HCP is still looking out of CFO and expects an announcement soon.
Healthy balance sheet:
Both the liquidity and solvency fronts reflect a decent financial position of HCP. I believe the stakeholders are served well, as a result of company's prudent use of debt, equity and joint venture capital mixture, with this the company proposes to maintain a sound yet flexible balance sheet. At the year end of 2015 debt-Enterprise value was ~40%, and it constituted of $1.6bn in immediate liquidity. Having said that, the debt to EBITDA and EBITDA to interest will be 5.8 and 3.5 times, respectively, both are at comfortable level for the firm.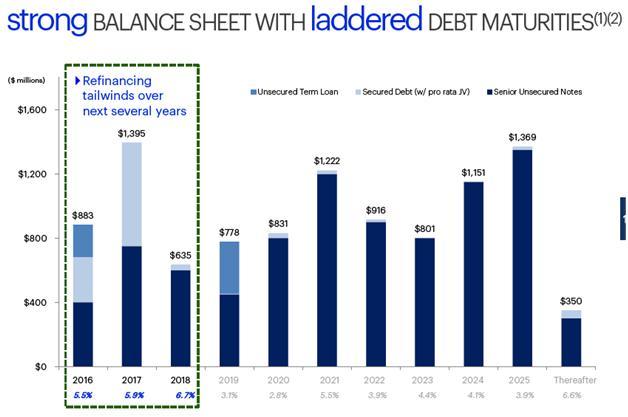 Source: Company financials
Valuation:
My $38.26 price target reflects my SOTP valuation with a 9% dividend yield for Spinco and 5% for pro-forma HCP. The spinco compares to the business of Care Capital (NYSE:CCP). I think Spinco will trade at a similar dividend yield CCP trades (9% yield) based on HCRMC credit risk and being non-investment grade.
| | | |
| --- | --- | --- |
| SOTP valuation | Spinco | Pro-forma HCP |
| FY16 estimated AFFO,$m | 325 | 850 |
| Number of shares,m | 466 | 466 |
| AFFO/shr | 0.70 | 1.82 |
| Dividend payout | 70% | 90% |
| Dividend/shr | 0.49 | 1.64 |
| Dividend yield | 9% | 5% |
| Value per share | $5.42 | $32.83 |
| Sum of the parts price target | $38.26 | |
Source: Fundamental Investment estimates
Disclosure: I/we have no positions in any stocks mentioned, and no plans to initiate any positions within the next 72 hours.
I wrote this article myself, and it expresses my own opinions. I am not receiving compensation for it (other than from Seeking Alpha). I have no business relationship with any company whose stock is mentioned in this article.