Penn West Petroleum (PWE) has been one of my best picks on the market in 2016 ever since I recommended that investors should continue to hold the stock in February this year for more gains. The stock has gone from strength to strength on the back of several factors, ranging from a recovery in oil prices to asset sales that are supposed to relieve a lot of stress on its balance sheet, which has helped it record over 60% gains on the market in 2016.
Looking ahead, I believe that the uptrend in Penn West shares is set to continue as the company is now better placed to benefit from a rise in oil prices. Let's see why.
Penn West Petroleum is now leaner and meaner
It was a month ago that Penn West had announced that it is selling its Saskatchewan assets for proceeds of $763 million, along with certain Alberta assets for another $110 million. This news sparked a big rally in Penn West's stock price, with the stock spiking over 40% in a single day, as the company had managed to sell these assets at double the valuation as compared to the recent sale transactions in the market.
Moreover, the fact that the asset sales will enable the company to reduce its debt to $600 million as compared to $2.1 billion just six months ago was a key driver for the share price spike. But, in my opinion, the long-term implications of these asset sales will be even stronger as Penn West will be able to tap an oil price recovery more effectively on the back of its remaining assets.
I'm saying this because the assets that Penn West has sold were carrying higher costs. More specifically, the lease operating costs in the Saskatchewan region stood at $14.75/BOE. In comparison, the overall lease operating costs of Penn West Petroleum in the first quarter of the year had stood at $13.02/BOE.
Thus, the assets that Penn West has disposed of will prove to be favorable to the company's cost profile as the netbacks generated by them were lower. For the uninitiated, netbacks in the oil and gas industry refer to oil and gas sales after deducting production costs, transportation expenses, and royalties, or cash operating margins in simple terms. This means that the Saskatchewan assets were not exactly cost effective as compared to Penn West's overall asset base.
In fact, in the first quarter, the netback generated by them was $12.75 a barrel. In comparison, assets such as Cardium, that are now remaining with Penn West, will allow it to achieve $17 per barrel worth of netbacks as lease operating expenses will remain at only $10 a barrel, assuming the current oil prices prevail.
Now, Penn West forecasts that it will produce 19,500 barrels of oil equivalent a day at Cardium, which means that its daily cash operating margin at this asset will be $331,500 in the current oil pricing scenario. This means that over a quarter, Penn West will generate close to $30 million in cash operating margin from the Cardium play itself, which will now account for over 75% of its overall production.
Hence, by becoming smaller and selling off assets that were creating a heavier cost burden, Penn West Petroleum has made a smart move.
More reasons why Penn West Petroleum will see improved profitability
As evident from the discussion above, Penn West's Cardium play will be important to the company's growth in the long run, especially as oil prices improve. This is the reason why Penn West is focused on increasing the productivity of Cardium in the long run. As shown in the chart given below, Penn West believes that it can increase productivity at its existing assets at a compounded annual growth rate of 10% until 2021, with Cardium accounting for the largest share: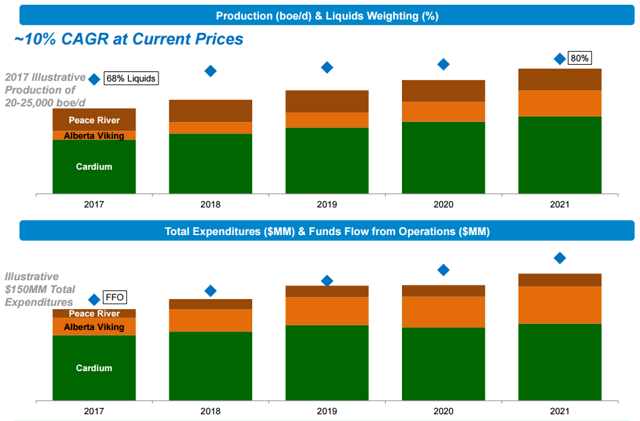 Source: Penn West Petroleum
Comparatively, the amount of capital expenditure that will go toward Cardium will be lower than the other assets such as Alberta Viking. This is because Penn West is using advanced production techniques at Cardium in a bid to increase production and keep costs low at the same time.
For instance, it has been able to achieve per well savings of $1 million at Cardium, as drilling times have come down by a whopping 90 days. Penn West has been able to achieve such reductions by using a one-mile lateral design at Cardium, which has enabled it to create more pressure in the high-graded reservoirs. This has led to an improvement in production and kept costs low.
More specifically, by using longer lateral lengths of one mile, Penn West believes that its finding and development costs will decline 30%. This is not surprising as longer laterals will allow Penn West to get into the high-pressure zones of the reservoir due to tighter cluster spacing. As a result, the company will witness further improvement in its cash generation from this asset in the long run as it increases production and reduces costs at the same time.
Conclusion
In the article above, I have assumed that oil prices will remain constant at last quarter's levels, but despite this, Penn West seems set to do well owing to its asset divestment. But, as oil prices are already on the path to recovery, and the likes of Raymond James forecasting $80 oil, I won't be surprised if Penn West is able to enhance its margins further.
Therefore, even though Penn West has done impressively on the stock market this year, the stock still remains a good one to hold on to in light of the points discussed above.
Disclosure: I/we have no positions in any stocks mentioned, and no plans to initiate any positions within the next 72 hours.
I wrote this article myself, and it expresses my own opinions. I am not receiving compensation for it (other than from Seeking Alpha). I have no business relationship with any company whose stock is mentioned in this article.