Introduction
BHP Billiton (NYSE: BHP) is an Anglo-Australian commodity company headquartered in Melbourne, Australia. The company primarily focuses on iron, petroleum, coal, and copper production all essential raw materials to our present standard of living. The company is the largest mining company in the world by market value, with a market value of $75 billion down from more than $250 billion at the height of the commodity cycle in 2011.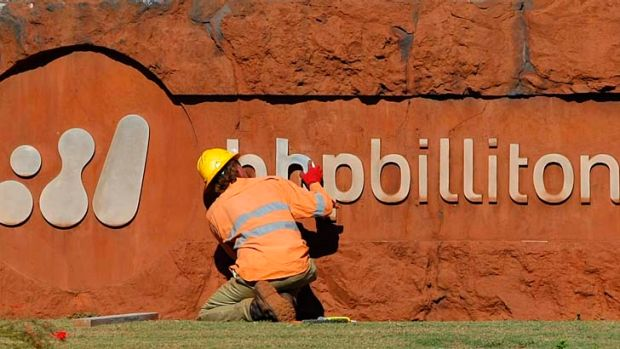 BHP Billiton, once one of the world's largest publicly traded companies, has taken a big hit over the previous five years. The company has watched its stock price drop from more than $100 per share in 2011 to less than $20 per share in January of this year as the commodity cycle hit its lows. However, the recent recovery of oil prices along with fears of rapidly slowing growth from China have been unfounded. This has provided a short term boost in BHP's share price to present levels of just under $30 per share.
However, past a short-term growth in commodity prices, I would argue that BHP Billiton's long-term potential comes from its rapidly increasing productivity and increasing demand for key commodities. I expect increased demand for these products to come from the need to replace much of the world's aging infrastructure along with overall demand growth from developing economies.
BHP Billiton Productivity
The first step to taking advantage of growing demand and become an effective and profitable mine operator is productivity. BHP Billiton needs to be consistently improving its productivity and decrease its costs in order to effectively compete with volume on a worldwide scale.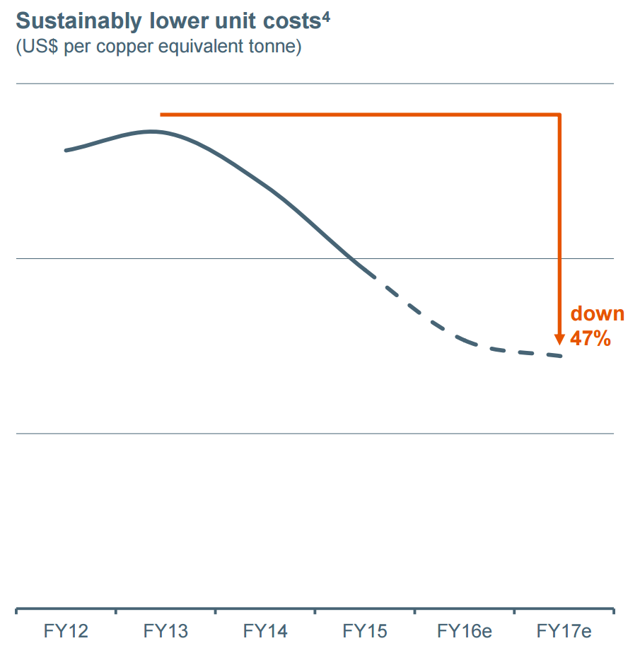 BHP Billiton Lower Unit Costs - BHP Billiton's Investor Presentation
And the company has clearly been doing just that. Once commodity prices peaked in 2011, the company's costs continued to go up for two years. However, since then, an aggressive cost cutting plan has come into play and the company's copper costs per equivalent ton have been cut by an astounding 47%. However, it is important to keep in mind that over the period copper prices have also declined by a similar amount. While I am impressed by the company keeping its margins intact in the event of such a large drop in prices, its revenue and therefore its profits have taken an enormous hit.
However, cost cuts aren't the only way in which the company's productivity is improving.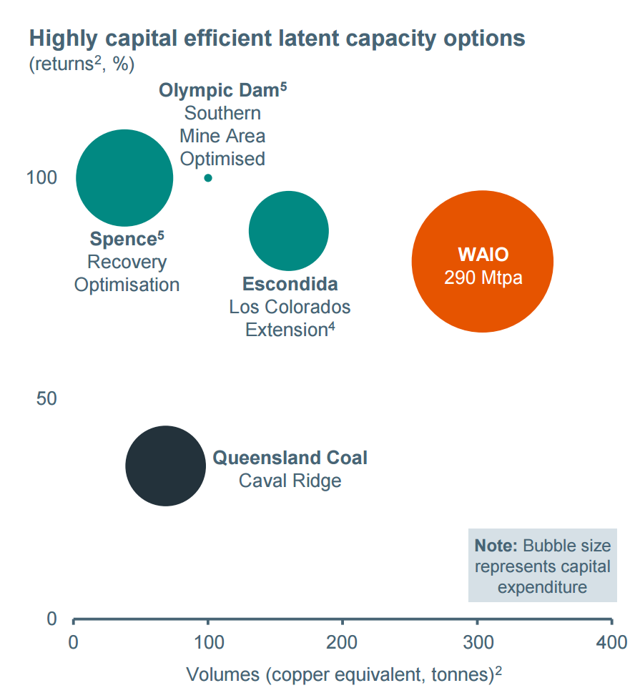 BHP Billiton's Highly Capital Efficient Latent Capacity Options - BHP Billiton Investor Presentation
The above image shows how the company is taking advantage of latent capacity to make quick large returns. The company's current latent capacity opportunities contain approximately 1 million tons of copper equivalent (roughly $4 billion in revenue) and will cost approximately $1.5 billion in aggregate capital. According to the company, this represents latent capacity worth more than 10% of its current production and using this latent capacity should reward the company with returns of roughly 60%.
It is important to understand the magnitude of these returns. For any company in any industry returns of 60% on invested capital are phenomenal. For BHP Billiton, a company in the very capital intensive mining industry, such returns are phenomenal. In what has been the worst commodity downturn for the last two decades at least, and a time of immense difficulty for BHP Billiton where both the prices of the ore and petroleum it produces have crashed jointly, new mines are not an option.
As evidenced by Chevron's (NYSE: CVX), Gorgon LNG project, a $50 billion project that is expected to restart production shortly after a leak, new mines often have higher than expected costs and require huge cash flow before they ever start earning money. With the difficulties, BHP Billiton is facing throwing tens of billions or billions into a new mine is simply not an option. However, throwing a billion or two into an existing mine to achieve an immediate increase in production and therefore earnings is definitely an option and one that the company has been pursuing to achieve amazing returns.
And copper mines aren't the only area of potential growth for the company. The company produces almost 200 thousand barrels of oil per day bringing it several billion in annual revenue and making it a large oil company separate of its mining business.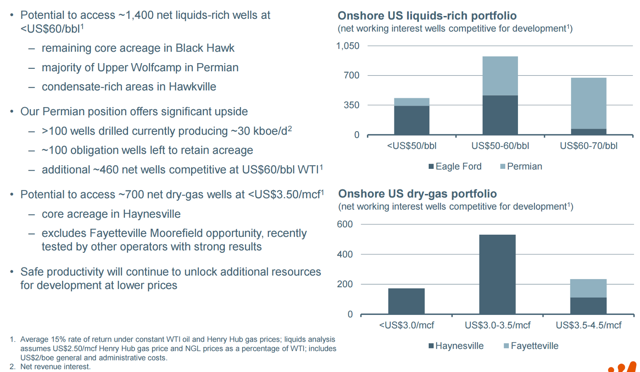 BHP Billiton's Liquid Rich Portfolio - BHP Billiton's Investor Presentation
The above slide provides an overview of BHP Billiton's liquids portfolio. The company has thousands of identified well opportunities at oil prices of $70 or less per barrel with significant production potential. The company has already drilled more than 100 wells in the Permian producing more than 30 thousand barrels per day and is obligated to drill a hundred more to retain production. Another 30 thousand barrels per day would provide a needed boost to the company's production.
More importantly, despite the difficulty oil prices have faced, their recovery from January 2016 to the present date means that there are a number of opportunities available for BHP Billiton. The company has roughly 400 wells that are competitive for development at less than $50 per barrel. Prices briefly peaked above $50 per barrel earlier this year and are currently at roughly $45 per barrel. While all 400 of these wells won't be profitable $45 per barrel, a fair number will be and drilling them would bring BHP increased earnings.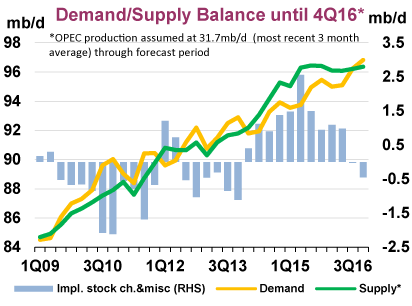 Oil Supply and Demand Balance - IEA
More importantly, as you can see in this graph from the IEA, the oil supply glut is expected to resolve itself later in this year, sometime between 3Q and 4Q 2016. Such an event should form the foundation of the recovery in oil prices. And as you can tell from the competitive prices required from the well, a relatively small recovery in oil prices to $60 per barrel, still almost 50% below prices at the start of the crash, would result in the number of competitive wells growing from 400 to 1400.
If BHP Billiton, takes advantage of recovering oil prices to drill these wells, the company will find itself in the same situation as it finds itself with its copper mines. Using existing assets, with minimal capital obligations, the company can increase its production bringing itself noticeable increases in revenue. Such increases in revenues and profits will help the company's long-term earnings.
Now that we have discussed how BHP Billiton's productivity, in both lowering its costs and increasing production from existing assets, has gone up, it is now time to discuss the long-term growth of the underlying commodities markets which should help BHP Billiton's earnings.
Infrastructure
The first thing I want to discuss is the need for new infrastructure. The world has had several infrastructure booms, mainly with the creation of new technologies (electricity, vehicles, airplanes, telephone, etc.). Other production booms have come with the need for new infrastructure to handle humanities most significant expense, war. World War One and Two along with the Cold War all saw hundreds of billions invested in new infrastructure.
Currently, the US has an infrastructure problem. The short-terms of politicians coupled with the long building periods for new infrastructure periods means that politicians have little incentive to spend money on repairing infrastructure. They look much better if they divert that money to more immediately gratifying projects. Currently, the U.S. infrastructure spending shortfall is expected to be $1.44 trillion over the next 9 years.
However, that infrastructure still needs to be repaired, and avoiding this is already having consequences. The Flint Michigan Water Crisis, LaGuardia Airport Travel Delays, and just recently the spilling of millions of gallons of sewage in LA all point towards immediate effects of not spending enough to manage infrastructure. As these effects become more pronounced, the U.S. will eventually be forced to address them.
When the US does eventually address them, you can be sure of two big sources of demand that will come from spending more than $1 trillion on infrastructure. That will be an increase in demand for steel, petroleum, and copper all essential components of new infrastructure projects. Interestingly enough, iron (the most important component of steel, however, the coal BHP Billiton produces is also essential to make steel), along with petroleum, and copper represent BHP Billiton's largest sources of production.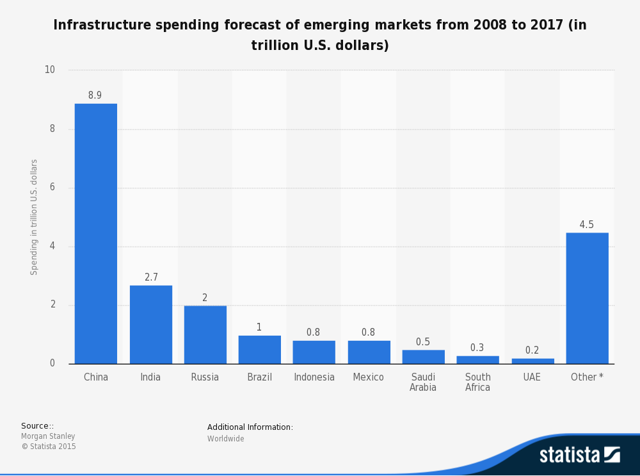 Worldwide Infrastructure Spending Forecast - Statista
More so, emerging markets are another source of all-important infrastructure spending. Emerging markets spent more than $20 trillion on infrastructure from 2008 - 2017 (more than $2 trillion a year). That number is expected to continue growing especially as some of these high population emerging market countries such as India, Brazil, or Indonesia pick up steam. More importantly, a number of other regions, such as Africa or Southeast Asia that contain numerous countries with 10s of millions of people or more will see their infrastructure spending increase.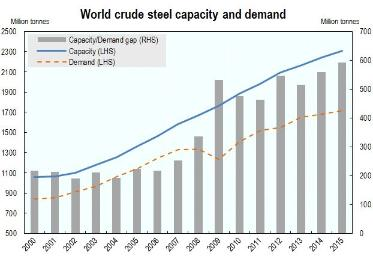 World Crude Steel Capacity and Demand - OECD
And this demand from new infrastructure spending is not just theoretical. The above graph of world crude steel capacity and demand shows how demand has doubled over the past 15 years. While growth rates may not continue to be as strong as they have been in history, it is not unreasonable to expect them to continue growing quickly. Such demand growth will result in increased demand for iron ore, BHP's Billiton's largest source of earnings.
Conclusion
BHP Billiton has had a difficult time since the peak of the commodity cycle in 2011, difficult times that were compounded by the start of the oil crash in mid-2014. However, despite these difficulties, BHP Billiton remains a strong company with huge potential due to increased productivity and overall demand growth.
BHP Billiton's increased productivity is expected to come from rapidly falling production costs, its copper production costs alone have decreased by almost 50% since the start of the commodity crash. BHP Billiton has also been focused on using its existing assets by increasing production from its current copper mines and taking advantage of the large number of oil wells that are economical at present oil prices.
Combining this increased productivity with strong, growing infrastructure spending which has been decreasing demand for steel and the need for even more infrastructure spending (the U.S. currently has a $1.5 trillion infrastructure spending shortfall) should result in long-term demand growth. This long term demand growth should also significantly support BHP Billiton's growth and earnings.
For these reasons, I recommend investing in BHP Billiton at present prices.
Disclosure: I am/we are long BHP.
I wrote this article myself, and it expresses my own opinions. I am not receiving compensation for it (other than from Seeking Alpha). I have no business relationship with any company whose stock is mentioned in this article.