Bryan Burrough and John Helyar's book about the leveraged buyout of RJR Nabisco, Barbarians at the Gate, is one of my favorite books. There's a scene where then CEO of Salomon Brothers, John Gutfreund, asks Warren Buffett for some advice on whether or not he should pursue a bid for the company. Buffett responded with the following wisdom:
I'll tell you why I like the cigarette business... It costs a penny to make. Sell it for a dollar. It's addictive. And there's fantastic brand loyalty."
This probably holds true today, but things change with time, and time could be running out for "Big Tobacco".
About that brand loyalty...
It's hard to be loyal to a brand when a government squashes said brand. The Australian government has already instituted "plain packaging" laws, therefore destroying any tobacco company's ability to differentiate their product. If this was a totally global practice, it would likely be hard to profitably compete in an industry defined by monopolistic competition - where brands and differentiation are the biggest competitive advantages.
Philip Morris International (NYSE:PM), which was spun-off from Altria (NYSE:MO) along with (ironically) some former Nabisco brands, is facing major headwinds from currency fluctuations in the short-term. These headwinds will likely abate at some point, but I think plain packaging is a much more dire threat in the long-term. The plain packaging movement seems to be spreading even in Europe, and apparently Latin America wants to join in, too. The trend is globalizing, and I think this threat should be taken very seriously. Without branding, why wouldn't tobacco users just buy the cheapest brand?
Why Altria is different
Altria is a solely domestic outfit when it comes to its cigarette business. Never say never, but I think it will be a lot harder to get successful plain packaging laws passed in the States, especially when considering all of the tobacco-growing States that have real political clout. Tobacco lobbying, and tobacco in general, is more interwoven into America and American history then most of the rest of the world I think, and I doubt the government is as enthusiastic to kill off its taxable cash crop.
I think that Altria is less susceptible to plain packaging risk than most (if not all) its competitors, and it's also insulated from negative currency-related hits to its earnings. Shunning globalization seems to be working well for the company.
But there's more. The company actually does have some international exposure, just not related to its core business where it's the most vulnerable. Through its investment in SABMiller (OTCPK:SBMRY) it not only has less-risky overseas exposure, but also the potential for even more geographical diversification if the pending buyout of the brewer is completed with Anheuser-Busch InBev (NYSE:BUD). The alcohol industry is almost as lucrative as the tobacco industry (pre-plain packaging) historically, so this provides another level of insulation from tobacco-related risks.
To sum things up, the US market appears to be lucrative. Japan Tobacco (OTCPK:JAPAY) is even looking to make a push into it with a low-priced option. Altria owns over half the cigarette market and over half the smokeless market in the States. Its brand is that valuable, so I'd also imagine that it would not only be more immune to higher government-imposed taxes, but might actually benefit as its premium products snuff out less entrenched competitors.
Dominance is embedded in the numbers
Coming back around to Buffett's quote at the beginning of the article, I'd like to look at the underlying economics of the business in more detail, starting with free cash flow. Altria consistently turn 20% or more of its revenues right into free cash flow, defined as cash from operations less capital expenditures. This situation seems to be trending even higher after it's shed its food and international businesses. The company also consistently earns 20% to 30% returns on invested capital as well, and mixing this factor in along with the company's exceptional cash flow, we can see numerical evidence of Altria's deeply embedded moat.
Even if the cigarette market continues to contract, Altria by far owns the dominant share of it. This brings pricing power, and in theory, continually rising free cash flow. Its smokeless business also ekes out some top-line growth, which is especially good considering its higher margins. The company's capex as a percentage of sales has also fallen to nearly a third of what it was before the spin-offs as well.
We can conclude that Altria doesn't need a lot of capex to maintain the business. Taking this concept further, however, by pulling some data from the company's financial statements, I created the below chart to further analyze and estimate the company's capital expenditure needs going forward.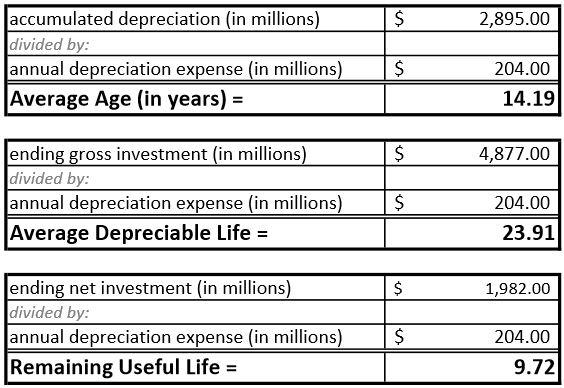 We can see (at least by my rough estimates) that the company has some juice left in its current PP&E, despite it being on the "older" side. So I'd say there won't be a dramatic jump in new capex anytime soon, either. It's hard to go wrong when you're converting 20% to 30% of revenues into free cash flow and only around 1% of sales is eaten up by capex.
Ross Johnson would be pleased
One of the things that worried Ross Johnson (then CEO of RJR Nabisco) was his company's lagging share price. He thought tobacco was dragging down the overall business. He was convinced that the food business should trade north of 20 times earnings, but he also didn't want to lose the massive tobacco cash flows. The tobacco albatross that dragged down overall valuations just spit out way too much cash.
Altria ironically ended up owning some of the food brands Johnson once oversaw, but then spun them off into what's mostly now Mondelez (NASDAQ:MDLZ), along with the former Kraft before it merged with Heinz. Even more ironic, Altria is now trading north of 20 times earnings.
Has public perception towards tobacco really changed that much since the 80's? If so, the evaporated negativity might allow Altria's shares to see permanently higher valuations, but I wouldn't count on it. I think the thirst for yield in an income-starved world should be held more accountable for the company's historically high valuations. Part of the allure of investing in 'Big Tobacco' used to be the fact that shares spit out big time dividends that could then be reinvested into a perennially undervalued company. Unfortunately, that doesn't seem to be the case anymore.
Conclusion: Sit back, relax, and collect the dividend
I'd be hesitant to establish a new position (or even add to one) in Altria at current levels due to overvaluation, but I'll continue to hold onto my shares as a buy-and-hold "forever" position as long as the company continues to fire on all cylinders. My MO dividends are currently adding to my cash pile, and won't be reinvested into the business until shares come back down to earth. I think this is a sensible approach.
I'd be hard pressed to find a better business than Altria. Its domestic focus on its core business leaves it largely immune from the stinging currency winds many other multinationals feel with the strengthening Dollar. It also dominates its domestic market, which means it can largely hold onto its pricing power and likely continue to grow earnings and cash flow at a decent pace - even without high top-line growth.
Future growth could always be around the corner with the e-cig market (and maybe even marijuana one day?) as well. Staying in the unique US market may also better shield it from "brand risk" brought on by plain packaging, which might be normal practice for the majority of the globe going forward.
Not only that, it has inserted international diversification into its overall business mix, just not through tobacco. Instead it's capitalized on its passive (or maybe not so passive?) stake in SABMiller, allowing it to inject another half-a-billion Dollars into its cash flow annually. Soon, the dividend might come from Anheuser Busch, who will likely control roughly half the global beer market if it gets its way. The US recently approved the mega-brew deal.
If Altria ever goes on sale, I'll be backing up the truck; until then, I'll continue to collect the dividends and wait. For all of the reasons above, it's also the only tobacco company I own - and probably ever will.
If you enjoyed this article and would like to receive further updates and articles in the future, please feel free to hit the "Follow" button at the top of the page next to the author's name.
Disclosure: I am/we are long MO.
I wrote this article myself, and it expresses my own opinions. I am not receiving compensation for it (other than from Seeking Alpha). I have no business relationship with any company whose stock is mentioned in this article.
Additional disclosure: Articles I write for Seeking Alpha represent my own personal opinion and should not be taken as professional investment advice. I am not a registered financial adviser. Due diligence and/or consultation with your investment adviser should be undertaken before making any financial decisions, as these decisions are an individual's personal responsibility.