Cintas (NASDAQ:CTAS) just reported 2nd quarter (fiscal Q4) earnings and blew the market's mind with its results. The company has now beaten Wall Street estimates for the 9th consecutive quarter and the 6th year of double digit earnings growth. If you're wondering if this can continue the answer is a resounding yes. Guidance and analyst estimates for the next two years is for earnings growth of at least 7% in F2017 and 8% in F2018.
The earnings report was pretty straightforward. The company operates in three segments and reports in two; Uniform Rental & Facility Services and Other. Other includes first aid, fire, direct sales and other. Combined revenue for the fiscal 4th quarter grew by 11% over last year, 6.7% organic. Full year revenue is up 9.6%, EPS of $4.09 is up 18.2% over the previous year.
Gains were driven by strength in both business segments. In the 4th quarter core business saw 8.3% revenue growth, the Other category saw growth of 22% due primarily to the incorporation of the Zee acquisition last year. Core business is about 75% of total revenue, just to keep the growth in perspective. Along with strength in sales a 40bp improvement in margins helped results top consensus estimates.
Forward Outlook Is Robust
Forward guidance also topped estimates. The company is expecting at least a 7.6% increase in F2017 earnings and another 8% in 2018. This outlook is pretty good compared to the paltry 0.3% expected for the S&P 500 this year and has already led to an increase in analyst estimates. Estimates for the current quarter, next quarter, full year and next year have all moved higher to a range near the company's own outlook.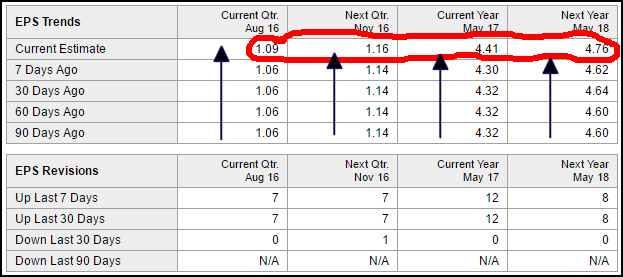 While rising, these estimates are likely to be low. First, the company has momentum driving earnings and that momentum has produced increasing and above expected results for the last 2 years and double digit growth over the past 6. Second, the company is growth oriented, spending money on both growing and maintain current operations but also to acquire/merge with other business as well. The company spent $68 million in the 4th quarter alone and execs predict the total CAPEX in F2017 will be $280 to $320 million.
Economic Tailwinds Support Growth Outlook
Economic tailwinds support the growth outlook, at least. While job creation may be lackluster the labor market itself is doing well. This means plenty of employers and employees are in need of uniforms, towels, aprons, lab/tech coats, scrubs, floor mats, first aid supplies and all the items and services provided by Cintas. I could go into all the data points in support of a healthy labor market but I will suffice to report on the Kansas City Federal Reserve Index of Labor Market Conditions. It is a diffusion index of 24 major labor market indicators watched by the FOMC including NFP, unemployment, jobless claims, JOLTs, quits rate, wages and hours.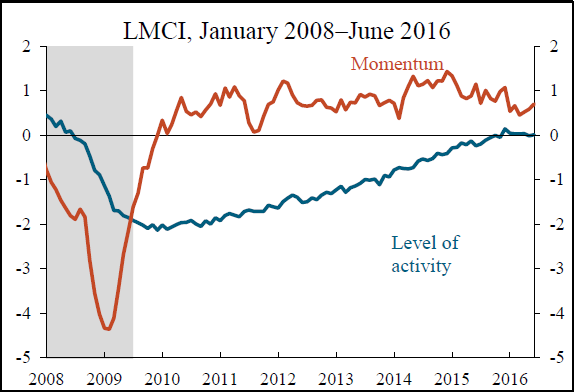 The LMCI rose slightly in the last report but that is not as important as what it has been doing over the past 6 years, and what it is signaling for the future. Over the past 6 years the index has slowly improved from the post-financial crisis low, reaching a point of market stability in the last 6 months. This is indicated in the index rise above the 0 level, a signal that typically precedes a period of robust economic growth and labor market improvement. Add to this positive and rising momentum and Cintas growth prospect become very real.
Items Of Interest
To balance out plans for expanded capacity and services Cintas began a nation wide brand awareness program this year. The ads are intended to help current and potential customers understand the full spectrum of services they have to offer. There was no information on how this plan was affecting business yet but execs expect to see some real benefit by the 2nd half of the fiscal year.
The company has very little debt to begin with, the debt to equity ratio is about 0.54, and made a move to decrease those headwinds by refinancing $250 of maturing bonds. This move will save about $5 million in the coming year.
The assimilation of Zee into the fold is about 75% complete. Once completed the first aid/other segment of business is expected to see another improvement in margins as synergies and efficiencies of consolidation are realized. These include the combination of routes, reducing the number of trucks on the road, as well as deeper market penetration.
The oil/energy sector hurt growth by a full percentage point. Despite this the company is seeing strong organic growth across all facets of business. The energy sector, including coal and natural gas, is likely not to recover strongly in the coming quarters but it is likely the bulk of negative impact for Cintas has already been felt.
The company has been able to increase the dividend every year since it went public. Company execs, based on free cash flow and growth outlook, expect to increase it again in 2017. The 2016 increase was 23.5% of the previous, another one like that would take the distribution up to $1.30 from the current $1.05 annually.
The company bought back a number of shares in F2016 and may do so again in 2017. However, execs say CAPEX and acquisition will likely take priority over buy backs.
Cintas Is A Buy
Even with the 10% spike in share prices Cintas is a buy. The company has a solid business, unencumbered balance sheet, is growth oriented and supported by economic trends. This combination is going to drive earnings and earnings growth into the next 2 years at least, and share prices with it.
The median analyst estimate has not come up yet but I expect it will over the next few months. The high estimate of $111 is also likely to rise as analysts factor in future growth outlook.
At today's prices TTM P/E is about 27X, not too bad for a company with growth like this. Forward P/E comes down to about 25X for the next year, and to about 23X for the year after that. Assuming that results are as expected and share prices bring forward P/E in line with current the company's stock could rise as high as $128 over the course of the next year. That would be a 16.5% increase in capital, not counting the dividend.
The technical picture supports this view. Momentum on the daily and weekly charts is bullish, on the rise and at extremely high levels. This is consistent with a rising market and indicative of higher prices in both the short and long term. Candles on the weekly charts are showing a rising two methods continuation pattern that give price targets $17 and $27 above current all time highs, $124 and $134, bracketing the P/E derived target.
Disclosure: I am/we are long CTAS.
I wrote this article myself, and it expresses my own opinions. I am not receiving compensation for it (other than from Seeking Alpha). I have no business relationship with any company whose stock is mentioned in this article.