A recent article on Seeking Alpha pointed out that Freeport-McMoRan (NYSE:FCX) should be sold going into earnings as the year-over-year weakness in copper prices will have a huge negative impact on the company's second-quarter performance. While I respect the points mentioned in the article to some extent as far as the second-quarter performance is concerned, I believe that it will be a bad idea to sell Freeport just yet.
I'm saying this because the dynamics of the copper market are changing for the better, and this will have a positive impact on Freeport-McMoRan's performance in the long run. As such, even if Freeport shares take a dip following the earnings report, it will be a good idea to buy some more shares as the stock can continue outperforming in the long run. Let's see why.
The copper market's dynamics will improve
In the article pointed out earlier, the author focuses on the fact that inventories of copper have been increasing on the back of increasing Chinese production. However, recent news out of China clearly indicates why the country is increasing its copper production. As reported by NASDAQ, the Chinese government will continue to engage in more stimulus measures this year in a bid to keep economic growth in good shape.
In fact, it is anticipated that China will slash the reserve rate requirement and the interest rate. This will ease lending in the country and lead to growth in infrastructure projects, which is exactly the reason why copper September futures have inched up to almost $2.26 a pound of late. More importantly, investors should not ignore that the markets where a substantial amount of copper is needed have been growing at a robust pace in China this year, where 40% of global copper is used.
For instance, in June, the value of new homes sold in China increased 22% year over year to $150 billion. Additionally, property-related investment in China has increased 6.1% in the first half of 2016. This improvement in China's housing market is an important indicator for positive copper demand as the construction sector uses 25% of global copper production.
Now, an increase in construction in China is set to continue in the long run as more people shift into Chinese cities as the trend of urbanization continues. Estimates call for 350 million to move into cities in China in the next decade, and this will spur construction demand. More importantly, along with construction demand, copper use will also grow on the back of an increase in telecommunications and demand for other electrical equipment and fittings.
This is because 65% of copper is used in the electrical industry. Therefore, it is not surprising to see why China will continue to consume more copper in the long run, with the country's share of consumption increasing to 58% in the next 10 years from the current 40%.
Additionally, the increase in copper demand will lead to a drop in inventories, especially as supply declines. The likes of BHP Billiton (NYSE:BHP), Glencore (OTCPK:GLCNF), and several others have already been reducing production in order to bring down the surplus inventory in the industry, as a result of which, the loss of copper supply in 2016 is expected to come in at 6%. Therefore, a drop in supply along with an increase in demand will lead to an improvement in copper prices in the long run.
In fact, according to the World Bank, copper prices will rise from $5,000 per metric ton this year to $7,000 per metric ton in 2025, indicating a rise of 40%. This is shown below: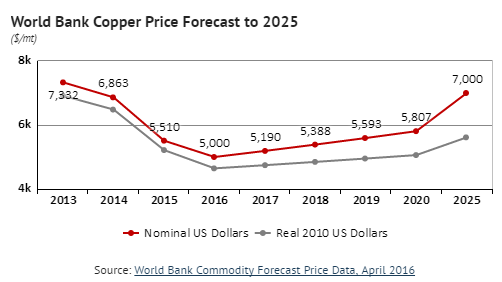 How much will an increase in copper prices impact Freeport?
As seen in the chart given above, copper prices are anticipated to rise almost 4% in 2017 from this year. Now, at present, copper trades at around $2.25 per pound. Assuming that copper prices trade at current levels this year, the expected rise in prices in 2017 will be around $0.10 per pound. If copper prices rise by $0.10 per pound next year, Freeport-McMoRan's EBITDA will rise by $435 million, while the impact on operating cash flow will be a positive $350 million.
Therefore, even if the company's EBITDA takes a hit in the second quarter of this year owing to the year-over-year weakness in copper prices, the long-term positives cannot be ruled out. Moreover, in order to better understand the impact of improving copper prices on Freeport, it is important to take a look at the sequential improvement in Freeport's financials.
For instance, in the fourth quarter last year, Freeport's operating loss was $4.1 billion, but this came down to $3.88 billion in the first quarter of 2016, representing a decline of over 5%. This improvement of $220 million in Freeport's operating loss was driven by an improvement of just 1 cent in copper prices on a sequential basis. Therefore, as copper prices gain further momentum in the long run, Freeport's bottom line will continue to improve.
Conclusion
Freeport-McMoRan's upcoming results might not be that great owing to the year-over-year drop in copper prices, but investors should not miss the long-term prospects. An improvement in copper prices is already helping Freeport improve its bottom line, and as discussed above, further improvement in copper pricing over the long run will help the company get even better. So, in my opinion, it will be a good idea to stay long Freeport given the company's long-term picture and investors should consider taking advantage of any dip in the share price.
Disclosure: I/we have no positions in any stocks mentioned, and no plans to initiate any positions within the next 72 hours.
I wrote this article myself, and it expresses my own opinions. I am not receiving compensation for it (other than from Seeking Alpha). I have no business relationship with any company whose stock is mentioned in this article.