Boohoo.com (OTCPK:BHOOY) was founded by Mahmud Kamani and Carol Kane as an up and coming online retailer. The company was known as Wasabi Frog Limited, but changed its name to Boohoo. Boohoo.com does not compete directly with ASOS (OTCPK:ASOMY) because they both cater to different customers.
For example, Boohoo's most expensive jeans sell for just £30 a pair, whereas ASOS's most expensive jeans range from £200 to £300 a pair. A second differentiation is the brands. Boohoo sells its labels, whereas ASOS also sells its labels but along with other famous clothing brands such as Ralph Lauren, Calvin Klein, etc.
Boohoo's Financials (With Comparison to ASOS)
Since 2009, Boohoo saw average sales growth of 55% with the latest growth coming in at 40%, and despite low prices, it manages to achieve a higher gross and net margin than ASOS.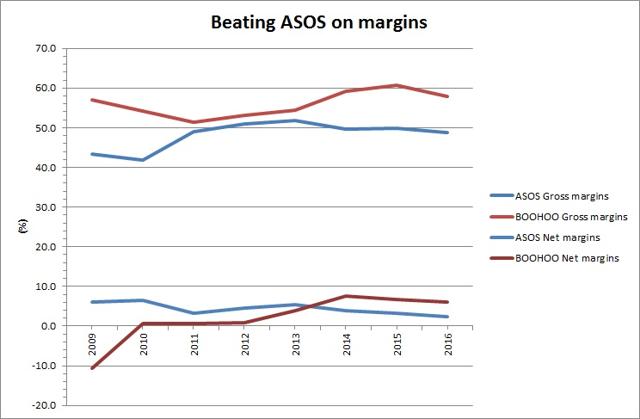 Source: ASOS and Boohoo annual reports
Since its listing on the London Stock Exchange in 2014, net income rose from £2m to £12m, and its cash profits are higher than earnings at £20m. Boohoo holds cash of £60m (29% of sales) compared to ASOS's £119m (11% of sales).
Boohoo enjoys low inventory period and accounts receivable days, and pays its suppliers much later, resulting in the cash cycle turning negative.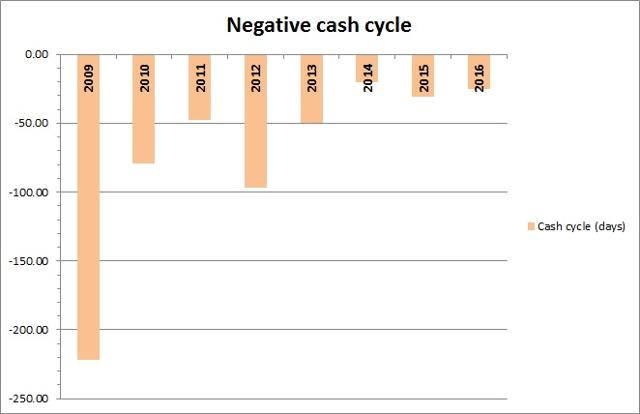 Source: Boohoo.com
Although this "negative cash cycle" is trending back towards zero days, it has not stopped the company from saving record amounts of money.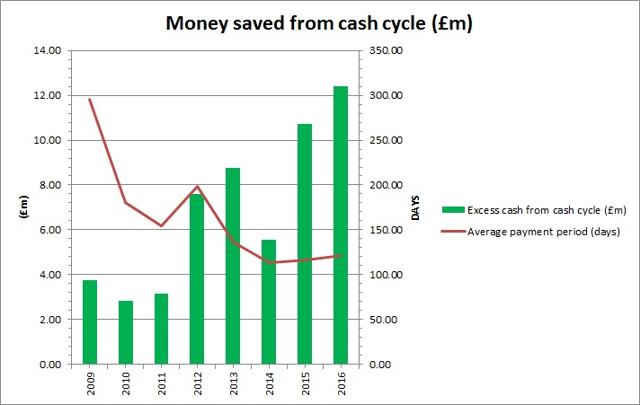 Source: Boohoo.com
The amount saved is minimal, but essential to Boohoo maintaining a competitive working capital position. But, more importantly, is Boohoo taking advantage of the suppliers to achieve a negative cash cycle and higher cash profits?
The answer to that question is no, because the red line shows the decline in the number of days Boohoo pays its suppliers, and this is a sustainable trend.
An unsustainable trend would be for the average payment period rising year after year; this would be deemed unsustainable. The reason is it will "eventually" put a financial strain on the suppliers. That forces the buyer to make early payments to their suppliers, therefore reducing cash profits.
Despite spending money to expand the empire (capex spending has tripled from £4m to £12m in three years), its working capital position has improved considerably.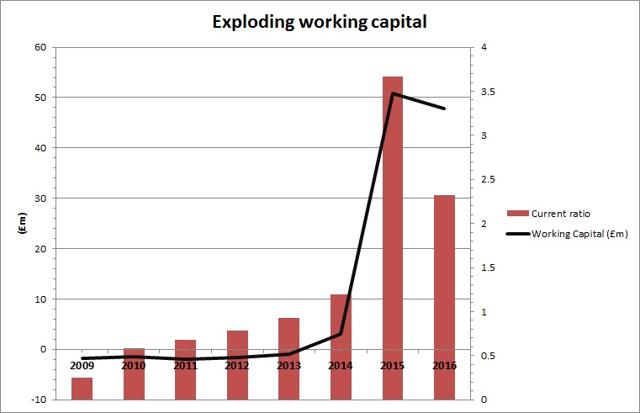 Source: Boohoo.com
It did raise £300m from its IPO in 2014, though £240m was used to pay off loans, which left the business with £60m.
Let's turn to its operational efficiency and, in particular, the productivity of its employees.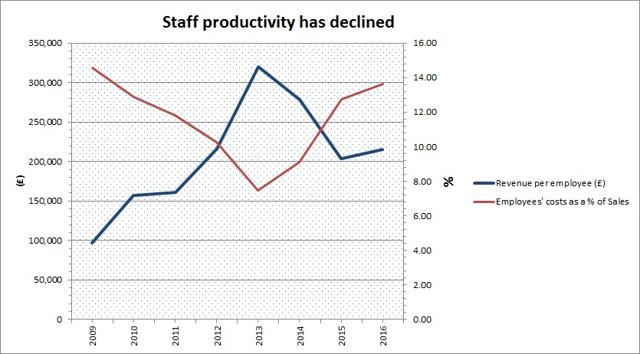 Source: Boohoo.com
Revenue per worker peaked at £320k as employee costs fell to 7.7% of sales in 2013. Today, sales per staff amount to £210k with employee costs rising to 14% of sales. Keeping an eye on operational expenses from getting out of control is essential, but taking market share is important to winning new customers.
Valuation
Boohoo.com's valuation is £672m or 54 times current earnings (on an enterprise value, it's 51 times earnings). This looks hefty despite sales growing at 40% per annum, and we know that won't last forever.
If you compare the valuation with ASOS, Boohoo is the more favourable; here's why:
| | | |
| --- | --- | --- |
| | Boohoo | ASOS |
| P/E | 54 | 97 |
| Sales growth (%) | 40 | 18 |
| P/B | 9.2 | 16.6 |
| Equity growth (%) | 10.7 | 22 |
| Net margin | 6 | 2.3 |
Source: Morningstar.com
Boohoo has a PEG of 1.35 compared to ASOS's 5.4. Also, its price to book is lower, but its equity growth is lower than ASOS. However, Boohoo's net margins beat ASOS's. That means Boohoo has a lower valuation with faster growth than ASOS with a superior net margin. But remember the industry as a whole has a P/E ratio of 18 times, which is three times smaller than Boohoo's valuation.
But Boohoo's valuation is justified by the following:
1. Online sales trump store sales - According to the FT, clothing store sales were down 7.4%, whereas they are up 9.3% from last year.
2. Favorable capex spending vs. incremental sales growth dynamic - What gives a retailer a competitive advantage is how much capex they are spending to achieve "incremental" increase in sales. And Boohoo has done a good job.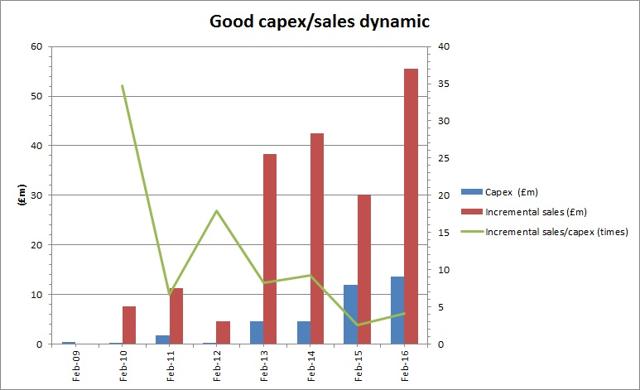 Source: Boohoo.com
Though Boohoo's sales/capex has declined to 4.5 times, it is much better than ASOS spending £60m in capex to achieve £175m of incremental sales, which is 2.9 times.
Also, it is much better than the established clothing retailer like Next (OTCPK:NXGPF), which is spending £106m to achieve £177m in extra sales.
3. As a small online retailer, Boohoo has an established online following on Twitter (450k followers vs. ASOS's 977k) and 2.3m likes on Facebook against 4.26m likes for ASOS. This is better than Primark's 171k followers.
4. Other retailers were going into administration - This gives popular retailers the opportunity to increase market share without using aggressive marketing strategies to increase sales.
Here are some retailers that have gone bust since 2013 and sell to a young audience and value-oriented customers:
| | |
| --- | --- |
| Company | Sales |
| Nicole Farhi | £21.7m |
| Blue, Inc. | £120m (2013) |
| BHS | £700m |
| Store Twenty One | £92.2m |
| American Apparel | $500m |
| East | £39m |
Source: retailresearch.org
5. It has collaborations with celebrities like Charli XCX and Bella Thorne in marketing campaigns to attract customers in the UK and US, respectively.
6. It caters to women who are plus-size (UK size 16-24).
Boohoo can target Primark (which has over £5bn in sales in the UK) because the like-for-like sales have decreased by 1% in 2016. Given the rise of Boohoo's stock back to its IPO price, any sales growth disappointment could see the shares gyrate to the downside.
Hypothetical Valuation
Boohoo's £640m in market value represents good value for the medium and long term, because if we assume sales growth to continue at a 40% rate in the next three years, it will mean by 2019, Boohoo would register sales of £536m.
And if it's able to maintain a 6% net margin, then net income would be £32.16m or 20 times earnings against current market value. Therefore, if sales continue to grow at 40%, then today's market value is a bargain. However, this pace of growth is unsustainable and is likely to come down to 35%, 30%, 25%, etc. till it has reached its sustainable level of growth.
In the last five years, ASOS saw average sales growth of 27% with last year's sales growing at 18%. If you are impressed and believe Boohoo is the next ASOS, regarding what it can offer to customers, and feel it is the future, then its stock is fairly valued and remains a hold.
Disclosure: I/we have no positions in any stocks mentioned, and no plans to initiate any positions within the next 72 hours.
I wrote this article myself, and it expresses my own opinions. I am not receiving compensation for it (other than from Seeking Alpha). I have no business relationship with any company whose stock is mentioned in this article.
Editor's Note: This article discusses one or more securities that do not trade on a major U.S. exchange. Please be aware of the risks associated with these stocks.