The strides made by Under Armour (NYSE:UA) with regards to brand visibility in recent years can perhaps be matched only by one firm in the footwear and accessories industry: Nike (NYSE:NKE). Today, UA is a leader in the performance-apparel market (over 60% market share), and the company's accelerated growth in footwear, along with its sponsorship with international stars like Stephen Curry, has earned it the enviable tag of "the next Nike". Whether this tag is justifiable or not is debatable. But even if UA is the next Nike, is its current valuation justified?
Let's compare UA's trading multiples with that of its closest competitors, namely, Nike, adidas AG (OTCQX:ADDYY) and Columbia Sportswear (NASDAQ:COLM). I use EV/EBITDA and P/B ("Price to Book") ratios for comparison.
At an enterprise value of ~37x TTM EBITDA, UA is clearly trading at a premium to its industry rivals. 37x is a whopping 130% higher than the average EV/EBITDA ratio for NKE, ADDYY and COLM. Does UA deserve such a high multiple? Based on its peers and considering UA's EBITDA growth rate over the previous year, the company should be trading at 20-25x EV/EBITDA.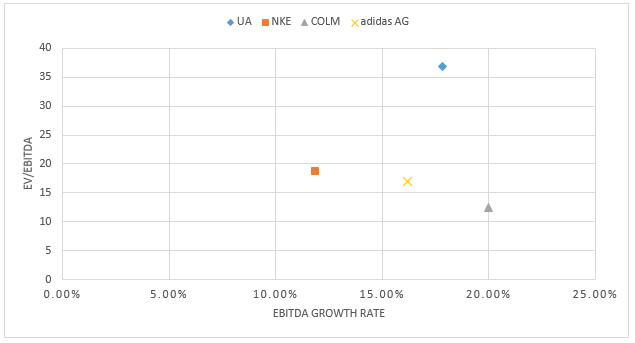 (Source: Morningstar; author's calculations)
A similar conclusion can be reached if we use P/B ratio instead of EV/EBITDA. In general, companies with a substantial advantage in ROE deserve a higher P/B ratio. UA, as you can see from the chart below, is trading at a considerably higher P/B than its competitors, but its ROE is half of Nike's and only 3% higher than ADDYY's and COLM's. Even more disheartening is the fact that UA's ROE has been declining consistently since 2012. When a company like Nike, with a ROE of 30%, is trading at ~8x, UA certainly doesn't deserve a multiple north of 10x. A P/B ratio of 5-6x would be more reasonable, implying a ~33% decrease in valuation.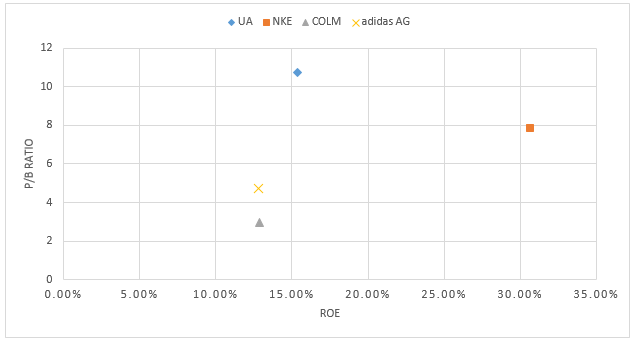 (Source: Morningstar; author's calculations)
UA, nevertheless, is in its early stages of growth, and there are multiple catalysts that can help the company nearly double annual revenues to $7.5 billion by 2018. Unlike Nike, UA has barely scratched the surface outside North America and has lots of room to expand in international markets like China. International revenues have been increasing at an explosive rate, but still represent only 14% of quarterly revenues (according to Q1 2016 results). I find UA's strong performance on the international stage extremely compelling because, let's not forget, this is a company whose yearly demand creation expense is merely $400 million or so. UA's ultimate rival Nike, on the other hand, spends no less than seven times as much on marketing campaigns and sponsorships. I think it is fair to say that UA has invested very wisely in sponsorships. Even after failing to win the championship this year, Stephen Curry remains the most marketable basketball athlete. Jordan Spieth, similarly, is an incredibly popular golf player whose recent on-field disappointments are unlikely to hurt his marketability in future. In sum, I expect UA to capitalize on the growing footwear and fitness industry around the globe and particularly in China. Realistically nearly one-fifth of UA's annual revenues could come from the international segment by 2018.
It is also worth mentioning that UA is expected to benefit immensely from the growth of its digital fitness empire. Although UA is yet to fully monetize its Connected Fitness space, I believe the company is capable of making its last year's $700 million fitness app acquisitions profitable. Recently, UA signed a new deal with Residence Inn, which should help the company promote "UA Shop" and its overall fitness network. If UA succeeds in securing more deals like this one, I wouldn't be surprised to see the fitness app segment contributing no less than $700 million revenues in the next three years alone.
Keeping these points in mind, I calculate UA's fair value using a five-year DCF model. I project UA's revenues to grow by 25% each year from 2016 to 2020 while forecasting the company's EBITDA margin running in line with analysts' expectations. Projections of D&A, tax rate and net working capital have been made in line with historical data.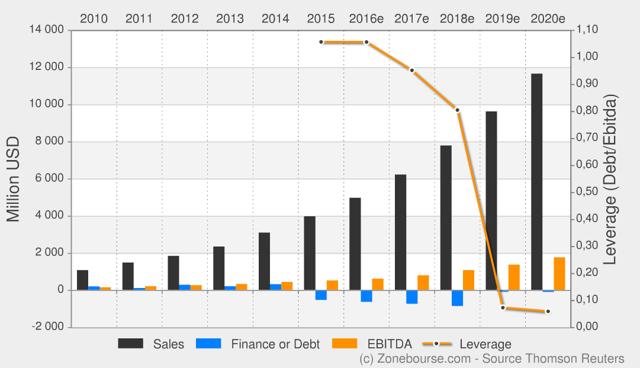 | | |
| --- | --- |
| | EBITDA (Million USD) |
| 2016E | 606 |
| 2017E | 786 |
| 2018E | 1069 |
| 2019E | 1365 |
| 2020E | 1749 |
The tables below show my partial calculations. Note I have chosen an EBITDA exit multiple of 23x in the "mid" scenario based on the discussion earlier on UA's relative valuation. You can view my full calculations here.
Range

Conclusion

Low

High

Cost of Capital

7.9%

6.0%

7.0%

Terminal EBITDA Multiple

20.0x

25.0x

23.0x

Fair Value

28.37

39.16

34.30

Upside

-32.7%

-7.1%

-18.7%
5-Yr Period

Revenue 5Y CAGR

25.0%

EBITDA 5Y CAGR

29.8%

Unlevered FCF 5Y CAGR

-1.5%

5Y Average EBITDA Margin

13.7%

5Y Average Unlevered FCF Margin

-3.0%

Select Revenue and EBITDA Forecast

Input Projections

Fiscal Years Ending

Dec-15

Dec-16

Dec-17

Dec-18

Dec-19

Dec-20

Revenue

3,963

4,954

6,193

7,741

9,675

12,093

% Growth

28.5%

25.0%

25.0%

25.0%

25.0%

25.0%

EBITDA

509

603

790

1,086

1,368

1,880

% of Revenue

12.9%

12.2%

12.7%

14.0%

14.1%

15.5%
Even with reasonably optimistic assumptions and a moderate discount rate, my model yields a fair value of ~$34.3 for UA's stock, implying an 18.7% downside from current levels. Even in the "high" case, UA's shares are overvalued by 7%. Thus, although UA's growth story is impressive, at current price, the stock isn't worth buying. Having said that, at the end of the day, the decision to buy boils down to every investor's own perspectives regarding the growth prospects of the company. If you really believe (I don't) UA deserves an exit EBITDA multiple close to, say 30x or 35x, then you might want to jump in today.
Disclosure: I am/we are long NKE.
I wrote this article myself, and it expresses my own opinions. I am not receiving compensation for it (other than from Seeking Alpha). I have no business relationship with any company whose stock is mentioned in this article.
Editor's Note: This article discusses one or more securities that do not trade on a major U.S. exchange. Please be aware of the risks associated with these stocks.