Philip Morris (NYSE:PM) is a great investment. It would not be fair to say a "great company", so I will stick with investment. The simple problem is that tobacco products kill people. However, Philip Morris pays great dividends. The wages of sin may be death, but the dividends of sin are sustainable and growing.
I Speak as a Shareholder.
Philip Morris was already in my portfolio. The company offers investors exposure to several international markets. Though the company is officially a domestic company, all of their sales are international. That means Philip Morris offers investors exposure to the international markets, but it does it with an addictive product, incredible margins, and strong year over year growth in adjusted earnings. Some investors may be wary of adjusted earnings figures. For Philip Morris, the investments are primarily removing the impact of exchange rates. The company is delivering exceptional growth in constant currency earnings.
Impact of Exchange Rates
The strength of the USD (United States Dollar) is a headwind for Philip Morris. They sell their products in foreign currencies and pay several costs in those currencies. If those foreign currencies grow weaker, it will mean less cash available for Philip Morris. Each quarter they earn revenues and exchange it for USDs. They use the USDs to pay dividends.
How Big Are the Dividends?
Philip Morris is currently paying $1.02 per quarter in dividends, which produces a dividend yield just over 4%. However, I expect the company to raise their dividend before the next payment. Altria Group (NYSE:MO) spun off Philip Morris several years ago, but they retained a focus on dividends. Altria Group has increased dividends for over 4 decades. Increases each year are a powerful incentive for shareholders to stay with the company. Philip Morris has followed the same pattern of raising dividends since they became two companies.
Latest Earnings
Philip Morris took a hit to the share price after the second quarter. Their performance was "weak". Their second quarter diluted EPS of $1.15 came in $.05 below analyst estimates. Excluding the unfavorable impact of currency fluctuations, the earnings would have been $1.23. Management was able to raise their estimates for full year diluted EPS due to a slight improvement in the expected exchange rates. The increase is small. The expected diluted EPS for the year, based on recent exchange rates, is $4.45 to $4.55. That covers the trailing annualized dividend of $4.08, but it only leaves a little breathing room.
Look at the latest slide from their investor presentation: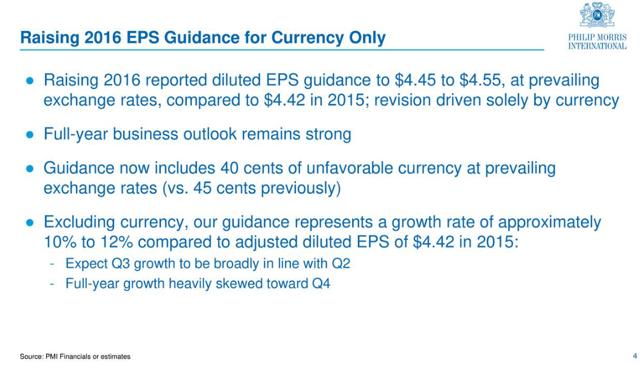 Why is Philip Morris A Great Investment?
Bond yields are exceptionally low. The 10-year Treasury yields a mere 1.556%. An investor buying that bond, absent reinvesting, would only expect to collect $1.56 in income per year. An investor in Philip Morris can currently buy shares for under $1.00 and expect to earn over $4.08 in dividend income. Based on the history of the company, that dividend should continue to increase each year.
Governments Get Addicted.
Governments love the revenues. The single largest expense for Philip Morris is excise taxes. The one item can easily devour over 60% of revenue. When a corporation pays over 60% on gross sales in "taxes", it is a commission. The governments are paid and they love the revenue. They will make a show of fighting against Philip Morris, but none of them wants to lose that revenue.
The following table, also from the presentation, shows the cost of those taxes.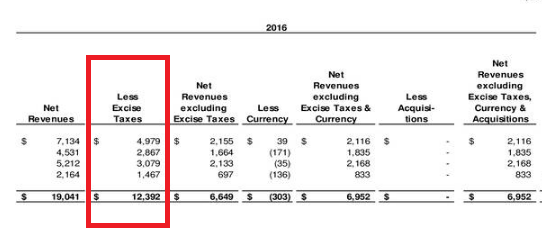 On net revenues of $19,041, the commissions (or taxes) ran $12,392. That is before taxes on earnings. That means Philip Morris paid over 60% of their revenue to the governments. That is a normal value for the company.
Conclusion
Philip Morris is a great investment. After reviewing the latest figures and looking at the share prices, I added to my position. The increase in the position brings it to about 7.2% of my portfolio. It is a materially larger position than my international mutual funds and ETFs combined.
Their strong history of raising dividends brings me in. The addictive nature of products convinces me to stay. The cut in price caused me to buy more Philip Morris.
Disclosure: I am/we are long PM, MO.
I wrote this article myself, and it expresses my own opinions. I am not receiving compensation for it (other than from Seeking Alpha). I have no business relationship with any company whose stock is mentioned in this article.
Additional disclosure: Information in this article represents the opinion of the analyst. All statements are represented as opinions, rather than facts, and should not be construed as advice to buy or sell a security. This article is prepared solely for publication on Seeking Alpha and any reproduction of it on other sites is unauthorized. Ratings of "outperform" and "underperform" reflect the analyst's estimation of a divergence between the market value for a security and the price that would be appropriate given the potential for risks and returns relative to other securities. The analyst does not know your particular objectives for returns or constraints upon investing. All investors are encouraged to do their own research before making any investment decision. Information is regularly obtained from Yahoo Finance, Google Finance, and SEC Database. If Yahoo, Google, or the SEC database contained faulty or old information it could be incorporated into my analysis.