eBay Inc (NASDAQ:EBAY) released Q2 2016 earnings today. It delivered a solid quarter and the market has finally recognized the positive momentum at EBAY and pushed the stock higher past our previous price target of $30. This is a solid 25% return in four months. In light of these developments we take another look at EBAY.
In our last article we mentioned that Share repurchases and Product Optimization will be the biggest drivers for the value creation.
Structured Data ( Product Optimization)
In Q2, EBAY crossed one billion live listing mark for the first time. Of these listings 90% can be optimized for better user experience. Currently EBAY's mandate covers 60% these listings and they have processed 42% of them as of Q2. The revenue and earnings growth in the last two quarters reflects the positive effect of the product optimization. We believe this will continue to be a positive surprise to the investors as the coverage under structured data increases.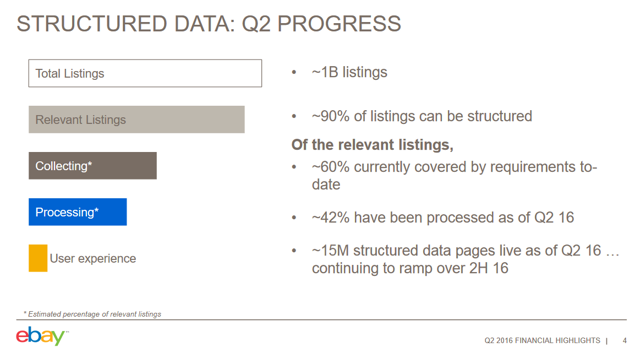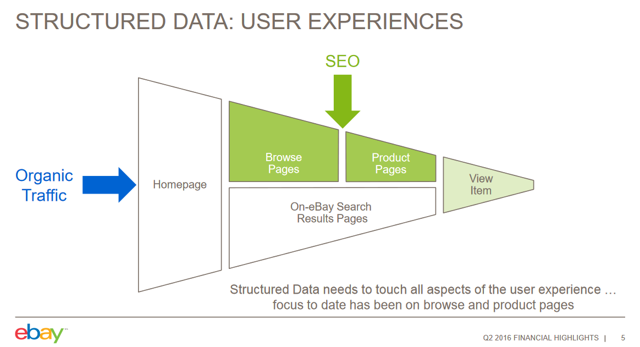 Acquisitions
EBAY has been busy making strategic acquisitions in line with its product optimization strategy. It is making investments into both its core and growth categories. Expertmaker and SalesPredict are expected to dramatically strengthen product optimization and improve user experience. TicketBis and TicketUtils will increase StubHub's offering both in scale and breadth.
Expertmaker, specializes in providing intelligent solutions powered by artificial intelligence, machine learning and big data analytics
SalesPredict,an Israel-based company that leverages advanced analytics to predict customer buying behavior and sales conversion
TicketBis, International ticket marketplace with presence in 47 countries.
TicketUtils,a leading independent provider of software that helps large ticket sellers manage inventory and distribution
Share Repurchases
I like companies that produce FCF and return cash to shareholders in the form of dividends and share repurchases. EBAY produces in excess of $2B in FCF each year and is committing to repurchase shares. EBAY bought $500M of shares in the last quarter and the board approved a new $2.5B authorization. We believe at this pace EBAY can retire 5-7% of outstanding shares per year, increasing per share value of the company.
Valuation
Market today values EBAY at approximately 16x 2016 EPS guidance provided by the company. We are of the opinion that (NYSE:I) Actual EPS numbers would be better than the guidance and (ii) P/E multiple will expand further as market takes note of the positive developments and steady share buyback. As a result we are revising our price target to $40/share, approximately 30% higher than where we are today within the next 12-18 months.
Conclusion
We continue to be long EBAY.
Disclaimer: This article is for educational and informational purposes only. Nothing contained here should be construed by anyone as an invitation or solicitation to buy or sell any security. This article does not contain personalized legal, tax, investment, or financial advice. Readers of this article should consult with a qualified adviser to obtain advice suited to their personal circumstances.
Disclosure: I am/we are long EBAY.
I wrote this article myself, and it expresses my own opinions. I am not receiving compensation for it (other than from Seeking Alpha). I have no business relationship with any company whose stock is mentioned in this article.