The Ghost of Kuroda Past dropped a tape bomb on us Wednesday night.
As I outlined Thursday morning, someone apparently forget to tell BBC that now is not the time to publish a month old interview in which the BoJ chief calls helicopter money in Japan "impossible."
Here's what happened the second the interview hit the terminal at 4:30 a.m. New York time:

Yuck. Can you say "carry unwind?"
Fortunately, Draghi had at least one ace up his sleeve: the EUR slid and euro banks popped when the former Goldmanite mentioned a possible "public backstop" of European banks' sour loans (sorry taxpayers, you lose again).
Meanwhile, the incredulity on the Street is growing. Nervous rumbling have become a cacophony of dire predictions. Want to know what Goldman thinks? Have a look at this "subtle" graphic the bank put out on Thursday: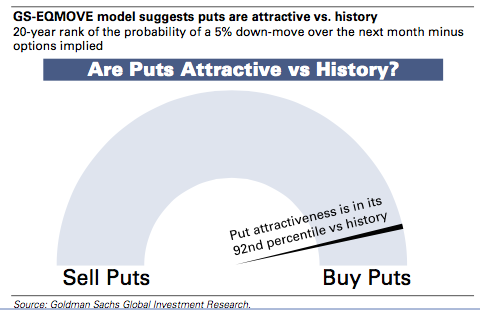 (Graphic: Goldman)
Here's how I described the situation in a piece out earlier today:
... "hope" is about as promising an investment thesis as it's proven to be as a political strategy. In the same vein, "everyone got stopped in" doesn't exactly sound like a fundamentally sound rationale for asserting that a completely inexplicable rally can persist.
The latter part there refers to Goldman's description of what's happened over the last couple of weeks.
At the risk of tooting my own horn (because I would never do something like that) SocGen's Albert Edwards was out Thursday with a piece that pretty much encapsulates everything I wrote here and here last night.
For those unfamiliar, Edwards is a rather incorrigible realist and a fantastic macro strategist. His latest essentially asks the same question I asked on Wednesday evening: "does any of this matter, or are central bankers really 'magic people'?"
He then proceeds to remind investors, as I did, that the real story is and will continue to be China and the yuan. Here are a few key excerpts from the note:
I always thought the next global recession would force central bankers to climb into their helicopters, but we are getting mighty close to the abandonment of all pretence of monetary rectitude. A brave new world awaits of direct, off-balance-sheet monetary alchemy.

Although the stronger than expected rise in June US payrolls certainly gave a big boost to risk assets at the start of the month, it was Ben Bernanke's visit to the Bank of Japan on 11 July that pushed macro-scribblers into a frenzy of excitement.

I'm obviously underestimating central bank ingenuity. Clearly Vitas Vasiliauskas, governor of Lithuania's central bank was right when he said recently that central bankers are "magic people"! They are indeed "magic people" –and a few other things besides.

Just the mere sound of BoJ Governor Kuroda rummaging around in his box of tricks has enabled global bond yields to continue declining sharply despite positive data surprises.

The recent slew of Chinese economic data was interesting. Fixed asset investment disappointed and slowed further from 7.5% in June to 7.4% in May. But it was the mix that was shocking The most worrying aspect was the continuing deterioration in private sector investment, where the growth rate turned negative (-0.7%) for the first time since 2004.

So why should we be surprised that the renminbi continues to slide? Renminbi devaluation is still THE key global story.
To be sure, this is indeed a giant one-way bet on the "magic people" and their ability to perpetuate the idea that nothing at all matters - even a massive devaluation and attendant capital flight from the world's most important economy.
And do you know what? They may be right because guess what benefits from the continued rally in core paper? That's right, China's FX reserves: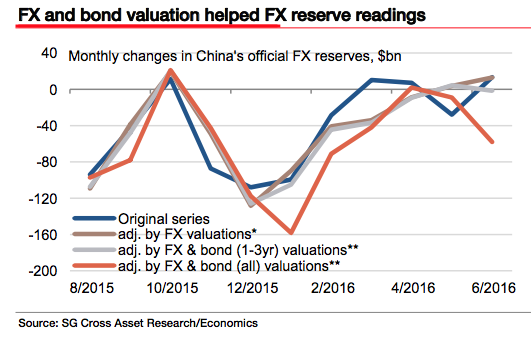 (Chart: SocGen)
See what's going on there? China is still hemorrhaging capital. The only reason the headline reserve prints look stable is because of the rally in the bonds they hold.
If you want to know just how sure everyone is that monetary policy will be able to keep the party going, just look at hedge fund positioning:

(Chart: SocGen)
Those are all faith trades on central banks. Every single one of them.
The curious thing, however, is that when you look out across FX sentiment do you know what you'll find? Yen bulls - lots of them.

(Charts: Deutsche Bank, CFTC)
That should strike you as odd. Think about it: the very same people who are betting on a continuation of a rally sparked by hopes that Japan will launch helicopter money and thus drive yen depreciation are... drum roll... long the yen.
They're betting against themselves. And do you know why they're doing that? Because they don't believe helicopter money will work. But that's the whole thesis for being "particularly positive" on the 30Y (NYSEARCA:TLT), the Nikkei, the S&P (NYSEARCA:SPY), etc! It makes no sense. It's contradictory.
On that note, I'll close with a quote from a Barclays note that carries the particularly clever title, "Icarus' Helicopter":
The potential for so-called "helicopter money" from the BoJ would seem to topple one of the key pillars buttressing our strong JPY view: that the BoJ no longer has the tools to deter JPY strength. We readily admit that true helicopter money - an explicit commitment by the monetary authorities to finance government expenditure - would weaken the JPY dramatically. Indeed, we would strongly recommend selling the currency of any country courting such a clear economic disaster. However, while our concern over the risk of a policy error that blurs the line between fiscal and monetary policy has increased, we do not believe that Japan is headed for debt monetization.
You all remember what happened to Icarus, right?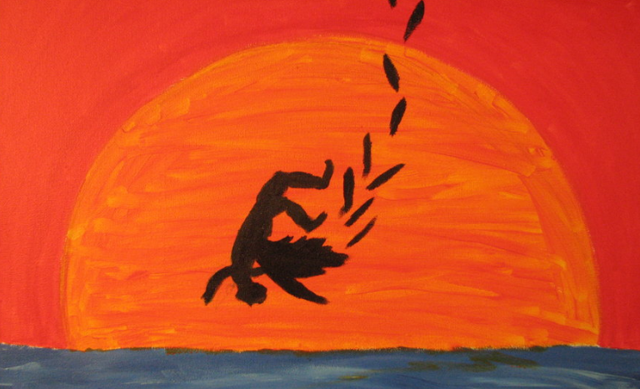 Disclosure: I/we have no positions in any stocks mentioned, and no plans to initiate any positions within the next 72 hours.
I wrote this article myself, and it expresses my own opinions. I am not receiving compensation for it (other than from Seeking Alpha). I have no business relationship with any company whose stock is mentioned in this article.