Overview
Air Lease Corporation (NYSE:AL) is a leading aircraft leasing company whose goal is to buy commercial jet transport aircraft directly from manufacturers like Boeing and Airbus, and lease the aircraft to airlines around the world with the aim of making great returns on their invested capital. In addition to leasing aircraft to airlines, the company also sells planes from its fleet of leased planes to third parties, including other lease companies, financial services companies, and airlines. The company also offers fleet management services for a management fee.
Air Lease currently has relationships with over 200 airlines across 70 countries. It operates globally, including in regions outside North America like Asia, Latin America, the Middle East, Europe, and Africa. This provides a growth opportunity for the company, since air travel is becoming more popular and more affordable in places like Asia, Latin America, and Africa. These markets also offer possibilities for expansion through the replacement market. The company is also able to charge higher lease rates to these emerging markets because there aren't many alternatives for their respective customers.
The company aims to limit its risk exposure by having a diverse portfolio of customers, regions served, and aircraft, and also aims to sell every aircraft a third of the way into its 25 year expected life.
In 2015, the company bought 51 aircraft and sold 24. It now owns 240 in total - all of with are leased - with a combined valuation of $10.8 billion. The company also added 12 aircraft to its managed fleet, and now has 29 in that portfolio. At the end of 2015, the weighted average lease term remaining and fleet age, respectively, were 7.2 and 3.6 years.
In 2015, the company signed leases or lease extensions on 120 aircraft with 46 customers from 35 countries. As a result, the future payments the company's customers have committed to has gone from $16.5 billion in the prior year to $20.9 billion.
Earnings
The company's revenues of have increased consistently over the past few years, going from $837 million in 2013 to $1.05 billion in 2014 to $1.22 billion in 2015.
The company's net income decreased slightly from $256 million to $253 million, but it too would have increased substantially were it not for a one-time $72 million settlement, which is discussed below. Prior to this small decline, the company's net income increased from $190 million in 2013 to $256 million in 2015, a substantial increase.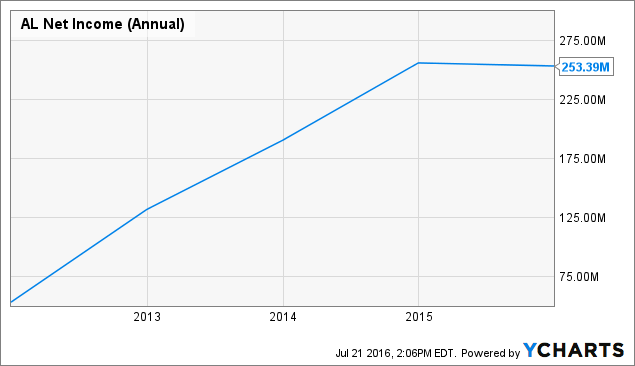 AL Net Income (Annual) data by YCharts
As the chart above shows, the company's net income has grown consistently and substantially over the past few years.
Cash Flow
The company's cash from operations has also grown substantially, going from $654 million in 2013 to $769 million in 2014 to $840 million in 2015. Despite the slight decline in net income over 2015, the company's cash flows were able to increase as a result of an increase in leasing revenue in conjunction with a decrease in selling revenue.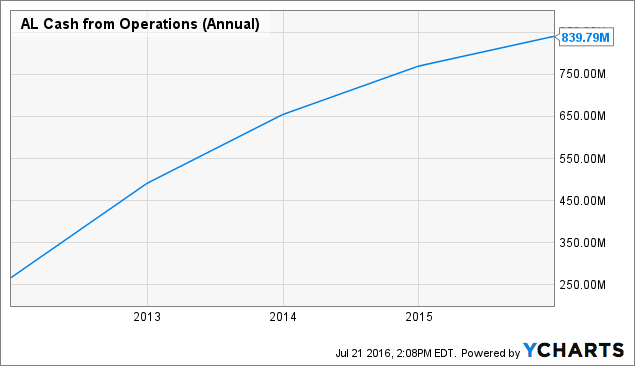 AL Cash from Operations (Annual) data by YCharts
As the chart above shows, the company's cash flows have had a long history of growing stably, consistently, and rapidly.
Book Value
As you would expect, the company's book value also increased. From 2014 to 2015, total assets increased from $10.7 billion to $12.4 billion due to an increase in loanable flights. Total liabilities increased from $7.9 billion to $9.3 billion as a result of greater debt financing. Total shareholder's equity increased roughly 10%, going from $2.8 billion in 2014 to $3 billion in 2015. And just like cash flow and income, the company's book value has been increasing steadily over the past few years, as can be seen in the chart below.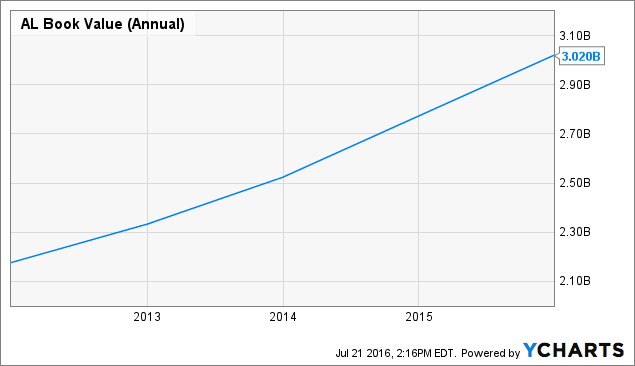 AL Book Value (Annual) data by YCharts
It's important to understand at this juncture that debt is a big part of Air Lease's business plan. It finances its purchase of air craft with cash balances, internal funds, and debt. It's debt strategy is focused on raising unsecured debt in the global bank and debt markets. In 2015, it issued $1.1 billion in senior unsecured notes with an average interest rate of 3.14%, with maturities ranging from 2018 to 2022. The company's reliance on debt shouldn't worry the investor. The company has been doing business in this manner for quite some time, and it's obvious from the chart above that it has been able to add substantial value to its balance despite its indebtedness.
In April of 2015, the company entered into a $72 million settlement agreement with AIG and ILFC (whose parent is AerCap Holdings), after the latter parties filed a complaint. As the company states in its annual report, "Among other things, the complaint, as amended, alleges breach of fiduciary duty, misappropriation of trade secrets, the wrongful recruitment of ILFC employees, and the wrongful diversion of potential ILFC leasing opportunities." The company filed a cross-complaint. In the end, as mentioned above, the issue was closed, and the company agreed to a one-time, $72 million settlement.
Price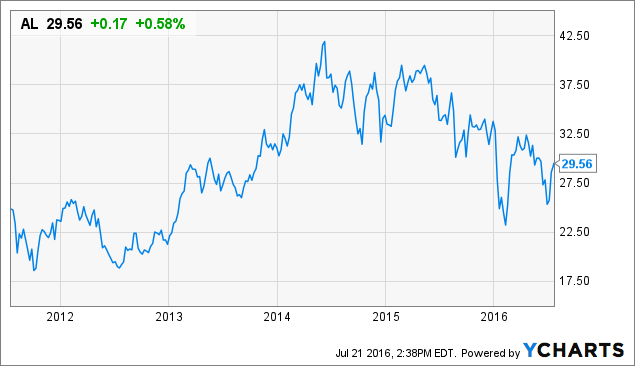 As the chart above shows, the company's stock had a great run from before 2012 to mid-2014. Then, the stock slid more than 25%. The decrease in price could present a massive buying opportunity considering the company's recent form. And it's very reassuring that it's P/E ratio is slightly below 10 and it's P/B ratio is .97. And for a business that relies completely on its book value assets for earnings, the P/B ratio is very, very attractive.
Verdict
Overall, I see no downside and a tremendous amount of upside to investing in Air Lease. The company has had a very strong and stable rise in earnings, cash flow, and book value. It seems to be run by a management that understand their business, are committed to constantly improving it, and are successful.
The company is also in an extremely attractive position in the air transportation industry. Because it doesn't run an airline but still owns the planes, the company can get a healthy profit from leases that airlines necessarily need, while also limiting its downside. It spends no money on fuel (which usually account for 25-30% of operating costs for most major airlines), no money on labor, and no money on airport contracts. It provides the one thing that any airline must have in order to be successful: planes. Also, because leases are necessarily many years long, the company has a guaranteed stream of revenue in the future from the same asset. This too, limits downside and risk.
And the stock's recent decrease in price is yet another reason to buy, especially with a P/B ratio lower than 1.
Air Lease is a classic value stock. The business won't be going anywhere, and the company's newly inked lease deals (which were mentioned at the beginning of this article) will significantly increase revenue over the next few years. The upside is huge, and the downside is negligible.
Disclosure: I/we have no positions in any stocks mentioned, and no plans to initiate any positions within the next 72 hours.
I wrote this article myself, and it expresses my own opinions. I am not receiving compensation for it (other than from Seeking Alpha). I have no business relationship with any company whose stock is mentioned in this article.