One of the largest unknowns in the ongoing saga, that is, the SunEdison (OTCPK:SUNEQ) bankruptcy proceedings, is the value of SUNEQ's assets versus its liabilities. Last week, US Bankruptcy Judge Stuart Bernstein heard arguments from multiple parties regarding whether or not to give SUNEQ shareholders a seat at the table by approving an OEC (Official Equity Committee).
The debate centered around whether or not current shareholders have any shot at getting anything once SUNEQ's creditor claims are covered. At issue is the fact that it is currently practically impossible to come up with an accurate valuation, given that SUNEQ has not filed financial statements since Q3 2015. Counsel for the proposed OEC argued that SUNEQ is not acting in the best interests of the shareholders, and given the high level of uncertainty surrounding the value of the assets, the OEC was well justified.
SUNEQ's financial advisor, Rothschild Inc.'s Homer Parkhill, offered a new valuation of between $1B-$1.5B, a substantial increase over his previous estimate of $850M about a month ago, yet still nowhere close to high enough to cover an estimated $4B-$5B debt load.
Back in June, Parkhill came up with the $850M estimate by noting that SUNEQ's stakes in its two yieldcos, TerraForm Power (NASDAQ:TERP) and TerraForm Global (NASDAQ:GLBL), were worth a combined $650M, while the company's remaining equity stakes in a large variety of assets was worth about $200M.
Based on my calculations, the value of the yieldcos had risen to about $930M as of last week, and is currently up to $990M after Wednesday's bump to GLBL's share price.
| | | | |
| --- | --- | --- | --- |
| | TERP | GLBL | Value |
| Shares Owned by SUNEQ | 60.0M | 63.3M | |
| Price in Mid June | $8.00 | $2.70 | $650M |
| Price July 13th | $12.00 | $3.30 | $930M |
| Price July 20th | $12.75 | $3.55 | $990M |
This means that Parkhill's new estimate for the remaining SUNEQ assets is currently somewhere between $200M and $500M. The improved value there is also interesting, but this article is more about how SUNEQ could maximize the value of the yieldco stake.
Strong Sponsor = Strong Yieldco
TERP and GLBL both have an excellent asset base and dividend payment ability that would support much higher share prices, but they are being held back by the uncertainty surrounding their sponsor, SUNEQ. If we look at the current TTM yield for a variety of other yieldcos in the renewable energy space, they average a TTM yield of about 5-5.5%.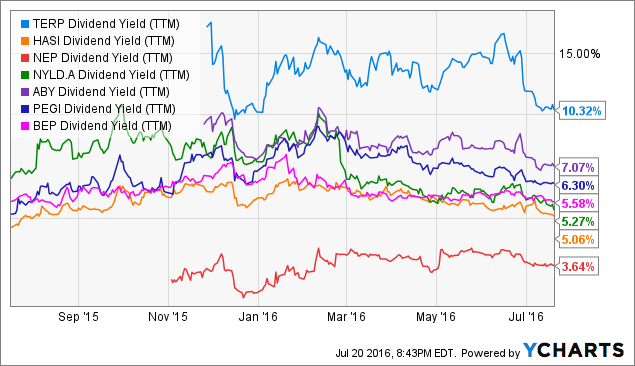 TERP Dividend Yield (TTM) data by YCharts
Thus, the best way to increase the value of the yieldcos would be for SUNEQ to sell its controlling stakes (the Class B shares) to a stronger sponsor. We've already seen that Brookfield Asset Management (NYSE:BAM) is very interested in SUNEQ's Class B shares of TERP, so it stands to reason that someone is likely interested in GLBL B share as well, assuming the price is right.
One option for SUNEQ is to simply market its B shares and sell them to the highest bidder, but my guess is that this approach won't maximize the value, since it will be somewhat based on the current valuations of the shares. Instead, I would suggest that SUNEQ offer to trade all of its class B shares and IDRs in each of the yieldcos to another sponsor (such as BAM) in exchange for Class A shares.
This would require interested acquirers to go into the market and accumulate the Class A shares required to exchange. The additional demand would obviously push up the price of the stocks, giving SUNEQ more value when the shares are exchanged. SUNEQ would then also be in a position to receive the reinstated dividends. Given the new, stronger sponsor, the shares of TERP and GLBL would once again trade at a similar level as other yieldcos. What would that be?
| | | |
| --- | --- | --- |
| | TERP | GLBL |
| Expected Dividend | $1.60 | $1.10 |
| Normalized Yield | 5.3% | 10% |
| Equivalent Stock Price | $30.00 | $11.00 |
| SUNEQ Shares Owned | 60M | 63.3M |
| Potential Value | $1.8B | $700M |
In this scenario, the total value of the yieldco stakes to SUNEQ increases to $2.5B. The company would also be collecting $166M in dividends, an amount that would continue growing each year as the sponsors drop more projects into the yieldcos.
For further value, perhaps SUNEQ could negotiate to keep a portion of the IDRs when making the exchange. These aren't worth much today, but with a solid sponsor at the helm, it will be only a few years before the IDRs are worth a substantial amount as well.
Conclusion
SUNEQ has a substantial amount of assets whose values are currently uncertain or unknown. At present, the company's advisors are using the current, uncertain values to present the picture that there is no way there will be anything left for the equity, once all the creditors have been satisfied. I believe I have demonstrated a clear path towards increasing the value of SUNEQ's yieldco stake substantially to $2.5B, and that this could happen in short order if the company takes the suggested steps quickly.
Others have noted that there may be substantial value ascribed to other assets, such as SUNEQ's large patent trove. One shareholder has shared his attempt at valuing SUNEQ's solar materials business in a letter to Judge Bernstein. While his $5.3B-$8B numbers are likely extremely optimistic, even a long-term value of $2.5B for this segment would mean that SUNEQ has at least $5B in assets to match against its $4.5B+ in listed liabilities.
Clearly, a purchase of SUNEQ at this time is still an extremely risky proposition. The company could act on my suggestions regarding the yieldcos and still be in a large hole if the solar materials patents aren't worth very much. However, it's clear that a large amount of uncertainty as to the true value of the company exists, and thus it seems only fair that shareholders get at least a small portion of the equity in the company when they come out of BK.
Disclosure: I am/we are long GLBL, TERP.
I wrote this article myself, and it expresses my own opinions. I am not receiving compensation for it (other than from Seeking Alpha). I have no business relationship with any company whose stock is mentioned in this article.
Editor's Note: This article covers one or more stocks trading at less than $1 per share and/or with less than a $100 million market cap. Please be aware of the risks associated with these stocks.