Whole Foods Market (WFM) has long been the leader in the organic and natural food space. With the rise of the health-conscious shopper, Whole Foods is now facing more competition than ever before. While jokes surrounding the company's elevated prices (Whole Paycheck) have long existed, we are now seeing all major grocery chains move into the natural food space. This, in turn, has investors worried about the growth prospects of the company and whether revenue is doomed to take a substantial hit.
With third-quarter earnings fast approaching, and competitive threats on the horizon, is Whole Foods Market still a smart investment moving forward? In this article, I will outline the company's current business, talk about its future prospects and detail the challenges and risks it faces moving forward.
Current landscape
Looking back to last quarter's results, we see that growth began to slow. Whole Foods had a meager 1.3% rise in sales. This represented half the sales growth the company generated in the previous quarter. If, during next week, we see another slide in sales growth, investors should note the company's sales may be flatlining for the foreseeable future unless new initiatives are put in place. Last quarter also saw net income drop 10%, as well as comparable-store sales dropping 3%. These negative numbers continued the downward trend that Whole Foods has been experiencing over the past year.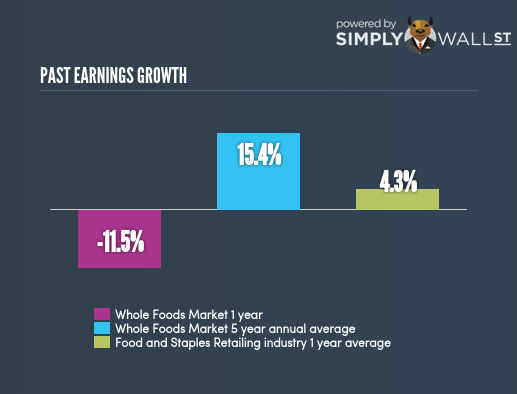 Much of this downward momentum has been represented in the stock price - shares have plunged from 2015's high of nearly $58 to the current price of slightly over $33. Since the start of 2016, shares have remained in a relatively tight range as the market tries to determine which way the stock will move in the long term. After the drop from 2015 highs, valuations for Whole Foods have become more reasonable - yet, this is not saying the company is cheap today. Whole Foods is currently trading at 22 times earnings, which is slightly below the food and staples industry average of 26. It is trading at a P/B of 3.3, also representing a slight discount to the industry average. Where its value starts to go sideways is looking forward. On a PEG basis, Whole Foods is trading at a ratio of 3.7, representing poor value based on next year's expected growth. Despite the dip over the past two years and the relative strength of past valuation numbers, it's hard to make the case that Whole Foods is cheap at this point in time.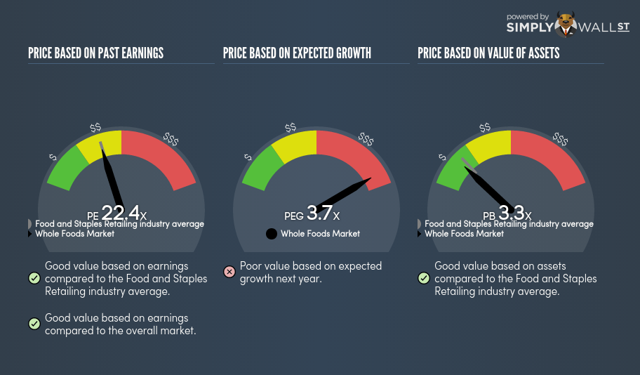 Future prospects
Since the start of 2016, Whole Foods has managed to stabilize its share price to a certain degree. Much of this can be attributed to an extensive share buyback program, but recent initiatives seem to have piqued investor curiosity too. One such initiative is the expansion of the company's 365 by Whole Foods Market store concept. These stores aim to bring cheaper options to a broader spectrum of shoppers, in turn expanding the Whole Foods brand. The hope is to appeal to a younger generation of customers who previous may have been unable to shop at Whole Foods due to the steep prices. Investors are hoping this initiative will make a large impact in what is sure to by a multi-year turnaround effort.
For the year, comparable-store sales are expected to decline by at least 2%. Despite this drop in sales Whole Foods is still planning on expanding its store base in a big way. The company has set a target of 12,000 locations, which would be three times the current store base. This expansion does not take into account the new 365 by Whole Foods Market stores that are being put in place, so in total, it could be considerably larger. With these plans, it's clear that Whole Foods continues to have its eye on long-term growth, even at the expense of short-term profits.
Over the past few months, earnings expectations have waned. Third-quarter projections were cut by 10%, along with both full-year and 2017 estimates. Expected earnings per share growth is 14%, revenue growth is estimated at 2.6% and the company has a forward earnings multiple of 21. If Whole Foods is unable to live up to these numbers, there is a high likelihood of a significant drop in the price of shares over the next couple of years.
Bottom line
In the end, an investment in Whole Foods may largely come down to the time horizon of the investor. In the short term, the company has several hurdles to overcome in its turnaround effort. Competition is springing up from all major grocery chains. Growth has slowed, as high prices make the company inaccessible to much of the population. Finally, continued expansion has taken the focus away from profits in the near term. In the longer term, Whole Foods looks like a much stronger investment. Conscious capitalism, an area it has helped pioneer, is on the rise and bodes well for the company long term. The growth initiatives it has put in place will no doubt pay off down the line, and the new 365 by Whole Foods Market stores being established could very well bring a whole new segment of the population in as customers. With these factors in place, I see Whole Foods as having solid, long-term buy-and-hold potential.
Disclosure: I/we have no positions in any stocks mentioned, and no plans to initiate any positions within the next 72 hours.
I wrote this article myself, and it expresses my own opinions. I am not receiving compensation for it (other than from Seeking Alpha). I have no business relationship with any company whose stock is mentioned in this article.