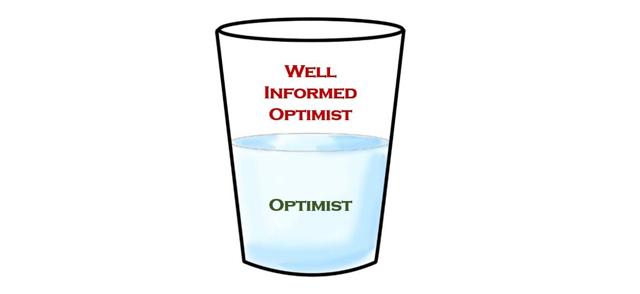 Important note: This article is not an investment recommendation and should not to be relied upon when making investment decisions - investors should conduct their own comprehensive research. Please read the disclaimer at the end of this article.
Halliburton's (NYSE:HAL) second-quarter conference call was rich with proposed catchy headlines. Just to quote a few:
The North America market has turned.

[In North America] customers are thinking about growing their business again rather than being focused on survival... they are back in business. The animal spirits are back in North America.

900 is the new 2,000 for US rig activity.
These upbeat themes captured the lion's share of air time during the conference call. Only few analysts questioned the strength of the proclaimed cyclical upturn and underlying fundamentals. However, the stock has continued to slide in the aftermath of the earnings release versus an overall upward move in oil & gas stocks, which seems to suggest at least some investors are disappointed with the weak financial results for the quarter, and could indicate that the market's view on the shape of the cyclical recovery may not be universal.
Negative Cash Flow In Q2 2016
Notwithstanding Halliburton's upbeat messages, it is difficult to overlook the heavy toll that the current downcycle in oil and gas is taking on the company's financial results. For the first six months, it posted negative cash flow from operations of $0.3 billion, excluding the $3.5 billion termination fee paid to Baker Hughes (BHI) during the second quarter of 2016. While the company would probably argue that restructuring charges are non-recurring items, I view them to be the cost of managing business through the cycle.

(Source: Halliburton, 8-K filing)
Halliburton commented on the call that it is not unusual for the company's cash flow to be back-end loaded in the year, and suggested that 2016 will be no exception in this regard. Still, the negative cash flow result in the first half is a measure of the severity of the trough and an indication that even the largest service providers such as Halliburton, which enjoy privileged competitive positions in certain markets and product lines, are not immune to price pressures and suffer from sharply reduced capacity utilization.
As a reminder, Halliburton expects capital expenditures for the year to be approximately $850 million, which makes the company's goal of living within its operating cash flow quite a challenge this year. It should be noted that, similar to its peers in the oil service sector, Halliburton should continue to harvest its working capital as activity levels across several regions drift lower. By the same token, it will face the challenge of funding its working capital requirement, should the industry cycle turn.
Negative Margin Momentum Continued In Q2
During the second quarter, operating results continued to deteriorate:
North America revenue declined 15%, driven by reduced pricing and activity levels, with margins moving down to an operating loss of 8%.
In Latin America, revenue declined 12% and operating income declined 54%, driven by reduced activity levels in Brazil, Mexico and Colombia and by the company's decision to curtail activity in Venezuela.
By contrast, the Middle East/Asia and Europe/Africa/CIS regions continued to hold up relatively well. Still, revenue in Middle East/Asia declined 3%, with operating income falling 22% on pricing pressures across the region. In the Europe/Africa/CIS region, second-quarter revenue increased 2% and operating income increased 12% as a result of the seasonal recovery of activity in the North Sea and Russia.
The larger-than-expected decline in Middle East/Asia operating margin is perhaps the greatest disappointment in Halliburton's second-quarter report.
Overall, the Middle East and CIS appear to be the primary drivers of the company's margin resilience, whereas most of the other regions continue to languish.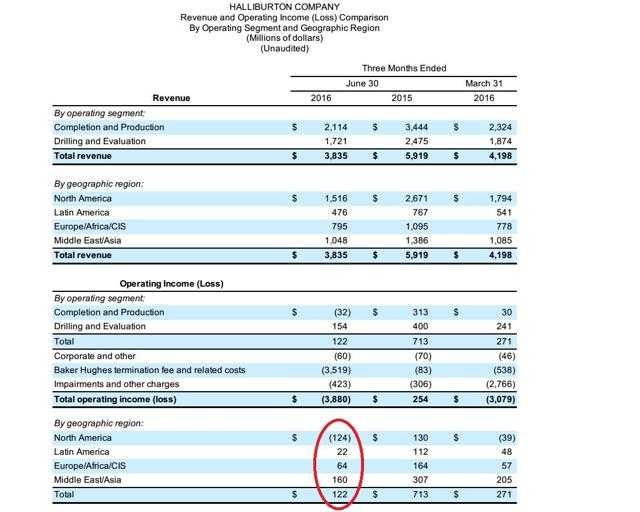 (Source: Halliburton, 8-K filing)
Q3 Margins Outlook Remains Challenged
In view of the cyclical trough North America is in, Halliburton anticipates its revenue in the region to increase sequentially in the third quarter and margins to improve by 100-200 basis points as a result of cost control and better utilization. Given that the company's operating margin in North America in Q2 was negative 8%, it is clear from the guidance that the next quarter will still be a negative-margin quarter, and at this rate of improvement, it may take some time to reach a breakeven.
In other areas, the near-term momentum remains negative:
Latin America is expected to remain Halliburton's most challenged international region, with no fundamental improvement expected this year. For the third quarter, the company is anticipating a "mid-teens percentage decline in revenue with margins moving down to the low-single digits."
In the Eastern Hemisphere, which currently is Halliburton's largest revenue and margin generator, activity is also expected to decline over the balance of the year. Third-quarter Eastern Hemisphere revenue is expected to be down modestly ("low single digits") due to declining activity and continued pricing headwinds. However, margins are expected to remain flat in the third quarter due to cost control initiatives.
To summarize, the company's near-term guidance appears to suggest that financial results will remain quite weak in the second half of this year, with the recovery in North America being only modest and other regions experiencing continued pressures in volumes and pricing. A breakeven in North American operating margins appears to be a 2017 target, whereas an inflection point in international regions has not even been reached yet.
Leverage Spikes
As expected, Halliburton's financial leverage spiked sharply at the end of the second quarter. Net debt/capitalization ratio increased to 48%, as compared to 23% at year-end 2015.
While credit considerations are not a concern yet for Halliburton, the company's liquidity and credit have deteriorated to a point that some balance sheet repair may be required, particularly if the downturn proves to be extended. The company's cash balance declined from $10.1 billion at the end of 2015 to just $3.1 billion at the end of Q2 2016. On the other hand, its debt, which stood at $12.2 billion at the end of Q2, looks quite uncomfortable given the company's negative free cash flow in the first half.
A year ago, a suggestion that Halliburton may need to issue equity to shore up its balance sheet would sound ridiculous. Currently, an equity raise appears to be a wise move and, arguably, a necessity.
In Conclusion
It is difficult not to notice remarkable resilience of Halliburton's stock price throughout the current downcycle in oil, in spite of the Baker Hughes takeover fiasco and a longer-than-expected downcycle in oil. The company's enterprise value currently stands at ~$46 billion. This resilience is understandable to some degree, given Halliburton's extraordinary business franchise and enviable position, alongside Schlumberger (NYSE:SLB), in some of the most important international markets where business activity tends to be stable and the competitive landscape often looks like a duopoly.
That said, the current stock price appears to reflect a presumption that the cyclical recovery in oil will be strong. While directionally such presumption is logical, the tricky part is to determine the timing of the recovery and its exact trajectory. For example, to expect that 900 high-performance rigs will be employed in the U.S., one would need to assume oil prices recovering above $70-80 per barrel, in my opinion. So far, a convincing recovery in oil has been elusive, with the improvement in the North American operating activity being driven predominantly by capital raising in equity markets. The "animal spirits" that Halliburton referred to in it is prepared remarks are, unfortunately, mostly a reflection of easy capital, not healthy industry fundamentals - at least not yet.
In the event the much-needed improvement in oil prices turns out slow and gradual, oil service companies may experience an extended period of low-margin recovery, given that capacity utilization remains very low and the ramp-up in activity will impose additional significant costs (such as re-hiring and training personnel, paying up for supply chain re-inflation and bottlenecks, re-opening offices and facilities, funding working capital, etc.). While Halliburton is strongly positioned for the upcycle, investors may have to stock a good supply of patience (and a conviction that the cycle's trough is indeed in, or will be relatively soon).
Halliburton's results have a negative read-across for other oil service companies, including Weatherford (NYSE:WFT) and Baker Hughes. Weatherford's position is particularly vulnerable given its financial leverage and lack of competitive differentiation.
For in-depth data and analysis of commodity fundamentals, please consider subscribing to Zeits OIL ANALYTICS that provides analysis of the crude oil and natural markets.
Disclaimer: Opinions expressed herein by the author are not an investment recommendation and are not meant to be relied upon in investment decisions. The author is not acting in an investment, tax, legal or any other advisory capacity. This is not an investment research report. The author's opinions expressed herein address only select aspects of potential investment in securities of the companies mentioned and cannot be a substitute for comprehensive investment analysis. Any analysis presented herein is illustrative in nature, limited in scope, based on an incomplete set of information, and has limitations to its accuracy. The author recommends that potential and existing investors conduct thorough investment research of their own, including detailed review of the companies' SEC filings, and consult a qualified investment advisor. The information upon which this material is based was obtained from sources believed to be reliable, but has not been independently verified. Therefore, the author cannot guarantee its accuracy. Any opinions or estimates constitute the author's best judgment as of the date of publication, and are subject to change without notice. The author explicitly disclaims any liability that may arise from the use of this material.
Disclosure: I/we have no positions in any stocks mentioned, and no plans to initiate any positions within the next 72 hours.
I wrote this article myself, and it expresses my own opinions. I am not receiving compensation for it (other than from Seeking Alpha). I have no business relationship with any company whose stock is mentioned in this article.